It can be confusing choosing between TORO 21386 and 21387 super recycler mowers, especially with many common features. In that case, this comparison will help you to find out which one is the best deal. 
Toro 21386 has a recoil starter, but TORO 21387 has an electric starter. On the other hand, Toro 21386 comes with a 163 CC Brigg & Stratton engine, whereas TORO 21387 has a 190 CC Brigg & Stratton engine. 
You might think the choice is obvious. But you must consider other facts before you choose one. This article will show you the features and differences between these two super recycler mowers, and you'll know the right choice in the end.
So, let's begin. 
A Quick Comparison Table 
Here is a quick comparison table between Toro 21386 and 21387 personal space super recycler mowers: 
| | | |
| --- | --- | --- |
| Aspects | TORO 21386 | TORO 21387 |
| Mower Type | Recoil Start Mower | Electric Start Mower |
| Controlling | Better Controlling | Superior Controlling |
| Engine | 163 CC Brigg & Stratton Engine | 190 CC Brigg & Stratton Engine |
| Special Feature | Less Water And Fertilizer | Next-Level Mowing |
| Benefits | Offers Fewer Benefits | Offers More Benefits |
| Warranty | 5 Years Full Warranty | 5 Years Full Warranty |
| Price | $649 | $749 |
In-Depth Comparisons Between Toro 21386 And 21387 Mowers 
A quick comparison table only gives you some primary knowledge of both products. But if you want to make an informed decision, you must know about them in detail. I will show you the key differences between the two products. 
So, let's dive deeper.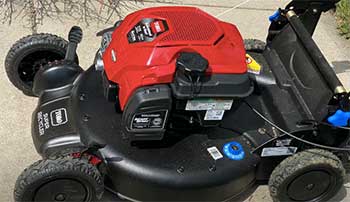 Both 21386 and 21387 are 21 inches Personal Space mowers from Toro.
Both are called Super Recycler Mowers. Even though they perform the same tasks, you will find many differences. 
Toro 21386 has a recoil starter. You have to pull the rope on the handle to start the engine.
But Toro 21387 has an electric start. You have to push the button placed on the handle to start your mower. 
An engine is crucial for any machine; a recycler mower is not excluded. A better engine can provide better performance. So, you must look into the engine before making any decision. 
Toro manufactures a 21386 mower with a 7.25 feet-lb Gross Torque Brigg & Stratton Exi engine. The capacity of the engine is 163 CC. 
Conversely, the Toro 21387 super recycler mower has a 9.75 ft-lb Gross Torque Brigg & Stratton Exi engine, but the capacity is 190 CC. 
We can see that Toro 21387 has a bigger engine capacity than Toro 21386. It's obvious you will get better engine performance from Toro 21387. 
Toro 21386 and Toro 21387 super recycler mowers feature Flex Handle. It gives next-level comfort with superior control, and you can control a lot of stuff from the handle. 
For example, you will have to start both mowers from the handles. 
With Toro 21386, you will get a Flex and SmartStow 1-piece handle. Most importantly, you can adjust its height according to your comfort. Toro 21387 mower also has a similar handle. 
On top of that, both mowers are rear-wheel drive. As we can see, both machine provides the same level of control.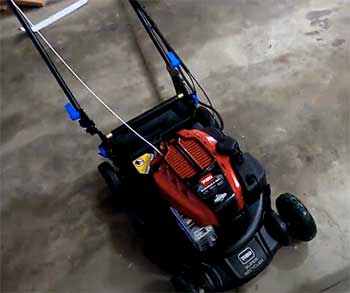 You will find many similar features between these two personal space mowers.
That's because they are quite the same product with a few differences. Let's see what features they offer. 
Both Toro mowers come with a Personal Space self-propel system.
Adjust your speed according to your will, but the max speed is 4.8 miles per hour. 
With Flex Handle suspension, you can easily glide over bumps and holes. 
The most important aspect of these two products is their next-level mowing. You can fertilize your lawn while mowing with their Super Recycler cutting system. 
Besides, you will get a durable deck made from rust-proof aluminum, ultimate comfort, versatility & volume, and a superior mowing muscle with both products. The only difference is in their starting system and engine capacity. 
With so many similar features and performances, you will get many common benefits from both mowers. Let's find out what they have to offer. 
Because you can fold the handle of these mowers, you need a small place to keep them in your garage or anywhere. A big rear bag ensures that you can pick up mulching in a snap and store them in a large volume. 
However, Toro 21387 mower has an electric push start. So, you can quickly start your machine by just pressing the button. 
On top of that, a bigger engine capacity allows it to provide superior performance. As we can see, Toro 21387 offers more benefits than Toro 21386. 
Performance in terms of cutting width and height is similar for both Toro mowers. With 21 inches cutting width, you will get 1.25 inches to 4.25 inches cutting height from both 21386 and 21387 super recycler mowers. 
But because 21387 has a more powerful engine capacity, no wonder you will get a slightly more robust performance from this mower. 
Warranty always plays a vital role in product selection. Many people seriously consider warranty terms before getting into a product. 
Since both 21386 and 21387 SmartStow Super Recycler Mowers belong to the same Company, Toro, they provide similar Warranty terms. You will have peace in mind knowing you'll get a 5 years full warranty when you buy one of these two mowers. 
Although you have seen many similar features and performance from both products, the price differs. It's because of the engine capacity and electrical start. 
Toro 21386 mower costs $649, whereas Toro 21387 costs $749. There is a $100 difference between the mowers. Still, both are cheaper than other brands' mowers. 
Which Mower Is Best For You?
After reading the whole discussion, I'm sure you have figured out which one is the best among the two machines. Toro 21387 is better than 21386. 
So, you should go for it. 
You might have to spend an extra $100 bill, but you are getting an electric start and a more powerful engine. Apart from that, most other features and benefits are almost the same. 
Frequently Asked Question (FAQ) 
Is Toro Super Recycler worth it?
Toro Super Recycler is an excellent mowing machine. It mows and fertilizes at the same time. Besides, you'll get better mulching performance, self-propelling transmission, and wheels from it. 
Does Toro or Honda mulch better?
Toro and Honda both have mowing machines. Both brands' mowers work excellently and perform somewhat similarly in mulching and side-discharge cutting. 
Which Toro is best?
Toro has a lot of Recyclers that mow and fertilize simultaneously. Toro 22 inches Recycler is considered to be the best for its self-propel cutting feature, lightweight body, powerful motor, and so on. 
How long does a Toro 60v battery last?
A Toro 605 CFM 60V battery gives backup for about 90 minutes at a lower speed. If you increase the speed, it will last a shorter period. 
Conclusion
We are at the end of this journey. I'm sure you are no longer confused after reading my Toro 21386 vs. 21387 reviews, exactly like I said earlier. I'm glad that now you have a clear picture in your head. 
I have done my part; now it's time you do yours. So, bring this machine home and give your lawn a nice manicure.