Are you looking for a better option between Cub Cadet CC800 and Toro TimeMaster mower?
Read this comparison between Cub Cadet CC800 and Toro Timemaster to determine the best mower choice for your lawn.
Cub Cadet CC800 mower comes with a 344 cc Brigg & Stratton OHV engine with an electric start and a backup recoil start. On the other hand, Toro Timemaster has a 223 cc Brigg & Stratton OHV engine.
Let's dive deeper and out about other differences between these two mowers.
A Quick Comparison Table
Here is a quick comparison table between Cub Cadet CC800 and Toro Timemaster mower:
| | | |
| --- | --- | --- |
| Aspects | Cub Cadet CC 800 | Toro TimeMaster |
| Mower Type | Cyclocut Wide-Area Mower | Personal Pace Mower |
| Deck Material & Size | 33 Inches Steel Deck | 30 Inches Steel & Cast Aluminum Deck |
| Engine Type | 344 CC | 223 CC |
| Cutting Performance | Superior Performance | High Performance |
| Features & Benefits | Offers Many Features & Benefits | Offers Many Features & Benefits |
| Warranty | 3 Years Limited Warranty | 3 Years Full Warranty |
| Price | Around $1,899 | Around $1549 |
In-Depth Comparisons Between Cub Cadet CC800 And Toro Timemaster
In this part, I will show you some key differences between Toro Timemaster vs. Cub Cadet CC800 mowers. So, let's begin.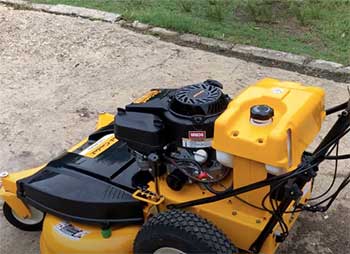 Cub Cadet CC 800 is a cyclocut wide-area mower with SuperStart Guaranteed Electric start, and a backup recoil start.
The mower is 33 inches in size with a rugged steel deck and twin blades.
Besides, it features a Rear Wheel Drive system and cyclocut cutting system.
On the contrary, Toro Timemaster is a 30 inches Personal Pace mower that can cut a wider path and finish the job faster. It is also a Rear Wheel drive system with a recoil start but has traction assist with it.
Most importantly, you can mow more quickly with its powerful engine. When it comes to the engine, Cub Cadet CC600 is different from TORO Timemaster as well!
The stronger the deck material, the more durable the mower is. That's why deck material is essential. Similarly, a more expansive deck means a larger size.
Cub Cadet CC800 has a wider 33 inches deck made from rugged steel. You can easily adjust the deck height with a single lever. Besides, an easy deck wash will help you clean the mower quite easily.
On the other hand, Toro Timemaster has a 30 inches deck made out of steel and cast aluminum frame. It comes with a standard washout port. Besides, you will get a quick stow storage handle with this mower.
The engine is one of the most essential parts of a mower. That's why you must check it before buying.
Cub Cadet CC800 mower features a Briggs & Stratton engine with 344 cc displacement. You can start the engine with an electric key, but there is an additional recoil start option for an emergency.
The engine oil capacity of this mower is 48 oz., and the fuel tank can hold 8 qt. oil. Here is a video demo it.
In contrast, Tori Timemaster comes with a Brigg & Stratton engine with 223 cc displacement and 10,000 ft-lb gross torque. You will have a recoil starter to start the mower.
Besides, its fuel tank can hold 1.2 qt. of fuel to run your mower for 1 hour.
As we can see, Cub Cadet CC 800 has a bigger engine size with both an electric and recoil starter. But Toro Timemaster has a smaller engine and only a recoil starter.
A powerful engine and superior features result in better cutting performance. A Cub Cadet CC 800 has a cutting width of 33 inches.
Besides, its cutting height range is from 1.25 inches to 3.50 inches. Plus, you can choose from 8 deck positions.
But the only drawback is that it does not come with any grass collector bag.
By contrast, Toro Timemaster offers 30 inches cutting width. You will get a cutting height of 1.25 inches to 4.25 inches.
But the good thing is that it comes with a standard mulch and side discharge grass collector bag. You can collect up to 2.5 bushels in the bag.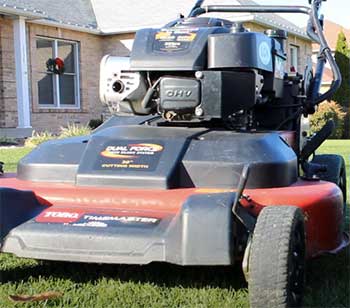 You will get a single lever height adjustment in Cub Cadet CC 800 mower, which is easy to change and adjust. You will get electric and recoil starters for convenience and ease of use.
An ergonomic handle with separate drive control and blade clutch allows your mower to run without a blade.
Besides, you can quickly rinse off the mower with water using a garden hose.
In contrast, you will get a dual force cutting system and Toro atomic blade with a Timemaster mower. As a result, you can cut your lawn grass into fine mulch.
Its personal pace self-propel system can adjust the speed according to your walking pace.
You will also get a blade stop safety feature, a quick stow storage handle, 2 point height of cut, and a washout port with each Toro Timemaster mower.
A Cub Cadet CC 800 mower offers a 3 Year Limited Warranty for residential usage and a 1 Year Limited Warranty for commercial use.
In contrast to Cub Cadet CC800, a Toro Timemaster is covered by a 3 Year Full Coverage Warranty from its manufacturer.
You will have to spend $1,899 for a 33 inches Cub Cadet CC800 mower. On the contrary, a Toro Timemaster mower will cost $1549.
So, you will be spending more money on Cub Cadet CC800 than Toro Timemaster as it's more expensive because of the superior features.
Which Mower Is Best For You?
After reading my comprehensive discussion, I think it's clear which mower will be a better option for your lawn. But don't worry if you're still confused.
Cub Cadet CC 800 is the better mower between the two, and you should choose it.
It will cost you a little extra, but you're getting two starting options, a more expansive deck, and a more powerful engine. Most importantly, it offers a better cutting performance than Toro Timemaster.
So, buying Cub Cadet CC 800 will be better for cutting your lawn grass.
Frequently Asked Question (FAQ)
Are Toro and Cub Cadet the same?
Toro and Cub Cadet Mowers belong to two different manufacturers. But they have many identical features. That's why people often compare them with each other.
Does Toro TimeMaster really save time?
With many superior features and outstanding performance, Toro Timemaster saves time by completing your job quickly. Its personal space self-propel system, height adjustment, washout port, etc., make it a quick cutting machine.
Is the Toro TimeMaster worth it?
Toro TimeMaster is an excellent personal pace grass mower having many outstanding features. You can cut your grass in nice mulches using this machine. So, yes, it's worth it. However, you will find an even better mower than this one.
Does a Toro TimeMaster mulch as well?
Toro TimeMaster offers a very fine mulch because of its rear dischargeable plug. Besides its cutting width and height, make sure you get a smooth and consistent cut throughout your lawn.
Final Thoughts
A grass mower has many aspects, and missing one can choose the wrong product. But after reading my Cub Cadet CC800 vs. Toro Timemaster article, I'm confident that you won't mistake buying the right mower.
We are at the end of our review. Here's my pro tip: purchase the one I choose, and you'll be glad in the future that you did.