Tormek is a kind of water-cooled sharpening system which is very popular nowadays. You can easily sharpen a variety of tools such as knives, scissors, planner blades, gouges, chisels, drill bits, woodturning tools, etc. with the Tormek sharpening machine.
Tormek has two different models- T-4 and T-8, with different capacities. Both models will give you the ultimate finish and effective grinding.
But still, many of us want to look for Tormek alternatives. If you are also looking for other options, this article is for you.
Tormek Substitutes For Sharpening
Tormek sharpening tools are famous for their machine power and performance. Tormek T-4 and T-8 operate with powerful motors that help these machines grind fast and have full control over the wheel.
But if you want some alternatives to the Tormek sharpening system, then here you go-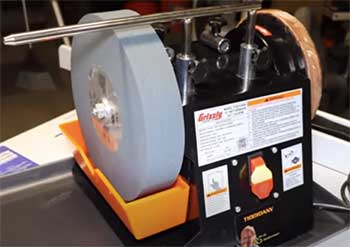 After Tormek, Grizzly wet grinder is the best alternative to have. Grizzly T32720- 10″ is the most popular among all the models.
It has a 220-grit, ½" to 2″ inch wide aluminum oxide grinding wheel which is specially made for wet sharpening.
This grinder uses water bath technology to prevent extra buildup and keep the motor cool while performing.
The Grizzly Wet Grinder also comes with a 1-year warranty. It maintains a good speed between 90- 150 RPM, giving you a smooth finishing. You can also increase or decrease the speed at any time, depending on your preference.
The Grizzly Wet Grinder comes with a complete manual and guide which is written by a US-based technical team. You can set up and start your work by following the manual without any hassle.
Grizzly also provides customer service and technical support.
A Grizzly T32720 – 10″ wet sharpener costs only $210, much lower than the Tormek sharpener. But some Grizzly users say that the Grizzly T10010 10″ is difficult to use.
They also say that the performance is not as satisfactory as Tormek's.
If you have a lower budget, the Delta wet/dry grinder is the best option for you. The wheel speed of the delta grinder is not so high (70-90 RPM), but it does the job.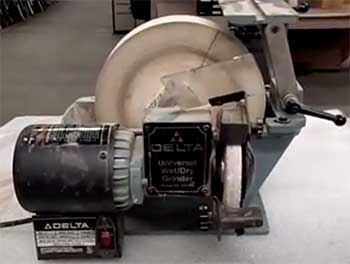 Installation and use are very easy as it doesn't come with complex tools. But the wheel might wear off after a few uses.
In that case, you can change the wheel when needed.
Delta dry grinder does not have water running technology, so it might get hot after a few minutes.
It will be best if you are careful about heating issues when you use the dry grinder.
The Delta GR050 model is the best and most popular one as it gives an ultra-smooth finish on the edges. But it is not a grinding wheel like Tormek. It is kind of a finish sharpener with an almost 220-320 grit finish.
As the delta grinder or finish sharpener gets hot quickly, you can use a technique to get rid of the heat. Fill the bottom tray with water and adjust a squirt bottle with it.
So, when the wheel start grinding, the bottle will fill up and splash the water onto the wheel. Eventually, the wheel will stay wet and keep the excess hot as well as the buildup away.
There is one problem with the Delta Grind. The company does not stock the tools for further buying. So, if you face any problem with your machine, you must buy a whole new one.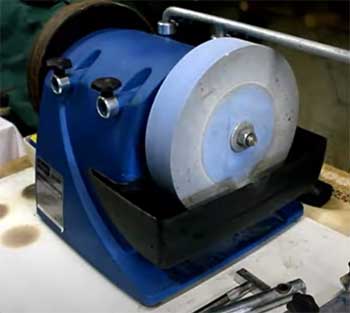 If you want a professional finish of your tools all by yourself, this wet stone sharpening system is a must-have.
Some of its features are even better than the Tormek's.
The Scheppach company claims that the Scheppach Tiger 2000s/2500 is a machine for DIYers who want to work as professionals.
Some of the users also gave positive reviews about this sharpener.
They said that this machine gave them the perfect grinding every time they used it.
Scheppach Tiger 2000s has a jig for straight edge and an angel master. These two features reduce a lot of hassle while grinding.
The motor is also very powerful. 230-240V or 50 Hz motor and 120 KW input have made this Scheppach Tiger 2000s professionals' choice.
The grinding stone size is 200mm x 40mm and has a 120RMP rotation speed. Rotation speed is comparatively high than the other sharpening tools. This speed helps to give an extra smooth finishing every time you use it.
However, this machine produces excess heat because of its high-speed wheel. That's why the mechanism includes water so that it can work for a long time without being excessively hot.
Scheppach Tiger weighs almost 13.5 kg which can be a problem if you want to use it multiple places. But considering all the factors and features, it is one of the best sharpening systems in the market.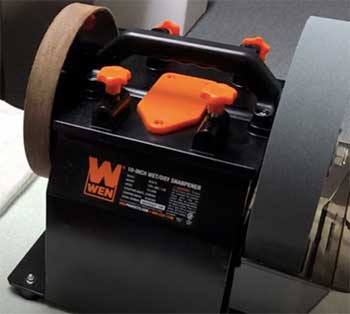 WEN sharpening system is available in various models. Considering all the models, WEN BG4270T 10-Inch might be the best option for you.
It has a reverse rotational technique that will give you the benefit of sharpening extensive tools.
This system allows universal jig support, and you can even buy its parts separately, unlike Delta grinders.
The rotation speed of this model is also impressive. It has a 115 RPM rotation speed with the 220-grit sharpening stone.
One of the best advantages of this system is that all parts of it are widely available in the market, both online and offline. For mobility, this model includes a carrying handle.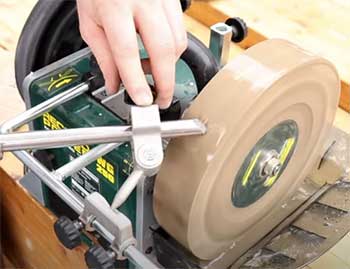 This wet grinder or sharpening system is widely popular with woodworkers.
Many of them have been using this grinder for years.
It is also used for household work such as sharpening knives, scissors, etc.
It has an adjustable torque that will give you the freedom to adjust your pressure. The speed can also be changed when needed.
A sharpening belt is really a cheaper option, but it has some problems. You cannot just use these belts alone. You will need a bigger grinding machine for this.
You can only use it when the belt is set up for the machine. So, it is not a convenient option for household work.
Is Tormek Worth It?
Considering all the reviews and features, Tormek is the best sharpening tool to have. It has the ultimate capacity and power that enables it to give perfectly smooth finishes for years.
Not only smooth edge finishing but also the features for safe and quiet performance. Tormek claims that their wet grinders produce no fire hazard spark and perform more quietly than the other grinders.
Yes, Tormek is expensive but is it worth it?
Well, the answer is – 'it depends. If you want a sharpening tool for your household work, such as sharpening the knives and scissors, it isn't worth buying a Tormek Sharpening System.
But if you're a professional, it is good to invest in a quality product like Tormek.
Final Words
There is a wide range of sharpening tools available on the market. But choosing the right one for you is not easy. They all have different features and specifications. So how can you select the suitable one for your work?
Well, if you don't have any budget issues, then pick the Tormek sharpening system. But if you want to buy for occasional use and have a tight budget, then go through the Tormek alternatives I've discussed above and find the right one.