Leather flooring was not considered an ideal choice for flooring projects in the past. However, as days passed, people got more familiarized with leather tiles and considered them seriously.
So now, if you are planning to get leather flooring for your home, this TORLYS leather flooring review is just an attempt to point you in the right direction.
Though TORLY leather flooring is made of high-quality materials, some apparent drawbacks of leather tiles in the past might be concerning for some people. Therefore, this review will discuss TORLYS leather flooring options and give you a better idea about the product.
Features of TORLYS Leather Flooring

TORLYS has some really great features that separate it from the other leather tile brands. Below, I will discuss all of them and see how TORLYS leather flooring holds up against the rest of the competition.
Multi-layered Construction
First, let's talk about how TORLYS manufactures its leather tiles. Their flooring options are known for their extreme durability, and no doubt the multi-layered construction plays a crucial role in that.
There are five layers that round up to manufacture the TORLYS leather flooring.
The first layer is the TORLYS smart finish that gives a transparent yet durable finish on top of the leather. The second leather is where the actual leather sits. The third and fourth layer prevents dents and gaps in the tiles.
Lastly, the CorkPlus Blue underlay with a Microban layer prevents any microbial contamination from underneath the floor. All these layers combined give you the durable finish you are looking for. 
Striking, Sleek And Elegant Designs
Let's talk about the aesthetics of these TORLYS tiles first. The aesthetic is the primary concern for most people, as leather flooring gives a luxurious and redefined look to the interior. In this segment, TORLYS seems to hit it out of the park.
Once you get to experience the flooring, you'll immediately fall in love with the feel and accuracy of the designs on these tiles.
Finely textured Leather Grain
Leather flooring is all about that elegant feel, feeling that soft and detailed texture under your feet. In that regard, TORLYS has done a great job by providing the most detailed texture on their tiles. The texture is one of those features that actually separates it from other flooring options on the market.
So whether it's comfort, longevity, or luxury you are looking to achieve, you can get all of that with the TORLYS leather flooring.
This is a feature that many homeowners will like. TORLYS takes environmental friendliness quite seriously, and that's clear from their use of 1000% recycled leathers for the flooring options.
There are so many benefits to it that will surely impress the homeowners considering going green. TORLYS manufactures recycled leather and uses it for their planks and tiles by recovering the fiber from used leather.
The end result is a clean flooring with the same durability, feel, and luxury of leather without polluting the environment.  
Wide Variety Of Colors And Textures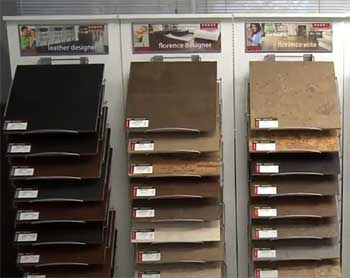 What's the point of having these leather tiles if you don't have the liberty of choosing the texture and color, right?
TORLYS offers their customer a wide variety of sizes, colors, and textures for that purpose. Both leather planks and tiles have two sizes.
But in terms of color and texture options, the planks offer more with ten choices. On the other hand, leather tiles have four options to choose from.
Every design and texture is different from others to provide customers with versatile choices.
The uniclic joint feature seems to kill two birds with one stone. Firstly, you get a perfectly fitted floor with no unwanted gaps or fitting issues. Secondly, this uniclic joint also makes the installation so much easier without any nails or glue.
So, the ease of installation and great fitting is available in the same package. On top of these, the uniclic joint also offers easy removal and movement of the tiles up to three times. So, you can easily reuse them too.
TORLYS leather flooring might not be as expensive as the other options on the market, but they aren't cheap either. So, before you invest in this, you have to make sure that a warranty protects your investment.
In that regard, TORLYS offers you a lifetime residential S.M.A.R.T warranty and five years commercial warranty. For leather flooring, that's a pretty good duration to assure the consumers.
What Could Have Been Better With TORLYS Leather Flooring?
As I mentioned earlier, TORLYS is one of the best leather flooring companies operating right now.
However, some aspects of their leather tiles and planks can be a bummer for some consumers. Though there is no major issue, you should know about them to make an informed decision.
Sensitivity To Heat And Humidity
As durable as they are, TORLYS isn't so good when it comes to direct exposure to heat or sunshine. Under the heat, these tiles can easily get discolored or faded, completely ruining the look.
At the same time, if the humidity in your area is low, that can have the same effect too. TORLYS has a lot of scopes to solve these issues.
The beautiful texture we appreciated before can be an issue too. When you spill something like food or any liquid, it's super easy for those stains to get stuck on the textured surface.
So, overall, there is scope to work on stain resistance.
However, here is a tour of this flooring brand to make up your mind.
Final Thought
That's a wrap for today. I hope my TORLYS leather flooring reviews were helpful enough to give you a complete overview of their leather planks and tiles. As you have seen, so many distinct features separate TORLYS from the rest of the leather tiles options on the market.
If you are convinced by those features, all there is left to do is pick your favorite design, color, and texture and give your floor a redefined look.