Are you looking for a reliable flooring option with combined quality and functionality?
It is challenging to find an affordable and minimally maintainable floor that is ideal for heavy traffic applications. After in-depth market research, I have chosen SONO eclipse flooring.
SONO eclipse flooring is precisely crafted with advanced technologies. This German-based product is available in various harmonious colors. High and low contrasted patterns make it a top choice among households.
Let's dive deeper into this review.
Features of SONO Eclipse Flooring
Before buying any flooring product for your household or commercial area, knowing their valuable features is crucial. Here are all the important parts of SONO Eclipse Flooring.
Appealing Color And Design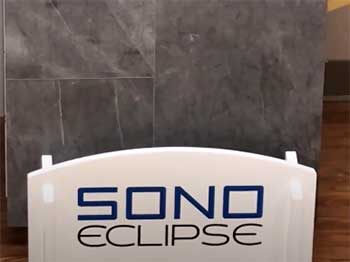 SONO Eclipse flooring comes with HD direct-to-core with digital prints. It adds a solid and realistic appearance to the surface you install.
Conveniently, this high-quality flooring has 18 distinctive decor planks.
This gives you enough versatility to combine different color options based on the interior design.
Also, you can get them combinedly with lower and higher contrasted patterns to add a more realistic appearance inside your home. You don't have to repeat the design for all areas of your house.
Extreme And Reliable Core
This dimensionally stable flooring is made of waterproof materials. It is a combination of a mineral composite and eye-catchy HD direct-to-core. No formaldehyde, plasticizers, phthalates, and PVC are used to make this core.
The manufacturer has mainly utilized polyolefin and mineral powder combinedly to make this waterproof and homogeneous product. It has a great temperature endurance capability.
Handling temperatures ranging from – 40 degrees to 150 degrees F won't be hard for this type of flooring.
Its polypropylene film wear layer is semi-crystalline in nature, which has high flexural strength. Apart from having a low coefficient of friction, it is highly resistant to moisture.
Also, it works as a good electrical insulator, giving optimal safety for the area you want to install.
Reliable And Authentic Certifications
In order to ensure extreme reliability of the product, SONO Eclipse flooring has Blue Angel and GreenGuard Gold certification. Since it is certified the GreenGuard Gold, you can remain worried regarding safety issues.
Kids and older adults will be safer. Installing this flooring option for residential and commercial purposes won't cause any issues. Using the product for schools and healthcare facilities seems convenient.
It is environmentally friendly to ensure optimum safety too.
Versatile For Installation
SONO Eclipse flooring has excellent waterproof properties. Hence, you can install it in high water exposure areas such as bathrooms, kitchens, or lower grades.
The overall construction of the flooring won't be affected heavily by regular moisture exposure. You are less likely to experience mold growth even in high humidity or trapped moisture areas.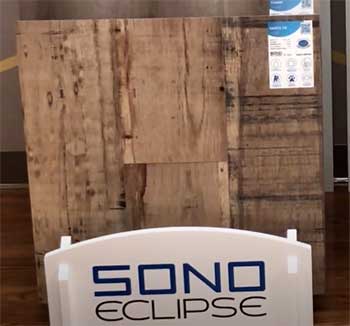 This reliable flooring product has the AC5 wear rating, known as the highest durable rating.
Using this type of flooring in high-traffic commercial areas seems a realistic approach.
Busy offices, retail spaces, showrooms, restaurants, etc., are the perfect place to use.
The unit can handle up to 1,600 psi pressure because of its dense core. It is incredibly impact resistant.
Additionally, experts gave a 5 rating out of 5 regarding Abrasion Class Rating.
Also, several Falling Sand tests were done, and it doesn't show any visible damage.
Impressive Dimensional Stability
SONO Eclipse flooring is made with unique compounds. Even demanding conditions won't cause contraction and expansion. Its mineral composite core ensures no gapping or warping issues when exposed to high heat.
Each piece of the plank has four-sided bevels to make it more aesthetic. Hiding any imperfection of the edge appears simple. This makes it more effortless to install.
Additionally, it won't be a concerning point if flooring pieces get any slight damage while transporting or installing them. After all, it is more forgiving.
Installing this high-quality flooring option is easygoing as you don't need any power tools. A simple utility knife appears to go for a dust-free installation.
Handling massive projects is easy because this floor option features a Megaloc locking system. Hence, you won't experience any transitional moldings issues.
Plus, the entire installation process will be quick and convenient due to its patented angle-drop installation system. You just need to place the planks at the right and put the proper pressure from the edges areas to lock it precisely.
After successful information, the floor won't move unnecessarily. It will remain in the spot firmly.
What Could've Been Better With SONO Eclipse Flooring?
You have already learned about the good side of SONO eclipse flooring. Let's know the negative side of this flooring option.
Though SONO eclipse flooring has a decent warranty period, it is full of "exclusions." You can't claim the warranty if you damage the product through immense flooding, hydrostatic pressure, and improper installation.
You can only install this flooring option inside the house. If your sub-floor causes damage to the main floor, the warranty becomes void too.
SONO eclipse flooring has a slightly higher price tag than engineered hardwood, laminate, and sheet vinyl. You have to spend around $5 to $7 per square foot.
However, don't take it as the most expensive option. Many options are available with a premium price tag. If you want to learn more about this flooring, watch this video/
Frequently Asked Questions (FAQs)
Is Sono a good brand?
Sono is considered a reliable brand since its products have  AC 5 Rating. They are highly durable and scratch-resistant. Their original colors are not prone to fade quickly. Stains and scratches will cause minimal damage to them.
How do you clean Sono eclipse flooring?
It is a good rule of thumb to use a vacuum, broom, or dust mop to clean the hardwood surface of Sono eclipse flooring. Make sure to get rid of all debris, loose dirt, and dust properly. If it needs a deep cleaning, you can use a water-based floor cleaner.
What is the top brand of vinyl flooring?
Apart from Sono, many brands sell high-quality vinyl flooring, such as Shaw, Mohawk, Armstrong, Karndean, COREtec, etc. However, each vinyl flooring offers some unique features to stand out from the rest.
What is the Inhaus Sono eclipse?
Inhaus Sono eclipse is a German-based flooring solution that is made from the mineral composite core. No formaldehyde, plasticizers, PVC, and phthalates are used to manufacture Inhaus Sono eclipse. Their products are recyclable and eco-friendly.
What Thickness Of Vinyl Plank Flooring Is Best?
The minimum thickness level for residential flooring is 12 mil and for commercial flooring is 28 mil. The higher the thickness, the more durable it will be. But make sure it doesn't exceed the door's bottom level.
Final Thought
Dozens of vinyl floorings are available in the market. But not all of them are as reliable as SONO Eclipse flooring. It is certified by many authentic organizations and made with eco-friendly and high-quality materials.
Thus, it is not hard to see why it is a good option.
Though it is a little bit pricier than some other options in the market, you will get long-term value from its consistent and convenient performance. Hopefully, you got a decent idea from the SONO Eclipse flooring reviews'session.