Let me take a wild guess; you've sweated blood to find the one but failed. I was there, so I know the feeling. I will tell you everything about one of the best floors.
I've been using OptiMax floors for a while now, and my experience is so far positive. That's why I've decided to share my experience with you so that you get an original idea about the product.
You will eventually find out if this flooring is suitable for you. So, let's get into the details.
Features of OptiMax Flooring

Many unique features in Optimax flooring will attract you for sure. So, let's explore some key features of this floor option.
An Excellent Flooring Option
optiMax flooring is an excellent option that looks like wood. These floors are reinforced with Techtanium Plus. As a result, you will get supreme protection against many things.
They are 100% PVC free and are not harmful to the environment. The floors are completely waterproof, so you won't have to worry about moisture damage.
Apart from that, these floors are dent and gauge-proof. They come with pretty good scratch-resistant ability.
Besides, your pet won't be able to damage these floors since they are pet-proof. In a word, these floors come with excellent protection from every possible harm's way.
My experience says you can install optiMax floors in any room of your house. They are also suitable for busy commercial areas.
You can install them in your bedroom, living room, kitchen, bathroom, and sunroom. Since they are 100% waterproof, moisture won't damage them.
Besides, these floors can withstand temperatures ranging from -34°C to 71°C. So, you can use them in any room of your house without worrying about temperature damage.
Besides, their design and color blend well with all the rooms in your house.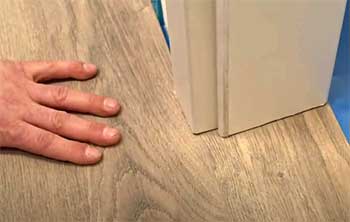 Optimax floors have 6 layers. Each layer is made from different materials.
Because of the six layers, these floors become firm and damage-proof.
The first layer has dent & gouge proof protection with extreme scratch resistance.
The second layer has an authentic wood texture. That's why these floors look like wood. The third layer holds a 50% wood-based rigid core.
And in the fourth layer, they have an easy locking installation system. The fifth layer is the balance layer for stability and durability. Finally, the last layer holds wood fiber-based acoustic underlayment.
Because of the 6b layers, Optimax is an excellent choice for flooring. They can take a lot of foot traffic in busy areas. They are made in a way that scratches, moisture, and temperature can't damage them.
I didn't face any problem installing these floors in my house. They are pretty easy to install. These floors are real quick and easy to install.
You can install them over most of the existing floors. You won't need any transition molding while installing them.
You can install all the floors on the same day with zero acclimation time. However, I have used an additional underlayment for optimal sound absorption and moisture resistance performance.
One of the most exciting benefits of Optimax flooring is that they are pretty easy to clean and sanitize. You won't have to follow any fancy process to clean these floors. Since they are waterproof, you can clean them with water.
These floors can be cleaned simply with a wet, jet, or steam mop. Just make sure you use the proper cleaning agent and tools for cleaning floors. Do not use a cleaner that might make the floor color fade.
You will find a handful of colors and styles available in Optimax flooring. That's why you can choose different styles and colors for different parts of your house. We already know that Optimax floors look exactly like wood.
The color pigmentation, amount of wood grain, and contouring are excellent. So, it won't feel cheap after installation. Instead, it will enhance your house's look.
These eco-resilient floorings look aesthetically beautiful in any room of your house.
The price range of Optimax floors is pretty competitive. The price depends on the style and color of the floor.
However, it starts from $3.79 per square foot. The most expensive floor in Optimax flooring comes at $4.99 per square foot.
So, the gap between the lowest and highest price flooring is not very much. Comparing the price with quality and other brands, I found it competitive.
Warranty is essential for any product, and Optimax floors have excellent warranty coverage. You will get a Lifetime Warranty for residential use.
And for commercial purposes, you'll get 20 years warranty.
What Could Have Been Better?

With all the good sides, there are still some cons that you should know about. So, here are some cons of Optimax flooring.
You cannot install Optimax floors on the stairs. You won't be able to nail it; otherwise, the lamination will chip.
So, you should not install them on your stairs. However, it would be wholesome if you could install them on your stairs.
According to some customers, some parts of their Optimax floor planks have become discolored. Some have said that their planks were chipped during installation.
While they might be some isolated incidents, Optimax should look into the matter.
One of the bad sides of Optimax flooring is that they are difficult to repair if they somehow get damaged. They generally don't get damaged, but when it does, you will have to be very careful while repairing them.
According to many customers, they found them pretty hard to repair. However, I haven't encountered any damage yet.
So, I can't share with you my experience. But I've heard that they are pretty difficult to repair.
Frequently Asked Question (FAQ)
Is Optimax a good flooring?
Optimax is a pretty good choice for flooring. They look like wood, and you can compare them with vinyl floors. These floors are waterproof, scratch-resistant, pet-proof, and 100% PVC free. So, they are pretty good in quality and durability.
Is Optimax a vinyl?
Optimax floors are not vinyl. But its characteristics and performances match with vinyl floors. They are easy to install and clean. You can put them in any of the rooms of your house. Plus, they are also temperature resistant and waterproof.
Does Optimax flooring need an underlayment?
Optimax flooring comes with wood fiber-based acoustic underlayment. But for better soundproof performance and water resistance, you should use a vapor barrier for underlayment.
Which is the best brand for flooring?
You will find many brands in the flooring market. But not every one of them is good in terms of quality and performance. Armstrong, Lumber Liquidators, Mannington, Mohawk, Marazzi, etc., are the best name in the market for flooring.
Final Thoughts
A floor is not only about looking good but also about how comfortable you can walk on them. That's why it's essential to choose the right floor. And this review on optiMax flooring shows that it's a pretty good option for your house.
There are some limitations, but that's okay. These floors have everything you could ask from an engineered floor plank.
So, you can give it a go.