Titan Implement is a famous brand that manufactures many products for agriculture and non-agriculture uses. The company mainly focuses on manufacturing agricultural and rural-lifestyle equipment.
You can get a lot of items from a single brand.
Since I have many agricultural fields, I had the chance to test several equipment from Titan Implement. If you are wondering whether you should buy products from them, check out the reviews on Titan Implement to learn more about them.
Features of Titan Implement
Wondering why you should buy different types of equipment from Titan Implement. Here are the top features of some products of this brand.
Different Types Of Products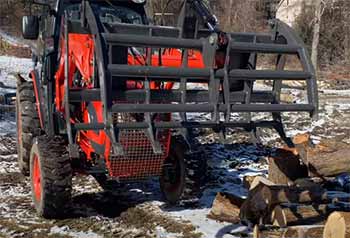 Titan Implement sells a wide range of equipment.
You can get landscape rakes, rotary cultivators, rotary mowers, disc harrows, grader blades, skid steer attachments, and other agricultural equipment.
Additionally, you can use them to boost your production efficiency.
Plus, they manufacture various non-agricultural products. You can use them for light construction, landscaping, municipalities, and other purposes.
This enables you to save a considerable amount of money. You don't buy additional equipment separately.
Products from Titan Implement are originally made in the USA. Their craftsmanship and quality will impress you in various ways.
For example, its rotary mowers Hay And Forage equipment comes with a single spindle and two free-swinging blades.
You can use this well-built product for mowing weeds and grass. It also comes in handy for clearing brush in a few inches.
Plus, this type of rotary is highly versatile, with various tractors ranging from 15 to 45 hp. They have a shear pin for driveline protection.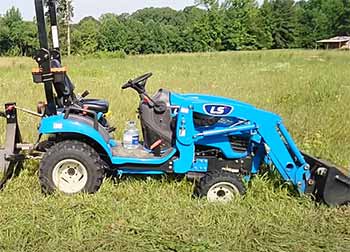 Rotary cultivators and rotary mowers from Titan Implement come with efficient Power Take Off (PTO) system.
When you turn on this switch, power is transferred from the engine's drive pulley to the blades.
The blades of the mowers will start to spin and engage the mower deck.
The action of cutting weeds and grass is highly precise with the PTO system. Compared to gas-powered mowers, PTO-based mowers are more efficient because they consume less fuel.
Plus, they have a lightweight construction, making it easy for transportation.
LUG Standard Laminated Wheels
Mowers and Flex-Wing Cutters from Titan Implement feature laminated wheels. This type of tire is made from a high-modulus and low-modulus polymeric material.
Also, they can provide impressive traction on various surfaces due to their tread pattern.
Its soft and hard layers ensure long-lasting durability. Plus, it has superior resistance properties against cracking. All the tires have a LUG Standard.
They are precisely designed to use off roads where the surface is not smooth like a highway.
Superior Quality Grader Blades
Titan Implement uses top-quality grader blades for their equipment. You can use them for various road grading and earthmoving applications.
Precisely scrapping and leveling the ground is what you will love about them.
Plus, this blade type leaves a uniform and smooth surface after cutting items or moving dirt. You can also use grader blades for snow removal and driveway maintenance.
Compared to regular blades, they have 3 to 5 times wear life. 
Mowers and cutters from Titan Implement have heavy-duty chains to move the mower forward. It also helps the blades to spin smoothly. But make sure to adjust the chain after 15 to 25 hours of continuous use.
They also ensure stable traction for the lawn mower. You can direct the lawn mower in various directions of the road surfaces with minimal issues. Just make sure the chain is appropriately adjusted and tightened.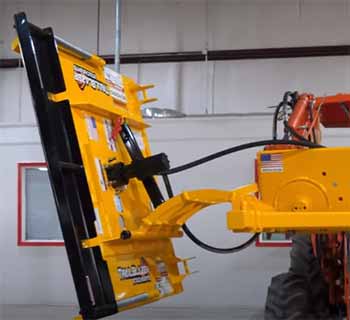 Lawn mowers and cutters from Titan Implement have aluminum alloy decks.
Their rigid construction ensures long-lasting durability.
They are resistant to impact, rust, and corrosion.
Plus, their lightweight construction allows you conveniently clean them after taking them apart.
Moreover, this heavily braced deck is not prone to bend, crumple, or even crack easily. Its original shape will remain in good condition for an extended period.
These reliable decks are low maintenance than cheap quality lawn mower decks.
Flex-Wing Cutters and lawn mowers from Titan Implement come with Triple Spring Suspension. This system allows the driver more precisely control the equipment.
It also ensures optimal safety while operating the cutter or lawn mower. Consistently cutting the lawn, grass, or weeds is what you will appreciate about this spring suspension.
Plus, the suspension technology can reduce the shock to the chassis significantly. So, your lawn mower operation will be more comfortable, stable, and efficient.
What Could've Been Better With Titan Implement?
Although the products of Titan Implement have many advantages, it could have been better if they had some additional features.
Titan Implement offers only one year warranty for most products. To make their product more reliable for potential customers, they could give several years warranty for the main products.
Products of Titan Implement are available in various types. But they have only a few sizing options. It will be better if they add more sizing choices to fulfill different customers' needs.
Undoubtedly, Titan Implement products have exceptional quality. But their price is a little bit higher than competitors. Competitive pricing would make their products more demanding.
Frequently Asked Questions (FAQs)
Are Titan implements made in the USA?
Yes, the products of Titan implements are originally made in the USA.
Where are Titan attachments?
The main head office of Titan attachments is located in Memphis, Tennessee, United States.
Who makes Titan equipment?
Titan Machinery incorporation mainly makes all the Titan equipment.
Bottom Lines
So, what have you decided after going through the Titan Implement reviews?
This prominent brand can offer you a wide range of household and commercial equipment that you can use for agricultural and non-agricultural projects.
Though it has some disadvantages, they are too less compared to the value its products will provide you. You just need to choose the right equipment and continuously use them without worrying about anything.
They will last more periods than your expectation.