When it comes to choosing reliable and efficient drive systems, Hydro-Gear is a top choice. After all, this leading brand researches and engineers their products sophistically to meet their customers' high demand.
This comparison guide between Hydro-Gear 4400 and 3400 will help you understand better.
Compared to Hydro-Gear 3400, Hydro-Gear 4400 has a higher output torque, speed, and larger axle shaft diameter. Plus, the updated one creates reduced noise and vibration and can handle more heavy-duty vehicles.
Let's see more details about both commercial drives.
A Quick Comparison Table
Before going through the in-depth details, you can check out this quick comparison table to get a brief idea about both commercial drive systems.
| | | |
| --- | --- | --- |
| Specification | Hydro-Gear 4400 | Hydro-Gear 3400 |
| Weight | 55 lbs [25 kg] | 34.5 lbs [15.6 kg] |
| Motor Power | 16cc | 16cc |
| Hydraulic Gear Pump | 12cc | 12cc |
| Output Torque | Up to 575 lb-ft [up to 780 Nm] | Up to 500 lb-ft [up to 677 Nm] |
| Axle Shaft Diameter | 1.375 in [35 mm] | 1.125 in [28.56 mm] |
| Speed | Up to 12 mph [up to 19 kph] | Up to 10 mph [up to 16 kph] |
| Suitability | Heavy-duty commercial vehicles | Mid-size commercial vehicles |
| Gross Vehicle Weight | Up to 1800 lbs [up to 816 kg] | Up to 1600 lbs [725 kg] |
| Noise | Reduced noise and vibration | Slightly noisy |
| Performance package | Charge Pump & Shock Valves | Shock valves, Cut steel gears, and Charge pump |
| Price | Higher | Lower |
In-depth Differences Between Hydro-Gear 4400 And 3400 Transaxle
So, you got a brief overview, right? Now, it's time to know both hydraulic drive systems in detail to make an effective purchasing decision.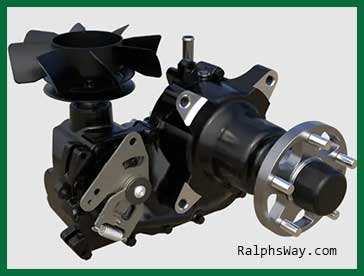 The Hydro-Gear 4400 weighs 55 lbs [25 kg], whereas the other weighs only 34.5 lbs [15.6 kg].
If you want to install them yourself, Hydro-Gear 3400 will give you more flexibility for easy installation.
You need to be a little bit careful while installing the heavier one to avoid unwanted accidents and injuries.
Additionally, using extra tools is a solid rule of thumb to install the drive system conveniently.
Since both units come with 16CC motor power, they can show reliable performance. Digesting extended air and fuel will be easygoing for them to burn additional fuel per stroke.
Hence, they can produce a higher amount of power and better acceleration. You can significantly impact their performance due to the 16cc motor power.
In order to get hydraulic energy from mechanical power, Hydraulic gear pumps play a crucial role. It uses the electric motor to drive a pump and turns the power into fluid pressure.
Both Hydro-Gear 4400 and 3400 feature a 12cc hydraulic gear pump, which can handle up to 250 bar working pressure.
When you want a drive system works hard, it must have decent torque power. Higher torque means higher efficiency and energy-saving.
The Hydro-Gear 4400 can generate up to 575 lb-ft [up to 780 Nm] torque, while the Hydro-Gear 3400 can produce Up to 500 lb-ft [up to 677 Nm]. Hence, the advanced option can handle more heavy-duty work than 3400.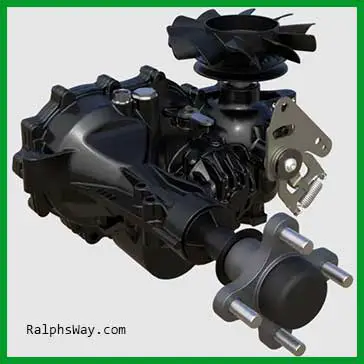 Hydro-Gear 4400 has a 1.375 in [35 mm] axle shaft, while Hydro-Gear 3400 features a 1.125 in [28.56 mm] axle shaft.
The higher the axle shaft diameter, the more torque-carrying capacity a drive system generally has.
Hence, Hydro-Gear 4400 has more teeth on the spline than 3400, making it more rigid.
It can take more load and stress as it has an improved strength.
The speed of a hydraulic drive system plays a crucial role in energy efficiency. The faster it works, the more energy you will save.
The Hydro-Gear 4400 can go for up to 12 mph [19 kph] speed, while the other option can handle a maximum of 10 mph [16 kph].
Additionally, working reduced time will extend the lifespan of the unit. This will be a significant investment in the long run. You will have to replace the unit less frequently.   
Hydro-Gear 4400 has heavy-duty roller bearings and extended-capacity thrust bearing, which allows it to handle more heavy-duty vehicles. Conveniently operating these types of vehicles will be easygoing with minimal issues.
On the other hand, Hydro-Gear 3400 is mainly ideal for light and mid-size commercial vehicles. They are great for a multitude of working roles.
Another important thing is considering the weight compatibility of the hydraulic drive system you choose for your vehicle. The gross vehicle weight for Hydro-Gear 4400 is up to 1800 lbs [up to 816 kg].
Hence, installing them on even many heavy-duty vehicles won't be a problem.
On the contrary, Hydro-Gear 3400 is mainly suitable for handling up to 1600 lbs [725 kg] gross weight. Any medium-sized vehicles will be completely okay to install this type of drive system.
Many of us often complain about the noise of a drive system. Hydro-Gear 4400 has an advanced design and heavy-duty components that makes minimal noise and vibration while operating it.
Contrastly, Hydro-Gear 3400 makes a slight noise and vibration since it is an older model. However, it does not go beyond the tolerance level. Hydro-Gear 4400 just gives a more convenient experience to operate.
To install and operate a hydraulic drive system conveniently, you need some essential items. The manufacturer provides a charge pump and shock valves for Hydro-Gear 4400. Hence, you don't need to buy them separately.
On the other hand, Hydro-Gear 3400 comes with shock valves, cut steel gears, and a charge pump. Unfortunately, you won't get any cut steel gears with Hydro-Gear 4400. If you need it, separately purchasing it will be necessary.
Since Hydro-Gear 4400 is more advanced and heavy-duty, the price of this unit is a few hundred dollars higher than Hydro-Gear 3400. But when you work on heavy loads of vehicles, this unit is worth the price you spend.
Which Transaxle Is The Best Choice For Your Mower?
If you are looking for a flexible hydraulic driving system at affordable pricing, Hydro-Gear 3400 appears a practical choice. It will be highly durable and can show consistent and reliable performance for a long time.
On the other hand, Hydro-Gear 4400 seems a sophisticated pick for heavy-duty mowers. It can consistently provide higher level torque and better speed to drive the vehicle more efficiently.
Frequently Asked Questions (FAQs)
How Often Do You Change Hydro-Gear Oil?
Changing the oil of Hydro gear after the first 75 hours of use is necessary. But you can replace the oil after 400 hours from the second time.
How Many Hours Is A Hydrostatic Transmission Good For?
A hydrostatic transmission can show reliable performance from anywhere between 3000 hours to 5000 hours, depending upon the regular servicing.
How Many Hours Does Hydraulic Fluid Last?
Hydraulic Fluid generally lasts for 1,000 hours. When changing the Fluid, draining the old Fluid is necessary, and then you can add the fresh Fluid.
How Long Does Unopened Hydraulic Fluid Last?
Hydraulic Fluid can last up to 5 years if you don't open it. However, using it soonest is better because the quality may degrade over time.
Conclusion
Knowing all the crucial factors is mandatory before choosing a particular hydraulic drive system. You have to learn its motor power, gear pump capacity, output torque, speed, axle shaft diameter, and many other vital aspects.
We have already discussed Hydro-Gear 4400 vs. 3400. You can choose either option that seems in the budget range and compatible with the vehicle or engine you want to use.