Having a disc mower behind your tractor is the best investment if you often need to cut simple grass or handle thicker vegetation. But due to the number of available options could be a little tricky to decide your best one.
Please, be welcome, and let's give you an idea about some best disc mowers so you can quickly get what you are looking for. All the Disc mowers or brands explained here are highly recommended and used by many field workers. So, let's dig in!
Top Disc Mowers For Your Field Maintenance Needs
You hardly get a disc mower that can stand with you for a few years. At that moment, all you realize is wasting a hasty investment which is the worst feeling for a farmer.
Therefore, I recommend choosing from the following disc mowers as they are the best ones.
KUHN GMD 1051 TL Disc Mower
John Dheere 2660VT Disc Mower
Pottinger NOVACAT F ALPIN Front Mounted Mowers
Vicon Plain Disc Mowers
Krone Disk Mowers
In Disc Mowers, you can have a front-mounted or a back-mounted disc mower to attach to your tractor.
Some mowers easily fit with your tractor. But for some, you will need to specify whether it will be in a compatible size to work with your tractor or not.
However, a disc mower is a great tool to cut all the grass from the field and make it flat.
Let's not waste time describing these mowers or mower brands briefly.
KUHN GMD 1051 TL Disc Mower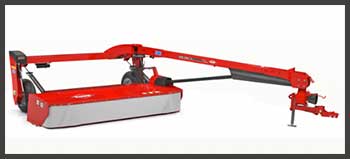 KHUN is one of the highly recognized brands among those disc mower keepers.
Being an industry-leading Disc Mowers manufacturer, their GMD 1051 TL Disc Mower series is highly appreciated by users.
This disc mower has all those simplistic and high-end features you want to see in yours. Get amazed by the higher working rates, low maintenance depending on the grass and forage harvesting, and simple adjustments even for most newbies.
Also, get easy tractor adjustments and excellent contour following compared to those fully mounted models. With this disc, you can use the smallest tractor, and it will stay balanced.
John Dheere 2660VT Disc Mower
If you are looking for value for money, John Dheere is another excellent disc mower manufacturing brand in the market.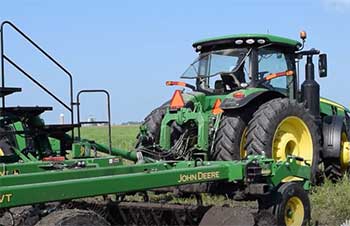 Their equipment is for the fields and farmers and is highly discussed by most people.
The 2660 VT model is a name of quality and durability in the form of a Disc Mower.
Besides, they have a wide collection of other disc mower models for a specific customer with a particular budget and looking for some demanded features.
But if you rely on this one, it provides effortless adjustments and installation on your tractor. The exclusive commander blade features a double-cut technology for faster grass cutting.
It does have hydraulic rolling baskets that keep the grass and don't let it spread on the ground. Moreover, you will always find it more versatile to meet the tillage needs, whether spring or fall.
Pottinger NOVACAT F ALPIN Front Mounted Mowers
Some farmers like to have disc mowers that can be mounted on the front side of the tractor. If that is the same with you, you must look at this Pottinger disc mower.
Pottinger is known for building some highly durable and most demanded farm machines such as these disc mowers.
This series of mowers chosen here is a pack of all the life-saving features being handy and versatile for your grass-cutting needs. With different models, they have other disc options or cutting blades, such as 5,6 or even up to 7.
In addition, such mowers are lightweight but still durable to use for a quality lifetime behind your tractor.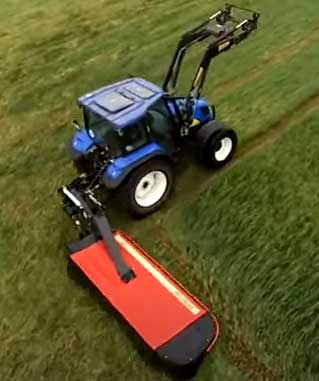 Many farmers also recommend buying a disc mower from the Vicon.
Just in case you don't like any of the mowers from the above-explained brand, no matter what is the reason, Vicon Plain Disc Mowers will serve you the best.
They have disc mowers with front and rear mounting options.
On top of that, these mowers vary in size, capacity, power, and blades. Also, the mowers vary from 1.7 m to 9.50m.
The larger the size, the more area it will cover and the more you'd be paying to have it.
Hence, depending on your field requirement and tractor compatibility, you can choose your specific one.
Be easier to operate your disc mower with your tractor when using the lightweight and quiet working Krone Disc Mowers.
This brand is also highly rated for making exceptional farm machines and equipment. The mowers at Krone are working very nicely to provide the cleanest and most accurate cuts. Their hardened steel construction stays for a more extended period.
Besides, these machines are available in multiple series so that one can choose whatever he desires. Therefore, Krone can be another top-notch brand to look for a disc mower.
Frequently Asked Questions (FAQ)
Which Hay Mower Is Best?
For the hay mower, you can go with the Drum Mowers. They are the most rugged machines that stay durable even if they encounter an unmovable object.
Are Krone Disc Mowers Any Good?
Krone produces some heavy-duty mowers made from heavy gauge steel for excellent strength. These machines show the demanded durability and are considered best for your fields.
Is A Disc Mower Better Than A Sickle Mower?
A Stickle Mower is best to use when you don't want to damage the quality of your land. Plus, it also helps in removing the grass more effectively. However, if you wish for speedy grass cutting and don't care about trimming quality, you must go with the Disc Mower.
Is A Drum Mower Better Than A Disc Mower?
The better is always what you like the most. But a drum mower is more lightweight than a disc mower and usually costs less than a disc mower.
Wrapping Up
Cutting grass is easier when you have the fastest, most durable, and most featured disc mower behind your tractor. It helps you remove unnecessary hay from the ground and make it smoother.
You can choose any disc mower from the above-described brand, and I can ensure that every one of them will work impressively. So, why are you waiting? Choose yours and get back to work!