Thompson creek and Anderson windows are US windows and doors, making brands serving several houses for decades.
When a person like you or me has the idea to renovate our house, a decision between Thompson creek vs. Andersen windows always becomes confusing as both are high-end brands.
Therefore, I would like to share the similarities and differences between these two windows and doors brands in today's guide. Let's get going!
A Quick Comparison Table
| | | |
| --- | --- | --- |
| Credentials | Thompson | Anderson |
| Products Offering | Windows, Doors, Roofing, Siding, Gutters, Bath and Showers | Windows, Doors |
| Material Used | Vinyl, Wood | Vinyl, Wood, Composite, Aluminum, Fiberglass |
| Purposes | Commercial Residential | Commercial Residential |
| Energy Efficiency | Energy Star Certified | Energy Star Certified |
| Sound Protecting Feature | Included | Not Included |
| Maintenance Required Over Time | Not Necessarily | Not Necessarily |
| Installation Offering | Offered | Not Offered |
| Durability | High End | High End |
Detailed Differences Between Thompson Creek And Anderson Windows
Since that short table is not enough to judge all about these brands, let's look at the in-depth details. Please have a look.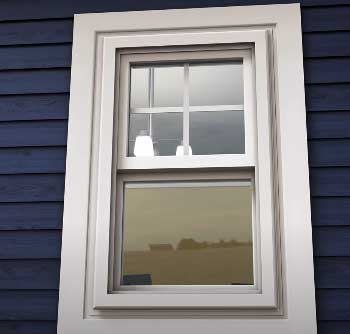 To differentiate between these two brands, take your first look at the products offered by each of them.
Thompson has been working for years, and they have a wide variety of offerings. They just don't fit new windows inside your home or commercial building.
Besides that, they provide you with doors, solutions for roofing, gutters, bath, and other services.
You can have your custom design and ask them to make the same one. They offer various designs in these products head that suit everyone's needs and budget.
On the other hand, Anderson sells only windows and doors. But that doesn't mean that they don't provide quality.
Yes, they have a vast selection from the doors and windows head. You can have an Awning, Bay bow, Gliding, Picture, Double, and Single-hung windows from Anderson.
Plus, they offer you all types of doors in the door variety, including entry, French, Gliding Patio, etc.
Therefore, if you need just doors and windows, you can refer to any brand. But if you need more than just windows or doors, Thompson is the brand waiting for you.
Usually, Thompson makes products using either wood or Vinyl. They use high-quality Vinyl material to make windows, doors, and other cost-effective products and work for longer periods.
Moreover, the stylish wood offering makes it look empirical when you have a window or door inside your home from this brand.
On the other hand, Anderson doesn't use only wood and Vinyl. The brand has expanded its variety of materials to make different and unique products.
They deal with all those materials a high-end company should use to make windows and doors for every particular need.
Suppose you become the person to visit Anderson for having a fiberglass window. You will have it because they make these windows or doors using this material. If you compare Andersen windows with Crystal windows, you will see more differences in this regard.
However, the quality is not compromised anywhere. It is just a wide selection of stuff that everyone prefers to have according to his own choice.
Both brands offer high-end windows and doors for commercial and residential needs.
It doesn't matter if you have a new house to add some doors and windows. Or if you have a high building where you want to install glass.
Just have your service from any brand and realize how lucky you are. That's because the ratting, the customer trust, and everything positive make these brands show a good image in people's eyes.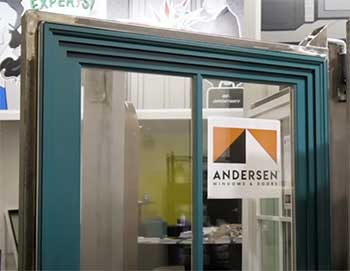 Thompson uses glass technology and materials that provide high energy efficiency when it comes to safe power and stopping those dangerous ultraviolet rays of the sun.
Besides that, the windows and doors provided by this brand keep the temperature level low inside the rooms.
Because they don't let the direct heat enter the room.
On the other hand, Anderson is also very conscious of providing its customers with the amazing energy efficiency feature.
They use various materials for building their products, and with glass, they use double pane glass type.
This ensures that no heat should enter the home, and it must be protected from all those nondemanding forces of the sun. NFRC provides different ratting for Anderson products that let you have an idea whether they are good with energy efficiency or not.
For the people living in noisy areas, it becomes difficult to live because the outside noise always keeps disturbing them. Therefore, they prefer to use windows that have soundproof features,
One user recommended Thompson for providing the Sound Proof Window technology. And he affirmed that the outside noise near his home was reduced to a minimum level when he installed windows from Thompson.
However, you may or may not find Anderson products providing this feature. Even though they use high-end glass and other different materials to produce windows from scratch.
Maintenance Required Over Time
Both brands are good at providing windows, doors, and other products that don't require maintenance for a long time.
If you have installed the product inside your home, keep cleaning it, and keep the exterior and interior up to date. And you will never have a complaint to make.
Through this, your experience using products from Thompson and Anderson would be amazing.
Thompson has a high reputation for offering quality services regarding helping the customer choose his own design, construct it, and finally install it.
They repeat the whole process without the intervention of a middle man. It lets the customer save costs and time while having products for his home or building.
On the other hand, Anderson doesn't go to your home to install windows or doors at their exact places. You may require the service of a third party to complete this job. It usually increases the costs.
Since we have talked a lot about Anderson and Thompson, there is no need to judge the durability of their products.
The thing is, both are good at offering excellent warranties with their products. It means the service provided through their products lasts longer by equalizing the price value concept.
So, don't be confused about durability while choosing either Thompson or Anderson.
Which One Is Best To Choose Between Thompson Creek And Anderson Windows?
Undoubtedly, the final selection of either brand or product always depends on the customer's state of mind and his comfort with choosing it.
However, some facts make the selection easier. Therefore, when it comes to deciding which company is better for having products to renovate your home, I would like to highlight that Both Are Great at providing quality.
Still, if you don't want to get involved with messy installation services, go for the Thompson. Because they are ready to provide you with.
Frequently Asked Questions (FAQ)
What Windows Does Thompson Creek Use?
Thompson creek uses almost all types of windows, including Single/double hung, Picture, Casement, Slider, Gliding, etc.
What Windows Are Comparable To Andersen?
Thompson Creek windows are comparable to Anderson because both are good at providing the same quality and durability in their products.
Is Renewal by Andersen overpriced?
As a matter of fact, Anderson is a highly reputable brand working for centuries in the windows industry, So, Yes. The renewal by Anderson usually costs a high price to the customer compared to the competitors.
How long have Thompson Creek windows been in business?
Thompson creek windows have been in the Windows business since 1980. It is one of the USA's highly recognized and recommended windows and doors brands.
Last Words
Hopefully, the article has highlighted all the main differences between Thompson Creek Vs. Anderson windows. And if you have read it thoroughly, luckily, you will not have any confusion now.
Still, you can visit the comment box for more queries. Thanks for reading. Have a nice day!