Having good doors can increase your house's value, and curb appeal and provide security and insulation. Despite this, many people don't realize the importance of choosing the right door brand.
On top of that, hundreds of brands make it overwhelming to choose one. So, today, I will discuss Therma-Tru and Feather River door, two of the most recognized brands, and help you pick one for your house.
So, without further ado, let's begin.
Quick Comparison Between The Two Doors
The table below demonstrates the differences between the two-door manufacturers. Let's have a quick look.
| | | |
| --- | --- | --- |
| Specification | Therma-Tru Door | Feather River Door |
| Material | Fiberglass and Steel | Fiberglass, Primed MDF, Pine, Red Oak, Cheery, Mahogany, Maple, and Fir |
| Door Type | Entry doors, Patio doors, House to garage doors, Transoms and Sidelites | Exterior doors, Interior doors, and Patio doors |
| Glass Options | Vast options | Limited options |
| Product Variety | More | Less |
| Hardware selection | Yes | No |
| Design | Better than average | Excellent |
| Finish and stains | Limited options | Vast options |
| Warranty/ Guarantee | Therma-Tru Lifetime Limited Warranty | Varies on the door parts |
| Price | Expensive | Inexpensive |
Key Differences Between Therma-Tru And Feather River Doors
Though both manufacturers are top-rated, there are some significant differences. Below I have discussed the differences in various aspects.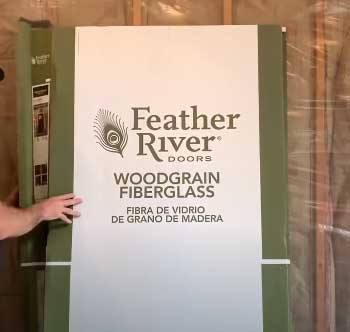 Discuss the material first since durability, longevity, security, and many other aspects depend on the material.
Unfortunately, material-wise, except for Benchmark Doors, Therma-Tru falls behind Feather River doors with just fiberglass and steel.
These two materials are definitely worth it and great for sustainable doors, but Feather River offers also offers various kinds of wood as materials.
So if you are looking for elegant wooden doors with excellent texture and color, you might prefer Feather River over Therma-Tru.
Next, let's look at the types of doors both brands offer. Currently, Therma-Tru has entry doors, patio doors, house to garage doors, transoms, and sidelites. On the other hand, Feather River sells exterior, interior, and patio doors.
Just door-wise, both brands are offering somewhat the same types of doors. However, the addition of transoms and sidelites adds more variety to the Therma-Tru lineup and makes it easier for customers to get a matching setup with the doors.
In terms of glass quality, there is not much difference between Therma-Tru and Feather River. However, regarding the number of options, Therma-Tru is way ahead of Feather River. Both brands offer decorative glass selections for their doors.
But as extras, Therma-Tru also has privacy and textured glass, energy-efficient glass, impact-rated glass, and many more. This variety allows the customers to pick according to their needs.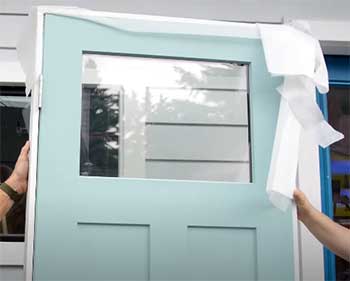 Product variety means more chances for customers to find a match according to their preferences.
In that regard, Feather River doors offer more product options than Therma-Tru. Feather River has dozens of product lineups under its belt.
On the other hand, Therma-Tru offers a limited number of lineups with fewer options.
Feather River doors are more likely to help you with their diversified product range if you are looking for an unusual design.
Therma-Tru's goal is to provide their customer with a complete door system with options in every section. So you are not out of options even with different components and hardware.
Sills, seal pads, weather strip, hinge, astragals, you can choose everything separately with a Therma-Tru door. But Feather River doors don't offer this variety, with no option to select the hardware.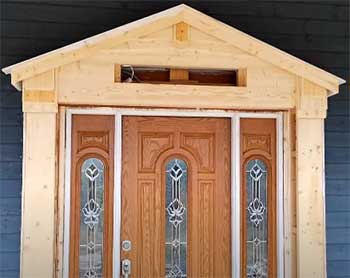 Just the design of the door is not enough to increase your curb appeal.
The color matters too, and both brands offer different finishes and stains to provide your preferred colors.
However, in terms of numbers, Feather River offers more options to give your doors a final look.
More options mean it's more likely to choose the preferred color to match your home.
On the other hand, Therma-Tru has some elegant finish options, too, with solid colors. However, they are pretty limited compared to Feather River doors.
Warranty not only does ensure product quality but also determines whether a manufacturer is confident in their product. In this department, Therma-Tru has the lead with a lifetime warranty on all their doors and parts.
On the other hand, Feather River door offers different warranties on different parts.
No matter how much you like a door or its design, the cost will always be a determining factor. So, if you are short on budget, Therma-Tru is the more suitable option for you with fiberglass.
However, that price can also go up if you add glass or sidelite to your door. On the other hand, Feather River has a higher price with all the wooden door options.
Which One Will Be The Best Fit For Your House?
As you have seen above, it's hard to tell the best fit without knowing about individual preferences. If your preference is design and looks and you are not on a budget, you should go with Feather River wooden doors with decorative glasses and exotic finishes.
On the other hand, if you are looking for longevity, and affordability, the lifetime warranty and fiberglass doors from Therma-Tru should be your ideal choice.
Frequently Asked Question (FAQ)
What brand of exterior door is best?
The best exterior brand should have the perfect balance of appearance, style, functionality, and durability. A handful of brands on the market have made this balance. However, if I have to pick one brand, Therma-Tru is one of the finest exterior door brands.
How good are Therma-Tru doors?
Several qualities of Therma-Tru doors make it one of the best on the market. Sustainable fiberglass build, lifetime warranty, affordable price, and customization options make Therma-Tru doors an excellent choice.
Where are Feather River exterior doors made?
Feather River Doors is known for manufacturing some of the finest exterior doors. These doors are manufactured in their manufacturing plants over the Pacific Northwest.
Are Therma-Tru doors made in China?
No, all the Therma-Tru doors are manufactured in their plants in Butler, Indiana, and Matamoros, Mexico. Because of this regional manufacturing, Therma-Tru has exceptional quality control with high-quality products.
Final Thought
That's Warp for today. Hopefully, my Therma-Tru vs. Feather River doors comparison helped you to figure out the differences between these two brands. Both brands have their strengths and weaknesses, but one common thing is the uncompromised quality of the doors.
No matter which brand's door you finally pick, they will last you a lifetime.