One of the first things about a house people notice is the front door. That's why front doors carry special significance in terms of design.
But beauty isn't the only thing here because we expect longevity and safety from the doors.
There are not too many brands out there who have been balancing out these aspects properly. Therma-Tru Benchmark is one of those handfuls of door manufacturers.
Today, I'll discuss the ins and outs of this brand and show you what they are offering with their door.
Features Of Therma-Tru Benchmark Doors
Certain features of Therma-Tru benchmark doors separate them from the rest of the door manufacturers. Let's see what those features are.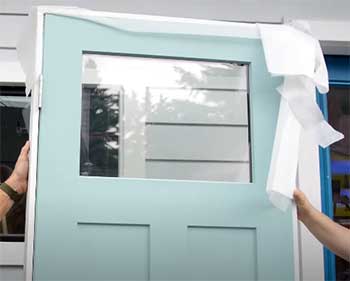 This goes without saying how important the material is for an entry door.
The material determines the durability and longevity of the door, and sometimes even the look.
In that regard, Therma-Tru offers the highest quality Mahogany, Oak, and fiberglass for the doors.
The wooden doors don't need any introduction, as they look elegant and energy efficient. Likewise, the fiberglass options replicate the look of wood but without the rust of a steel door or wood warping.
As I mentioned earlier, entry doors are not just about the look. They also need to be energy efficient to maintain the temperature inside.
This way, you use less energy to keep the desired temperature. Therma-Tru benchmark seems to take this issue very seriously as all their doors are Energy-Star rated.
This rating means all the manufacturers' doors meet the federal energy-efficient guidelines, therefore offering top-notch insulation.
The glass on your entry door is much more than we see with your eyes. Whether it's providing necessary light or view, glass plays an important role.
But you can also use it to showcase your personal style, and Therma-Tru made that possible. With Therma-Tru benchmark doors, you can choose glass according to various designs, shapes, types, and impact ratings.
No matter How Extreme The Weather conditions are, These Glass Options Will Keep You Safe And Secure.
Choose Your Preferred Finish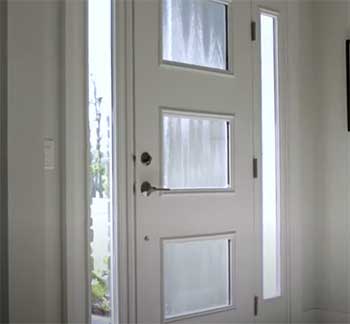 Apart from the natural look of fiberglass, the Therma-Tru benchmark also allows you to choose different finish options.
These finishes look premium and can represent your style by bringing out the detail of your house.
There are three types of finishes, paint, stain, and designer finish.
First, paint finishes offer solid colors on the doors. Then, stain provides the classic look of wood on fiberglass.
Lastly, designer finishes mean the combination of stain overlay with different colors.
Premium Hardware And Components
Premium components and hardware ensure you get the best out of your entry door. Therma-Tru takes that responsibility into its hand and manufactures its high-quality components and hardware for the best fitting and user experience.
Any component you take, whether it sills, seal pads, hinges, or other parts, Therma-Tru offers a great deal of variety. Not only do these components provide a secure fit, but they also protect the doors from damage and wear.
Therma-Tru benchmark doors might vary in terms of material. But one thing that's common among all Therma-Tru doors is the sleek design.
Whenever someone gets past my house or steps in, they have always complemented the visual appeal of the Therma-Tru benchmark doors. There are several lineups to choose your door from, based on the style of your house.
You are bound to be pleased aesthetically, and the designs can complement any structure if chosen correctly.
As of now, you should not have any confusion about the quality of Therma-Tru benchmark doors. But if you still have second thoughts, the manufacturer offers a limited lifetime warranty with their doors to further ensure the product quality.
It also showcases the immense condition Therma-Tru has on their craft and products. If you plan to make your investment worthwhile, a lifetime warranty can help you do that.
What Could Have Been Better With Therma-Tru Benchmark Doors?
Therma-Tru benchmark manufactures some of the best doors out there with great features. Still, here are some aspects it can work on to improve its doors.
One of the best qualities of the Therma-Tru benchmark is that it offers many variations in every sector. However, this variety seems to be missing when it comes to the material.
For example, you'll only find doors made with wood and fiberglass. In that case, adding doors made of steel, vinyl, or aluminum can help Therma-Tru benchmark reach more customers.
The pricing can be a turn-off for many customers. I know wood and fiberglass are not cheap and are the costliest front door material.
However, if Therma-Tru benchmark is trying to reach a broad customer base, they should work on the pricing and test other materials to manufacture the doors.
Frequently Asked Question (FAQs)
Are Therma-Tru doors worth it?
If we talk about financial aspects, Therma-Tru doors are an excellent investment. These doors are famous for lasting long and also increase the perceived value of your house in the future. On top of that, your investment is safeguarded by a lifetime warranty.
Are Therma-Tru exterior doors good?
Therma-Tru doors are made of two of the best materials for entry doors, wood, and fiberglass. Not only do they look good, but these doors also offer excellent insulation design choices and protection against extreme weather conditions.
Are Therma-Tru French doors any good?
French doors are a hidden gem of Therma-Tru. These doors are made with fiberglass, immune to rusting or rotting. Their elegant look is bound to uplift the look of your house too.
Who makes Therma-Tru benchmark doors?
Therma-Tru benchmark doors are manufactured by Fortune Brands Home & Security, Inc. This company is known for working in cabinets, plumbing, doors, and security. Here, the door segment is known as the Therma-Tru Benchmark.
Final Thought
That's a wrap for today. I hope my Therma-Tru benchmark door reviews were helpful enough to introduce you to this fantastic door manufacturer. As you have seen, they offer a feature set only a few brands can offer.
So if you have been looking for simple yet elegant and durable front doors, your search is over with Therma-Tru benchmark doors.