When it comes to kitchen cabinets, homeowners have more options than ever before. From stock to custom, there are cabinet solutions at every price point. Two popular "middle ground" options are The Cabinet Face and Semihandmade.
These companies offer modified stock or "semi-custom" cabinetry, blending quality, customization, and value. But which is the better choice for your kitchen remodel or new construction project?
Here we'll compare the pros and cons of The Cabinet Face vs. Semihandmade cabinets.
A Brief Comparison Table
| | | |
| --- | --- | --- |
| Feature | The Cabinet Face | Semihandmade |
| Product Offering | Custom cabinet fronts only | Fully integrated cabinet system |
| Cabinet Boxes | Requires separate RTA cabinet boxes | Uses IKEA Akurum boxes |
| Customization Options | Doors, drawer fronts, finishes | Doors, drawers, finishes, cabinet interiors |
| Materials | Solid wood, plywood, veneers | Solid wood, plywood, veneers, engineered wood |
| Quality | Very good – all wood construction | Very good – mix of materials |
| Lead Time | 4-6 weeks | 4-8 weeks |
| Pricing | $200-$400 per door | $300-$600+ per door |
| Assembly | Some required | Included with delivery |
| Financing | None | 0% financing available |
Overview of The Cabinet Face
The Cabinet Face provides high-quality customized cabinet fronts that can be paired with stock cabinet boxes from brands like KraftMaid or Kemper.
This allows you to get the customized look you want, while saving money on cabinet construction and installation. Some key things to know about The Cabinet Face: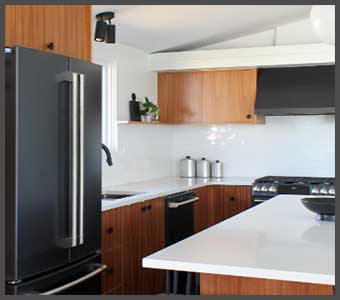 Specializes in modified cabinet fronts made from wood like cherry, maple, and oak. Materials are sourced from North America.
Fronts can be ordered in wide range of stains, glazes, and paints for an on-trend customized look.
Works with ready-to-assemble (RTA) stock cabinet boxes from various brands.Boxes match dimensions of fronts.
Semi-custom approach provides style at a more affordable price point than fully custom.
Products sold directly through cabinet dealers rather than direct-to-consumer.
The Cabinet Face gives homeowners more personalization than stock cabinets, including customizable door styles, finishes, and decorative hardware. But you don't pay the premium cost of fully custom cabinets.
Overview of Semihandmade
Semihandmade offers entire modified stock cabinet solutions from doors and drawers to boxes, rails and more. They are best known for integrating high-quality custom doors and drawer fronts with existing IKEA cabinet frames. Some key things to know:
Specializes in customizing IKEA stock cabinets with new fronts, boxes, and accessories.
Doors and drawer fronts come in many materials like solid wood, veneer, and painted MDF.
Hardware, molding, and trim can be fully customized.
Offers full kitchen package: cabinets, fronts, counters, sinks, etc.
Can modify sizing but limited compared to true custom cabinets.
Products sold directly to consumers online through Semihandmade website.
Semihandmade is the go-to for dramatically transforming IKEA kitchens. Their custom fronts and components give IKEA cabinets a luxe upgraded look for less.
Key Differences Between The Cabinet Face And Semihandmade Cabinets
Comparing Quality
Both The Cabinet Face and Semihandmade offer high quality cabinets constructed from durable materials like solid wood, plywood, and veneers. Here is how they compare:
Construction
The Cabinet Face fronts feature all wood construction with mortise and tenon joinery for durability. Semihandmade also uses quality joinery.
Both companies source materials from North America and Europe.
Semihandmade fronts incorporate engineered wood products like MDF in some cases along with solid wood edges. This can improve stability.
Hardware
Hardware is highly customizable from both companies but will be higher grade than IKEA's stock hardware.
The Cabinet Face and Semihandmade use soft-close hinges and full extension drawers as upgrades.
Expect sturdy, smooth motions from drawers and doors.
Finishes
The Cabinet Face offers an extensive selection of on-trend stains, glazes, and paints. Semihandmade finish options are more limited.
Both companies apply finishes smoothly and evenly. The Cabinet Face coats fronts on all sides.
Semihandmade integrated cabinets maintain IKEA finish inside boxes.
Durability
Cabinets from both companies will last for many years with proper care. The all-wood construction of The Cabinet Face may have a slight edge.
The custom fronts add richness while stock boxes provide proven structural integrity.
Overall, the quality of cabinets from The Cabinet Face and Semihandmade exceeds stock cabinets. However, they may not match top tier custom cabinet brands. The reward is getting high-end style at a fraction of the price.
Which Offers More Customization?
Customization capabilities is where these two cabinet brands differ the most:
Semihandmade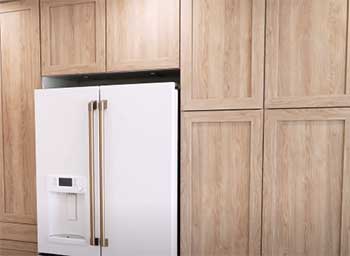 Wide selection of door styles from Shaker to modern to adapt any decor. Custom door designs also available.
Extensive options for finishes, including unique glazes and metallic paints.
Cabinet modifications include new drawers, rollouts, interior organizers and more.
Can customize IKEA sink bases for unique sink and faucet combinations.
Integrated cabinets allow for customized IKEA configurations. Limited possibilities for sizing adjustments.
The Cabinet Face
Focuses cabinet personalization specifically on the door/drawer fronts.
Door profiles include classic raised panel, Shaker, slab, and contemporary styles.
Hundreds of finish options from leading stains to trending painted finishes.
RTA cabinet boxes limit some modifications compared to Semihandmade.
While both allow customization of door style and finish, Semihandmade clearly provides more opportunities to personalize your kitchen cabinets to your taste, from drawer layouts to trim accents. The trade-off is integrating Semihandmade cabinets limits base cabinet sizes to IKEA dimensions.
Installation and Lead Times
Both Semihandmade and The Cabinet Face offer quicker turnaround times versus custom cabinetry. However, installation processes differ:
Semihandmade
Integrated cabinets install very similarly to regular IKEA cabinets. Semihandmade includes manuals.
For standalone cabinet packages, Semihandmade offers White Glove Delivery with installers who will fully assemble.
Current lead time ranges from 4-8 weeks once order is finalized and payment made.
The Cabinet Face
Cabinets require some assembly of doors/drawers onto box units, which takes intermediate DIY skills.
The company recommends hiring an installer for best results (not included).
Lead times run 4-6 weeks from order to delivery.
The Cabinet Face cabinets allow a DIYer to install and save on labor costs. But Semihandmade's guided installation and White Glove Delivery can be a major perk if you want to eliminate the assembly hassle.
Cost Comparison
Both Semihandmade and The Cabinet Face provide an affordable alternative to custom cabinetry. Here is how their price points compare:
Semihandmade
Integrated IKEA cabinets start at around $300 per door.
Full kitchen packages average $350-$600 per door, with higher end finishes running up to $1000 per door.
Offers 0% financing for 6 or 12 months through their partner LendingTree.
The Cabinet Face
Door fronts average between $200-$400 each depending on material and style selections.
RTA cabinet boxes then range from $50 for small boxes to $200+ for large pantry cabinets.
Putting together an entire kitchen generally totals $300-$500 per door all said.
The company does not offer financing programs.
Both improve upon the value of stock RTA or IKEA kitchens. Semihandmade kitchens cost a bit more since they include cabinet boxes and comprehensive installation. Ultimately both can save 30% or more versus custom cabinetry.
Frequently Asked Questions (FAQ)
Is Semihandmade good quality?
Yes, Semihandmade kitchens are known for their good quality and durability. Their cabinet fronts incorporate high-end materials like solid wood, hardwood veneers, and engineered wood. Paired with IKEA's reliable cabinet boxes, they make a strong combination.
Does Semihandmade only work with IKEA cabinets?
Semihandmade specializes in customizing IKEA's Akurum cabinet system. However, they have also expanded to offer their own line of standalone cabinetry that does not require IKEA boxes. This provides more flexibility in kitchen designs.
What's the difference between semi-custom and custom cabinets?
Semi-custom cabinets blend elements of stock and custom cabinets. Like stock, they offer predetermined cabinet sizes and configurations to choose from. And like custom, they allow customized features like cabinet fronts. Fully custom cabinets are built completely from scratch to your specifications.
What are 4 main differences between stock cabinetry & semi-custom?
More personalized style with customized doors, finishes, hardware.
Higher-end materials than inexpensive stock options.
Increased quality of construction and hardware.
Shorter lead times than full custom (weeks rather than months).
The Bottom Line
While both Semihandmade and The Cabinet Face offer a budget-friendly semi-custom solution, Semihandmade pulls ahead for those looking to reimagine an entire IKEA kitchen.
Their integrated cabinets paired with customizable fronts, finishes, and accessories make it easy to transform your space.
The Cabinet Face shines if you want to mix and match new fronts onto your existing kitchen layout and cabinet boxes. Their wider selection of wood species and finishes allows you to refresh just your cabinet fronts as a cost-effective upgrade.
Whichever you choose, both companies deliver personalized, high-quality kitchen cabinets at an affordable price point. Avoiding the premium cost of full custom cabinets gives homeowners options to splurge in other areas like countertops and appliances.
With some thoughtful planning upfront, you can craft your dream kitchen without breaking the bank.