If you're remodeling your kitchen, choosing the right cabinets is one of the most important decisions you'll make. Cabinets set the tone for the whole room and account for a significant portion of the total cost.
Two popular options for many homeowners are BOXI and IKEA. But which is the better choice for your kitchen? This comprehensive guide examines the key differences between BOXI and IKEA cabinets to help you decide.
A Brief Comparison Table
| | | |
| --- | --- | --- |
| Feature | BOXI | IKEA |
| Pricing | $100-300 per linear foot | $50-150 per linear foot |
| Construction | Plywood boxes, solid wood doors | Particleboard boxes, foil doors |
| Style Options | Highly customizable, wide range of finishes and styles | Limited standard sizes and styles |
| Warranty | Lifetime limited on boxes and drawers | 25 years limited on SEKTION line |
| Storage Solutions | Wide range of built-in organizational features | Mostly standalone organization products |
| Delivery | Ships in 2-3 weeks | Faster delivery but must assemble |
| Quality | Higher-end materials and construction | Lower priced but lower quality |
| Aesthetic | Traditional to contemporary styles | Sleek, modern designs |
Overview of BOXI Cabinets
BOXI cabinets are made by MasterBrand Cabinets, one of the largest cabinet manufacturers in North America. Their cabinets are available through home improvement stores like Home Depot and Lowe's. Here are a few key things to know about BOXI: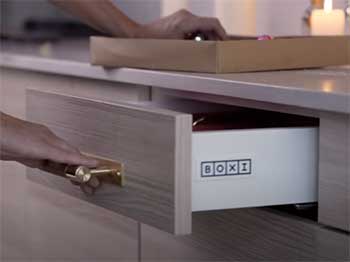 Highly customizable – BOXI offers a wide range of sizes, finishes, and storage options allowing you to customize your kitchen.
Budget-friendly pricing – BOXI is affordably priced, making them a great option if you're on a tight budget. Expect to pay $100-300 per linear cabinet foot.
Quick delivery – BOXI cabinets ship within 2-3 weeks so you won't have long waits.
** Sturdy construction** – They're made with plywood boxes, durable finishes and soft-close drawers. Lifetime warranty offered.
Wide retailer availability – Easy to purchase through major home improvement stores.
Overview of IKEA Cabinets
IKEA is of course the popular Swedish furniture brand known for their modular, affordable designs. Here are some of the highlights of IKEA kitchen cabinets:
Very budget-friendly – IKEA cabinets start around $50 per linear foot, making them one of the most affordable options.
Modern aesthetics – IKEA kitchens have a sleek, contemporary style. Their door fronts come in a range of colors.
Some assembly required – IKEA cabinets come disassembled in flat boxes which helps keep costs down. You'll need to put them together yourself or pay for assembly.
Limited sizes – IKEA's sizing options aren't as expansive as a brand like BOXI. Their widths are based on their module system.
Shorter warranty – IKEA provides a more limited 5 or 25 year warranty depending on the product line.
Construction and Materials Comparison
One of the biggest differences between BOXI and IKEA is in how the cabinets are constructed and the materials used. This affects their durability and quality over time.
BOXI Cabinet Construction
Plywood box construction – BOXI uses 3/4″ plywood for the cabinet boxes, making them sturdy and resistant to warping.
Plywood drawer boxes – Drawers are made from 1/2″ plywood with dovetail joinery on the corners.
Solid wood doors – Doors consist of solid wood frames with MDF or plywood center panels. More resistant to warping and dents than other materials.
Soft-close hinges – BOXI cabinets come with soft-close hinges for smooth, quiet closing of doors. Upgraded hinges also available.
IKEA Cabinet Construction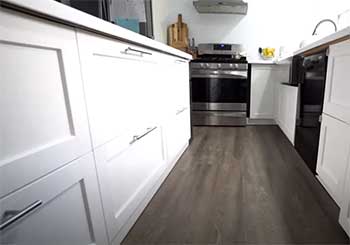 Particleboard construction – IKEA cabinets are made from particleboard which is more susceptible to swelling and warping from moisture.
Fiberboard drawer boxes – The drawer boxes are made from fiberboard rather than plywood. Not as sturdy as plywood but helps keep costs down.
Foil/veneer doors – To keep prices low, IKEA doors are covered in foil or veneer rather than made from solid wood. Can be prone to chipping or peeling over time.
Basic hinges – IKEA's standard hinges are a basic friction fit design without soft-close. You can pay extra for soft-close hinges.
So when it comes to construction, BOXI clearly uses higher-quality materials and joinery for better durability and longevity. But you pay for those upgrades in the higher price point. IKEA offers decent quality for the ultra-low cost.
Style Options Comparison
Both IKEA and BOXI offer a variety of style options to suit different aesthetics. Here's an overview:
BOXI Styles
Slab cabinet doors – Full slab cabinet doors are available in a range of solid paint and stain colors. BOXI's paints offer excellent coverage.
Shaker cabinet doors – A very popular minimalist style. BOXI's shaker cabinets come with options like paints, stains, and different panel profiles.
Inset cabinet doors – If you want an inset cabinet look, several inset door styles are available to consider.
Stained cabinets – Multiple wood stain colors can give you a richer, warmer look compared to painted cabinets.
Custom modifications – Don't see exactly what you want? Many modifications like glass cabinet doors or spice drawers can be ordered.
IKEA Styles
Slab cabinet doors – The majority of IKEA door styles are simple slab designs with either recessed or flat center panels. Only available in laminates.
Shaker-style cabinets – IKEA has a few basic shaker-style options in lighter wood tones and white colors.
Color matched interiors – Interiors usually match the exterior color which can be nice for a seamless look.
Limited modification options – IKEA doesn't offer much in the way of customization. You get to pick from their standard sizes and styles only.
IKEA certainly covers the basics with their cabinet styles but lacks the wide range of customization and premium details that BOXI offers. If you want something highly customized, BOXI will be the better choice.
Storage Solutions and Organizational Options
Beyond just the cabinets themselves, we'll look at how BOXI and IKEA compare when it comes to storage solutions and organizational options within the cabinets:
BOXI Storage Solutions
Full extension drawers – Most drawers come standard as full extension for easy access to contents in the back. Upgrade to soft-close drawers as well.
Roll-out trays – Optional roll-out trays and shelves make items in deep cabinets more easily accessible.
Spice pull outs – Specialized pull-outs like tilt-out spice racks create ultra convenient kitchen storage.
Wastebasket cabinets – You can order cabinets with built-in wastebasket pull-outs which is brilliant.
Pots and pan organizers – Designate a base cabinet just for pots and pans with inserts that allow you to neatly organize them.
IKEA Storage Solutions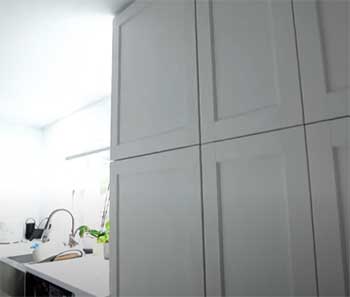 Roll-out wire baskets – IKEA offers aftermarket roll-out cabinet inserts to add storage flexibility.
Pull-out spice racks – Spice racks that mount inside a cabinet are available. Also dish organizers, sink trays, etc.
Some specialty pull-outs – IKEA has a few specialty items like pull-out mixer shelves or pull-out recycling cabinets.
Limited roll-out shelves – Only certain IKEA cabinet lines have full extension roll-out shelves. Many just have basic shelves.
Grid organization – IKEA's storage accessories like drawer inserts allow flexible organization using a grid.
For built-in organizational solutions, BOXI offers a much wider selection to optimize your kitchen's storage. With IKEA, you have to incorporate separate aftermarket organizational products for the most part.
Cost Comparison
One of the biggest factors in choosing kitchen cabinets is cost and budget. Here's an overview of pricing for both brands:
BOXI Pricing
$100-300 per linear foot – Typical pricing range for BOXI cabinets. Mid-to-upper end of the spectrum.
Frequent sales/discounts – Specials like 25% off happen frequently through retailers like Home Depot, so shop sales.
Higher cost for upgrades – Custom modifications, storage upgrades, and premium features add cost but give you more customization.
IKEA Pricing
$50-150 per linear foot – IKEA pricing falls on the very low end of the spectrum. Great if you're on a tight budget.
Affordable add-ons – IKEA's organizational add-ons are fairly priced as well. Soft-close hinges about $2 per hinge upgrade.
You get what you pay for – The ultra low prices means using cheaper materials and more limited features.
If staying under budget is your top concern, IKEA is hard to beat. But BOXI gives you more bang for your buck if you can afford to step up a little in price for better materials and customization.
Warranties
It's always wise to consider the warranties offered when making a major purchase. Here is how BOXI and IKEA compare:
BOXI Warranty
Limited lifetime warranty – MasterBrand provides a limited lifetime warranty on BOXI cabinets. Covers defects in materials and workmanship.
1 year warranty on adjustments – Warranty provides 1 year coverage for any adjustments needed after installation.
Labor not included – The warranty is limited to repair or replacement of cabinets only. Does not cover labor costs.
IKEA Warranty
25 year limited warranty – Applies to IKEA's SEKTION line. Covers functioning and defects.
5 year limited warranty – Other IKEA cabinet lines like METOD only carry a more basic 5 year warranty.
Parts only – IKEA also does not cover labor costs as part of their warranty policy.
BOXI clearly provides better warranty coverage overall, especially with their lifetime warranty offer on many cabinet lines. This adds great value if durability and longevity are priorities.
Frequently Asked Questions (FAQ)
Who makes BOXI cabinets?
BOXI cabinets are made by MasterBrand Cabinets, one of the leading cabinet manufacturers in North America. They make several other popular cabinet lines carried at major home stores.
What are BOXI cabinets made of?
BOXI uses 3/4″ plywood for the cabinet boxes, 1/2″ plywood for the drawer boxes, and solid wood for the doors and face frames. These high-quality materials add durability compared to particleboard and fiberboard.
What cabinets are similar to IKEA?
Some alternative budget-friendly cabinet brands that are comparable to IKEA include: Hampton Bay (Home Depot's house brand), Home Styles at Menard's, International Concepts at Lowe's, Nutmeg Cabinetry at Wayfair, etc.
What is the highest quality of IKEA kitchen cabinets?
IKEA's SEKTION line is their highest quality and comes with a 25 year limited warranty. METOD is another slightly higher end line from IKEA. The main mass-market lines like FAKTUM offer cheaper construction.
The Bottom Line
So which is the better choice overall – BOXI or IKEA? Here are some key conclusions:
BOXI if you want customization – With far more style options and the ability to order custom modifications, BOXI is the way to go if you want to customize your kitchen.
IKEA if you're on a very tight budget – IKEA can't be beaten if getting quality cabinets at the lowest possible price is most important.
BOXI for better construction – Hands down BOXI offers superior construction and materials for increased durability.
IKEA for quick, DIY installs – Since IKEA cabinets come preassembled, they can be installed more quickly as a DIY project.
BOXI if your kitchen gets heavy use – The solid wood doors and plywood box construction make BOXI the more heavy duty option able to take abuse.
IKEA for modern style on a budget – IKEA's door styles cater to contemporary, minimalist kitchen aesthetics at affordable prices.
Weigh what's most important for your kitchen – budget, installation time, customization options, storage solutions. That will steer you towards the right brand. Finding the perfect balance between quality, features, and cost is the goal.