Yes, both Tenryu and Forrest blades are more than good but there are some differences as well.
The main difference between these two blades is Tenryu has 80 teeth, but Forrest blade has 40 teeth. Besides, the kerf of Tenryu is 0.091, whereas the kerf of Forrest blade is 0.125. 
No matter how good your table saw is, if your blade is not strong and sharp enough, no way you will get the result you expect. Here I'll compare the features of two powerful table saw blades. You'll know which blade will work best for you in the end. 
So, let's begin. 
A Quick Comparison Table 
Here is a quick comparison table between Tenryu and Forrest blades:
| | | |
| --- | --- | --- |
| Aspects | Tenryu | Forest Blades |
| Blade Type | circular Miter saw blade | Carbide-Tipped circular saw blade. |
| Blade Size | 10 Inches | 9 Inches, 10Inches, 12 Inches, 16 Inches |
| Number of Teeth | 80 Teeth | 30 Teeth, 40 Teeth, 80 Teeth |
| Blade Material | Alloy Steel | Hi-Grade Carbide |
| Cutting Type | Crosscut | Crosscut & Rip-Cut |
| Benefits | Offers Many Benefit | Offers Many Benefit |
| Compatibility | Compatible With Fewer Saws | Compatible With More Saws |
In-Depth Comparison Between Tenryu And Forrest Blades
The above comparison table has given you some basic knowledge about both blades. But you need a more comprehensive comparison between two blades to understand their differences and eventually pick the right one. 
Here are some key differences between Tenryu and Forrest table saw blades: 
The primary purpose of a saw blade is to cut various types of wood. Even so, you will find many types of saw blades.
Let's see what our selected blades are like. 
Forrest Woodworker II is a premium Carbide tipped circular saw blade. It's super hard and durable.
With its carbide teeth and laser-cut plate, you will get a maximum runout of 0.002 inches. 
On the other hand, Tenryu Silencer Series is a circular Miter saw blade. It features Tenryu resin-filled laser cut body slots. 
As a result, you will get a good finish cut from this finish cutting blade. 
Generally, the number of teeth in a saw blade depends on the size and type of the blade. You come to know the speed, type, and finish of a saw blade from its teeth count. 
Blades with fewer teeth will give a faster cut, but you will get a smooth finer finish from blades with more teeth. Tenryu Silencer series blade comes with 80 teeth. 
That means it will cut your wood slower but with a finer finish. 
On the contrary, the Forrest Woodworker II blade has 40 teeth. So, you can cut your wood very fast, but you won't get a very smooth finish. 
Blade size is another crucial parameter in determining the effectiveness of a saw blade. A blade with a smaller diameter will give you a better result because smaller blades have less runout time. With less runout time comes smooth and fine cut.  
The most common size for a saw blade is 10 inches. It's standard, and you will get a smooth cut from this size, depending on the teeth count. The good news is both our Tenryu and Forest blades have 10 inches size option. 
However, the Forest Woodworker blade is also available in 9 inches, 12 inches, and 16 inches. The 10 inches and 9 inches blades come with 30 and 40 teeth options. But you will get only 30 teeth for 12 inches and 16 inches Forest blade. 
A firmer material will make your saw blade sharper, sturdy, and durable. So, you must check on the material before making up your mind. 
Tenryu saw blade has a long-lasting laser cut plate that is hand-hammered for utmost tensioning and making it flatter.
Besides, you will get fine cutting with its metal teeth. 
By contrast, Forrest blades have laser-cut plates made from premium carbide. Its sharper teeth are made from C-4 high-grade carbide grains. 
That means you will get superior cutting performance from Forrest Woodworker blades. 
Saw blades provide two types of cuts: crosscut and rip cut. Crosscut is cutting wood against its wood grain, and rip cut is cutting wood along with the wood grain. 
Tenryu Silencer Series blades offer crosscut. As the kerf size of this blade is 0.091, it is designed to provide crosscut. 
On the other hand, Forrest blades offer both crosscut and rip cut. A balanced kerf size of 0.125 will give you an excellent cutting performance in both ways. 
Looking at benefits before choosing a blade can be particularly helpful. You'll know what to expect from each blade. Let's see what benefits we will get from these blades. 
Tenryu blades will give you a smooth and fine cut against your wood grain with a larger teeth count. It comes with a new vibration dampening system. So, the vibration will be significantly lower while cutting wood. 
Moreover, the blade will offer smoother cuts with clean edges. Plus, its quiet cutting performance will make your task easier. 
On the contrary, Forrest blades cut faster. You will have a tear-out-free cutting experience with a Forest blade. Its extra-thick teeth will provide accurate, sharp, and detailed cuts. 
Tenryu blades excellently cut various wood materials. Using this blade, you can cut hardwood, softwood, plywood, and various other wood materials. 
Besides, you can use this blade on different saws, including Slide Miter Saw, Conventional Miter saws, Table Saw, etc. 
In contrast, Forest blades can cut various hardwood and softwood materials. Plus, it's compatible with Cabinet Saw, Circular Saw, Hybrid Saw, Panel Saw, Table Saw, etc. 
Which Saw Blade Is Best For You?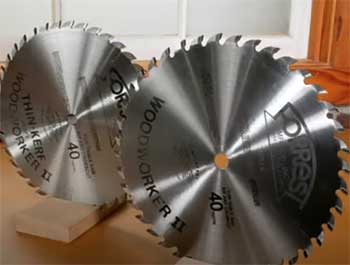 According to the above discussion and many customer reviews, it's clear that Forrest blades have more usability and compatibility compared to Tenryu. 
So, in general, you should buy Forrest blades. 
You will get both crosscuts and rip cuts from it.
Plus, it's compatible with more saws and comes with various blade sizes. 
However, if your woodworking requires a more delicate cut, you should go with Tenryu Silence Series blades for your saw. 
Frequently Asked Question (FAQ) 
Are Forrest blades the best?
Forest blades are one of the best American-made table saw blades available. You can take on any woodworking project with this fast and powerful blade without facing any tear-outs or splintering. 
What are the best quality saw blades?
Apart from Forest blades, a few other saw blades provide the best quality cuttings. These blades include Freud Diablo Finish Saw Blade, Irwin Tools Circular Saw Blades, Dewalt 10-inches Miter Table Saw Blades, etc. 
Where are Tenryu blades made?
Tenryu is a Japanese brand with five manufacturing plans, all located in Japan. It is one of the leading Japanese manufacturer of various industrial carbide tipped saw for woodworking and metalworking. 
Are all saw blades the same?
No, all saw blades are not the same. Depending on the application, size, features, and many other aspects, you will find various saw blades. 
Final Thoughts 
Buying the right saw blade involves a meticulous selection process. Because you cannot fail to choose the right one; otherwise, your whole woodworking project will be a mess. 
With my Tenryu vs. Forrest blades review, I hope now you understand the importance of a saw blade as well as the best blade option for your saw. 
So, purchase it, and turn your project into a fun one.