If you are caught between SawStop professional and industrial cabinet table saw, you might want to look at my review on SawStop professional vs. industrial. Here I will tell you which table saw will be best for you. 
You will get more motor configuration in Industrial than in Professional. Again, the Industrial table saw weighs significantly higher than the Professional. 
Apart from these, many more differences make these two table saws distinct. You must know them before you decide on a particular one. 
So, let's dive deeper. 
A Quick Comparison Table 
Here is a quick comparison table between SawStop professional and industrial cabinet table saws: 
| | | |
| --- | --- | --- |
| Aspects | Professional | Industrial |
| Table Saw Type | For Professionals | For Industrial Use |
| Benefits | Offer Many Benefits | Offers Many Benefits |
| Rip Capacity | 3 Rip Capacity | 2 Rip Capacity |
| Motor Options | 1.75 HP, 3 HP | 3 HP, 5 HP, 7.5 HP |
| Blade Size | 10 Inches Blade | 10 Inches Blade |
| Braking System | Powerful Braking System | Powerful Braking System |
| Performance | High Performing | Superior Performing |
In-Depth Comparisons Between SawStop Professional And Industrial
A quick comparison has stated some basic fundamental differences between these two table saws. But you need more in-depth comparisons to understand which one will be best fitted for you. 
Here are some comprehensive key differences between SawStop Professional and Industrial cabinet table saw: 
Both SawStop Professional and Industrial are high-performance table saws for woodworking. But they come with many differences. 
SawStop Professional has two versions. One is called the Contractor Table Saw, and the other is called Cabinet Table Saw.
The Contractor weighs less than Cabinet Table Saw. 
Besides, you will get two riving knives with this table saw. One fits below the blade, and the other attaches to the cover. 
On the contrary, you will get various motor options, including 3hp and 7.5hp. Besides, it offers two T-glide fence sizes, a 36 inches and 52 inches T-glide fence. On top of that, you will need an electrician to set up this heavy-duty table saw. 
With so many unique and superior features, you will get many excellent benefits from both SawStop Table saws. Let's find them out. 
SawStop Professional comes with an efficient dust collection system. You will get a tool-free blade guard system that can change quickly. Besides, its sleek fences and rails coupled with a precise alignment system are accurate and reliable. 
But the most crucial benefit that you will feel is that you don't need an electrician to set up a Professional table saw.  
On the other hand, SawStop Industrial is stronger and faster than Professional. With a more powerful motor option, you will get more reliable performance from this beast. 
Its smooth fence system will keep you safe and keep the workflow simultaneously. Superior specs make it durable and high-performing. 
Rip capacity means the amount of space between the table saw blade's edge and the edge of the fence.
A good rip capacity means you will get better convenience in cutting woods. 
SawStop Professional offers 3 rip capacity options.
A 30 inches rip capacity with 30 inches premium fence option, A 36 inches rip capacity with 36 inches T-Glide fences, and a 52 inches rip capacity with a 52 inches T-Glide fence. 
In contrast, SawStop Industrial Table Saw also offers 2 rip options. You won't get 30 inches Rip capacity here. 36 inches and 52 inches Rip capacity is available. 
There is a clear difference between Professional and Industrial table saws. The former has 2 motor options, and the latter has 3 motor options. 
In SawStop Professional, you can choose between 1.75 HP and 3 HP motors. Besides, you will get two motor configurations here. One is 1.75 HP, 120V, and 14A. The other one is 3HP, 1 Phase, 230V, and 13A. 
In contrast to Professional, Industrial Table Saw comes with 3 options for motors. You can choose from 3 HP, 5 HP, and 7.5 HP. Plus, you will get 5 motor configurations with it. 
There are no differences between SawStop Professional and Industrial table saws regarding blade sizes. Both come with a similar type of blade. 
You will get a 10 inches blade with 40 teeth and a 5/8 inches arbor. It tilts on the left and can cut 3 1/8 inches at 0 º and 2¼ inches at 45 º. 
SawStop does not compromise the safety of its table saws. You can feel its commitment when you see both professional and industrial table saws with the same safety measures. 
While working, whenever your finger or skin comes in contact with the blade, both machines will automatically stop the blade in less than 5 milliseconds and send it under the table. 
So, the chances of scratching and cutting are very minimal. 
You will find noticeable differences between Professional and Industrial Table saw. With more powerful motor options and motor configurations, SawStop Industrial Table saw is faster and can take heavy-duty cutting than SawStop Professional. 
Conversely, as a Professional table saw comes with less powerful motor options, it's obvious it won't perform as superior as its counterpart. 
Weight is essential for a table saw. You will have to make sure the place where you will set your table saw can take its weight. The Professional table saw weighs 375 lbs. with a 1.75 HP motor and 400 lbs. with a 3 HP motor. 
On the contrary, the approximate weight of an Industrial table saw is 530 lbs. whereas the actual weight will vary depending on the motor size. 
Which Cabinet Saw Is Best For You?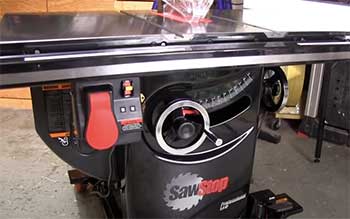 From my above discussion, it's clear that both table saws are very high-performing and come with lots of superior specs.
However, SawStop Industrial is more robust and faster than Professional. 
SawStop Professional is designed for professional woodworkers.
On the contrary, SawStop Industrial is designed for continuous heavy-duty use in industrial sectors. 
So, if you are a professional or even a DIY enthusiast, you should buy SawStop Professional. 
But if you are a business owner and planning to buy a table saw for heavy-duty use, you must purchase SawStop Industrial. 
Frequently Asked Question (FAQ) 
What is the difference between SawStop professional and industrial?
The main difference between SawStop professional and industrial is that the industrial table saw is faster and more powerful than the professional. Besides, Industrial weighs more than professional. 
Will Freud blades work with SawStop?
Freud blades work perfectly with SawStop. A blade-like Freud P410 provides excellent brake performance. So, if you want a blade with optimal security, Freud's blade can be a good choice. 
Is SawStop owned by Festool?
Festool does not directly own SawStop. The same company owns SawStop and Festool. A German-based tool manufacturing company TTS Tooltechnic System owns both companies. 
Can you use any blade with SawStop?
No, you cannot use any blades with SawStop. You'll have to use standard steel blades with steel or carbide teeth. Never use a non-conductive blade. 
Final Thoughts 
A table saw is a complex machine and an expensive one too. So, you should be diligent before investing in one. I'm glad my SawStop professional vs. industrial review came in handy for you. 
Both table saws are equipped to provide superior performance in their field. So, again I would suggest considering how you will use the table saw before finally choosing one.