Super dust deputy is an excellent solution to separate almost all dust and debris surrounding the airstream. This will save the filters and dust bags from being clogged or damaged quickly. But what to do when you can't use this type of dust deputy?
You might be looking for a reliable Super Dust Deputy alternative, right?
The good news is that this dust separator has several substitutes available. I have even personally used a few of them. Keep reading this article to find the best option.
Super Dust Deputy Substitutes To Collect Dust
Even though you are looking for alternative options for a Super Dust Deputy, its functionalities must be the same. More importantly, it should be good enough to remove maximum dust.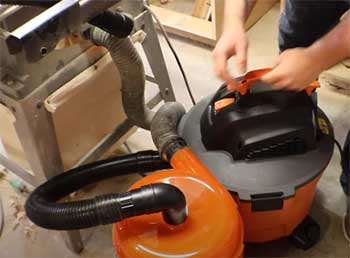 The primary job of a dust stopper is collecting dust and debris in a separate bag or container.
This will keep your vacuum filter free from blockage.
Dust stoppers can stop 99% of the dust from getting inside the filter.
Plus, this type of tool allows you to dispose of the accumulated dust effortlessly.
They come with a low-profile design. Hence, it will not disrupt you from breathing clean air. Additionally, all parts are preassembled. You don't need to put together any components.
Dust Right Dust Separator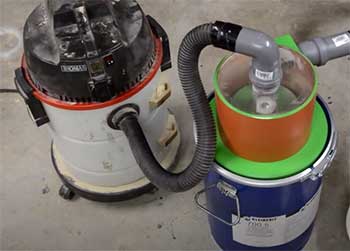 Another practical alternative is Dust Cyclone Separator. It is compatible to use with professional-grade vacuums.
It can handle everything, whether wood chips, sawdust, or other dust.
It comes with a translucent bucket, allowing you to see when it is full. This dust collector has a 10-gallon storage capacity to collect vast debris.
The dust collecting tool features a five-caster base to provide increased stability and maneuverability. Its long-hose has a lock-like system to avoid unwanted disconnections.
Mini Dust Collection System
Do you have a 2″ vacuum hose?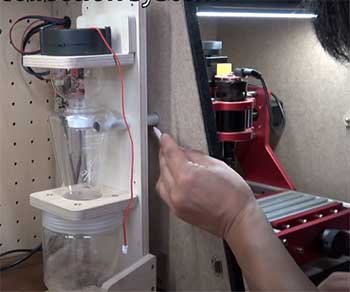 If yes, you might be looking for a mini dust collector.
It can be a practical choice for collecting a small number of wood chips.
Once you hook it up, you will not see a single item suck up into the vacuum.
Smaller dust particles will not rise back to the outlet since it has a long neck.
Assembling the mini dust collector is incredibly simple too. Its lid can easily snap on the container to create a tighter seal. A little large container would make it more effective.
If you are looking for a reasonably efficient dust collector at an affordable price, Chinese dust extractors are a great choice. They have a small and lightweight design.
This type of dust collector can separate more than 80% of debris and dust from the surrounding airstream. Your vacuum cleaner will stay in functional condition for a prolonged time.
Emptying its container once it is full is easier. You just need to remove the lid from the below section, put the dust inside a bag or container, and dispose of it in the correct location.
Dust Collection Separator
This dedicated quality dust collector has a sophisticated design to separate debris, dust, and liquids from the surrounding airstream.
Its curved surface ensures a free movement of debris. Hence, the vacuum performance will not drop over time. A 360-degree swivel connection allows the hose to move smoothly.
You don't need to use any adaptors or duct tape since its effective design ensures a secure connection. Also, no air leaks will be visible to prevent compromising performance.
Cyclonic Two Stage Dust Collectors
This option comes in handy if you are looking for an advanced dust collector. It has two separate containers to store small and large particles separately.
Many large workshops prefer to use this type of dust collecting machine since its container can store up to 30-gallon of dust. You don't need to empty the bucket repeatedly.
This type of dust collector is effective in capturing 99% OF 2-Micron Particles. You can even control it with its radio frequency remote control, which works from 50 feet distance.
Standard Upright Bag Dust Collector
This is another simple yet effective solution to hold vast dust. It has wheels on the bottom to move the unit easily. You can use it for residential and professional purposes.
The powerful tool is capable of grabbing both one and 2-micron dust particles from the surrounding airstream and protects the vacuum. Its increased speed ensures quick capture of particles.
Is Super Dust Deputy Worth It?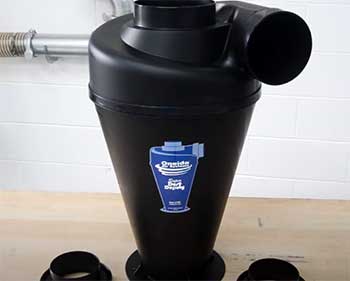 The super dust deputy is an excellent tool to capture 99% of airborne dust and debris from the surrounding airstream.
It makes the cleaning task easier and reduces the hassles of repairing.
Besides, its easy-to-empty dust container allows you to dispose of the dust quickly.
You don't need to disassemble anything to empty the bucket.
The container is made of industrial-grade materials to ensure long-lasting durability.
You can store different types of dust and debris. But avoid adding any hot/smoldering materials.
Since it is a single-stage dust collector, everything will be stored in one place. It is handy to dispose of the dust and reuse the container rapidly.
Frequently Asked Questions (FAQ)
Does Dustopper work?
Dustoppers work effectively in extracting 99.9% of dust, debris, and particles from the surrounding air and storing them in a container for easy disposal.
How do you make a dust deputy?
Making a dust deputy requires you first to choose a compatible bin and create a top. Then, drill some holes and add a bolt to attach the top. Finally, connect the hose, and add some feet.
What does a dust deputy do?
The main job of a dust deputy is to extract dust, debris, and particles from the surrounding airstream and store them in a container to prevent them from entering the vacuum's filters.
Is PVC safe for dust collection?
You can use both PVC and metal pipes for collecting dust since both are safe. Many people use PVC pipes since they are low-priced, simple to install, and lightweight.
Bottom Lines
So, which Super Dust Deputy alternative have you decided to pick?
Before choosing a particular dust collector, you want to consider what type of dust you will collect and how much. Determining these two points will make your selection task more manageable.
Larger dust collectors will have a higher price tag due to their colossal bin and long hose. It depends on the projects you regularly handle. Hopefully, you will find a suitable substitute for the options mentioned above.