Blasting is a method we all are familiar with to prepare a surface for various purposes. A few of the most common blasting purposes included general cleaning, vehicle restoration, paint preparation, etc.
Proper blasting is necessary for a clean and smooth surface so that any finish or coating you apply afterward sticks efficiently.
Today, I will introduce you to a blasting equipment brand that has taken blasting to another level through innovation, technology, and efficiency, Dustless Blasting.
Below, I have discussed a few notable features that'll help you better understand this brand.
Features of Dustless Blasting

Dustless blasting has brought a new era of blasting to remove almost coating from any surface you name. But do you know what the main reason it's considered revolutionary is?
Unlike conventional blasting systems, it has fewer moving parts and propitiatory valves.
As a result, dustless blasting works quicker and more efficiently than any other blasting system. The whole blasting process is patented by Dustless blasting and is surprisingly straightforward.
Mixing water and abrasive gets mixed inside the blast tank and then applied to your desired surface.
As I have said earlier, dustless blasting can be used on various surfaces as you require. But that also begs the question about surface compatibility as the different surface needs different pressure.
Dustless blasting solves this problem with its adjustable pressure system.
Ultimately, the pressure of abrasive and water does the job. So, what Dustless blasting do is control this pressure according to the surface. For example, removing old paint coating might need high pressure, while removing the paint from an antique might need lower pressure.
Different Blasting Options
Different blasting mode is one of the biggest strengths of the Dustless blasting system. In this business, versatility is the key, and you get a wide range of jobs done with soda blasting, dry blasting, and wet blasting.
Both dry and wet blasting is abrasive cleaning methods used for removing the coating, lining refurbishment, and other purposes. While both modes have their fair share of advantages and disadvantages, the highlight is that you get all the modes to get your job done.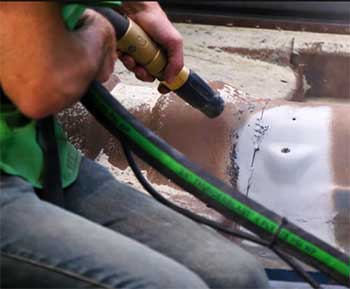 As the name suggests, Dustless blasting is dustless that gets the job without creating a mess or risking your health.
Dustless blasting contains all types of dust blasting and allows you to work in a clean environment.
For example, if you are blasting old paint off a car surface, the dust can easily be contained within a few feet.
If you have previous experience working with sandblasting, you should know how much of an improvement Dustless Blasting will bring to the table.
OSHA (Occupational Safety and Health Administration) recommends using wet blasting for protection, and you can easily comply with that regulation with Dustless Blasting.
As I said earlier, each blasting application is entirely different from than other. So, naturally, those applications will also need to use different blasting materials, which you may also know as blasting media.
For the best blasting result, you must select the appropriate abrasive for a particular finishing process.
Dustless blasting comes to your rescue here with compatibility to use all the commonly used abrasives on the market so that you can cover any surface you want. Also, using water as an abrasive mixture creates more force but reduces the abrasive use, cutting down the consumable cost.  
If you can get a mobile trailer from Dustless blasting, your business opportunity can be limitless. With the trailer, you can take your blasting operations anywhere you want. In addition, all the system parts are self-contained so that the continuous movement won't pose a problem.
Everything you need for an onsite blasting comes with the mobile trailer, including a compressor, airports, water tank, and toolboxes. You can use the mobile trailer to cover various automotive, refinery, marine, residential, and industrial industries.
All Equipment Under One Roof
All the equipment you need to compete for your blasting setup is available under Dustless Blasting. On top of that, there are attachments available to enhance your system, which can make your job more efficient and profitable.
For example, the paint sprayers can be a great help to go beyond blasting and offer paint and coating services too. Then, the vapor adapter can help disinfect your surrounding area. Lastly, some PPEs can make you feel comfortable on a day-long job and keep you safe.
It's expected that users will look for reliability from the blasting system, considering the price. Dustless Blasting has covered them with rigorous testing on every part and full factory support.
In addition, the blasting pots are covered with a lifetime warranty. For other features, you can click here to get detailed warranty information.
Environmental Friendliness
Blasting is typically a damaging process for the environment. So, when Dustless Blasting offers such environment-friendly features, it's hard not to talk about it. All the dust created from blasting gets caught with the water.
As no dust particles are floating around or use toxic chemicals, you don't need to worry about environmental issues anymore. Watch this video to understand why you need to use this!
What Could Have Been Better With Dustless Blasting?
As you have seen, Dustless Blasting has so many great features, making it an excellent choice for a blasting system. However, there are also some flaws too you should know about going forward.
Though Dustless Blasting guarantees it won't warp, there are several complaints on the internet about warping after dustless blasting. However, the warping is very hard to fix afterward, and Dustless Blasting should work on this issue.
Undoubtedly, getting a Dustless Blasting system can be an excellent investment. Also, the return on investment is pretty high too. However, the initial cost can be a deal breaker for people wanting to open a new business.
Dustless blasting should work on that and offer more financing options for potential customers.
Frequently Asked Question (FAQs)
Is Dustless Blasting a good investment?
Considering the features you have seen above, Dustless Blasting can be a very convenient way of doing blasting business with a great return on investment. Furthermore, your growth potential becomes limitless if you get the mobile trailer.
How much does it cost for Dustless Blasting?
You can get an idea about the profit from the numbers your customers will pay you. Typically, a square foot of Dustless Blasting costs around $2.5 to $5, depending on the surface. Considering this number, an hour of blasting service can cost anywhere between $75 and $300
Is there a market for Dustless Blasting?
Blasting is a must for surface preparation, so it's needless to say how big the market is for blasting. Considering the fantastic performance, environmental friendliness, and versatility, Dustless Blasting has a massive market for customers looking for a clean blasting experience.
Is Dustless Blasting better than sandblasting?
Dustless Blasting is far better than sandblasting regarding environmental friendliness and personal safety. Dustless blasting doesn't involve spreading dust particles everywhere, reducing environmental impact. For the same reason, you don't need to wear a full-body suit and don't have the risk of exposing your skin.
Final Words
That's a wrap for today. I hope my Dustless Blasting reviews have helped you better understand this fantastic brand and its equipment. If you are planning to open a blasting business or upgrade your current one, Dustless Blasting can be a tremendous investment to profit in the long term.
Moreover, everything from trucks to accessories is available under this brand, so they perfectly sync for the best blasting result.