Plastic roofing panels are highly cost-effective while being extremely weather resistant. They are effortless to install and have a lightweight construction.
Plus, this affordable item provides impressive insulation for sound and increased temperature.
Here, we come up with a discussion on Suntuf vs. Tuftex roofing panels. We will shed light on various important factors of these two plastic sheets to help you choose the best option according to your requirements.
Let's dive in without further ado!
Quick Comparison Between Two Roofing Panels
Before learning in-depth details about both roofing panels, let's have a quick idea!
| | | |
| --- | --- | --- |
| Specifications | Suntuf Roofing Panels | Tuftex Roofing Panels |
| Materials | Polycarbonate plastic | Polycarbonate plastic |
| Color Options | Up to 16 color choices | Up to 11 color choices |
| Fire Rating | AS1530, 3-1982 | ASTM E84 class A |
| Surface temperature range | -58° F to 184°F | -40° F to 270°F |
| Standing Sizing Options | 2-ft x 6-ft | 2-ft x 6/12-ft |
| Ideal Usage | Various professional and residential roofing projects | Household, commercial, agricultural, and industrial applications |
| Durability | Up to 20 years | 10 to 15 years |
| Cost | Slightly higher | Average cost |
Key Differences Between Suntuf And Tuftex Roofing Panels
Now, you know the fundamental difference between them. But just simple bullet points may not be enough to make the best purchase decision. Let's go for a comprehensive discussion!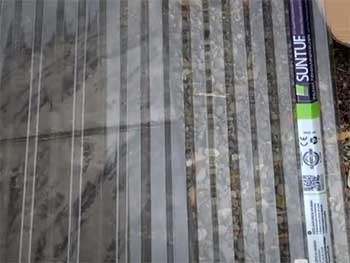 Like many other roofing panel options, Suntuf and Tuftex Roofing Panels are also made from Polycarbonate plastic.
Now, you may wonder why all manufacturers this material, right? It is a highly strong material.
However, its lightweight construction ensures easy installation.
You can use Polycarbonate plastic for both extreme cold and hot temperatures. They are incredibly versatile. Plus, cutting and giving them special shapes is effortless.
Their impressive UV-resistant properties ensure optimal protection. They still supply a good amount of lights. 
Suntuf Roofing Panels are available in up to 16 colors, such as bronze, clear, grey, solar Olympic, Solar ice, Solar control, Sky blue, white, green, etc.
Each offers different levels of light. Gray color provides 60% of light, whereas the solar Olympic supplies only 25% of light.
In contrast, Tuftex Roofing Panels come in a maximum of 11 colors: clear, smoke, translucent white, tan, green, crystal, etc. Their individual color supplies a particular level of light.
You can choose either based on the area you are living.
Since fire or exposition can occur accidentally from any tragic events, your plastic roofing panels need to have fire resistance properties. Hence, checking out the fire rating is crucial if you live in a risky area.
Suntuf Roofing Panels have an AS1530 fire rating. The manufacturer uses high-quality materials which can maintain fire resistance for at least 120 minutes.
Contrastly, Tuftex Roofing Panels come with ASTM E84 "A" rating. Hence, their building materials can ensure a minimal fire spread rate. However, its burning properties imply the fire may start spreading within 10 to 30 minutes.
Surface Temperature Range
A roofing panel needs to have a favorable temperature range to provide your interior with enough light and comfortable insulation.
Choosing a particular roofing panel requires you consider your location temperature range. Noting down its temperature compatibility is crucial.
Suntuf Roofing Panels has a surface temperature range between -58° F to 184°F.
On the other hand, the surface temperature of TuftexRoofing Panels ranges between-40° F to 270°F.
Compared to Suntuf, Tuftex is more suitable for extreme weather conditions.
Since our project types vary from each other, we need different-sized roofing panels. The most standing sizing available for Suntuf Roofing Panels is 2-ft x 6-ft. This comes in handy if you aren't installing it on too big roofing areas. It minimizes the requirement of cutting and shaping.
On the other hand, Tuftex Roofing Panels are available in 2-ft x 6/8/12-ft options. This gives you the versatility to choose special options depending upon your project requirements. It is especially helpful when you are handling larger projects.
Both Suntuf and Tuftex roofing panels are ideal for using various projects. You can use Suntuf Roofing sheets for different professional and residential roofing projects, such as storage sheds, public carports, awnings and roofing, awnings and roof lights, residential pergola roofing, etc.
Tuftex Roofing Panels come in handy for a wide range of household, commercial, agricultural, and industrial applications. You can use them for patio covers, deck covers, privacy panels, sun lounges, covered structures, and many other open or solid attached structures.
How long do you expect a plastic roof panel to last? It depends on the materials and manufacturing process. A Suntuf roofing panel has maximum durability of 20 years.
Its longevity is higher than regular ones because the manufacturer added a special prismatic surface finish. Plus, this plastic sheet has increased Hail Impact Resistance (HIR) properties. They are not prone to get damaged easily from high winds and hail.
Contrastly, Tuftex Roofing Panels can last around 10 to 15 years. Though they don't have any prismatic surface finish, the manufacturer added ultraviolet coating on one side. This will safeguard the underlying material from radiation's harmful effects.
Price is a big factor regardless of the product you choose. The amount of money you invest must be returned from the product you purchase.
Compared to Tuftex Roofing Panels, Suntuf Roofing Panels have a slightly higher price tag. However, the pricing options may vary depending upon where you purchase it.
Which Roofing Panel Is The Best Option For Your House?
Picking a particular roofing panel requires you consider a few crucial factors: your location, climate, how much sunlight you need, project type, budget, durability, and colors.
If you want a premium option with ample color choices and extreme durability, you can't overlook Suntuf Roofing Panels. They have excellent fire-resistant and crack-resistant properties.
In contrast, when you prefer an affordable option with moderate durability and more sizing options, selecting Tuftex Roofing Panels won't be the wrong choice at all.
Frequently Asked Questions (FAQs)
Are Suntuf and Tuftex the same?
Though Suntuf and Tuftex are made from similar materials, they have some unique characteristics that set them apart from the other option.
What is the difference between Suntuf and Palruf?
Suntuf roofing panels are mainly ideal for roofing. But Palrufroofing panels are highly versatile to use for siding, cladding, and many other DIY projects.
How strong is Tuftex?
Compared to traditional fiberglass corrugated panels, Tuftex is 20 times stronger. They can withstand heavy impact, rain, snow, and even extreme cold or hot weather conditions.
How long will Suntuf panels last?
Suntuf Roofing Panels can last as much as 20 years if you install them correctly and take care appropriately. However, too much extreme environment may affect its durability over time.
Final Thought
When it comes to choosing plastic roofing panels, you want to consider some essential aspects such as environment & climate, roof slope, desired style, colors, sizing options, energy efficiency, UV protection, etc.
You should aim at getting the best value from the investment.
We have discussed many essential factors in this Suntuf vs. Tuftex roofing panels discussion. You can go for either option if you are confident enough that it suits your needs. Our job is to open up all the possibilities of each option.
And the rest depends on you!