Are you looking for effective roofing coverage for your home or any property? Well, roofing membranes can be an excellent choice for you.
I have the right roof covering membrane for you. Read my Mule-Hide roofing reviews to know more. As a professional, I have my own experience with Mule-hide roofing membranes.
On top of it, I've consulted with many contractors to squeeze every detail to write this article. So, you will get legit information here. Mule-hide roofing membranes have many pros and cons.
Here I'll show them so that you can decide whether they're good for you. So, let's get into it.
Features of Mule-Hide Roofing Membranes

Mule-hide roofing membranes have a lot of unique features that will make you attracted. But if you have to know them first. Here I will show some of the key features of this roofing membrane brand. So, let's dive in.
An Excellent Roofing System
As I have installed and used Mule-hide roofing membranes of my own, I know all the nitty-gritty of it. This roofing membrane can be an excellent choice for your roof.
Mule-Hide is a single-ply membrane that easily attaches to your roof and stays there firmly.
They offer excellent weather-ability and hail resistance. On top of it, you won't face any solvent-related odor because it's a low VOC membrane.
Besides, it comes in 10 feet by 100 feet large sheet that covers most residential homes. Because of the less sheen, the chances of leakage are minimum.
A Lot of Available Variants
Generally, Mule-Hide roofing means EPDM membranes. It is a laminated rubber membrane that attaches to your roof and protects it from weather and other threats. Mule-Hide EPDM comes in four types.
You can choose from Standard EPDM, Self-Adhering EPDM, Reinforced EPDM, and White-on-Black EPDM. Apart from EPDM, Mule-Hide offers other membranes as well. For example, TPO, PVC, Mod Bit, etc. All these membranes have multiple variants.
You can choose any of the membranes on your roof. I can say from my experience that you will get a satisfactory result.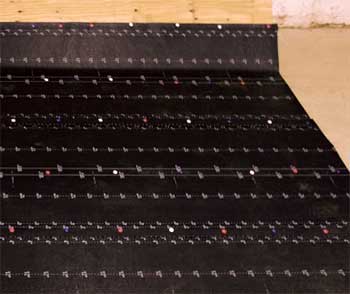 Different Mule-Hide roofing membranes are made from different materials.
But Mull-Hide uses high-quality materials to make their membranes.
And that's why it can offer superior protection to your roof. EPDM membrane is made of high-quality rubber that comes laminated on top.
Besides, some EPDM membranes have adhesive for self-adhering. TPO is a polyolefin-based, thermoplastic, and heat-wieldable membrane.
PVC membrane is made of high-quality and high-strength PVC polyester material. Others are also made from sturdy material for durability.
In a word, because of the strength and quality of the materials, all Mule-Hide roofing membranes last longer and provide adequate protection to your roof.
Being a premium quality roofing system. I enjoy a lot of benefits from the Mule-Hide roofing membrane. I'm telling them here so that you understand what you will get if you decide to use it on your roof.
Mule-Hide membranes are flexible. Being self-adhering, they will be attached to your roof effortlessly.
As a one-layered membrane, they are pretty lightweight, but they will last longer on your roof than others.
You won't need any torch or fire to install Mule-Hide membranes. So, there's no tension of catching fire during installation. Most importantly, you can install them on your roof in one day.
You will get a lot of sizes for Mule-Hide membranes. All these sizes are bigger compared to other brands. Varieties of sizes are available for this roofing membrane.
7×50, 7×100, 7×150, 10×100, 10×150, 10×50, 10×200 feet, and many more square foot sizes are available in Mule-Hide membranes. Just choose one according to your roof size.
Warranty is undoubtedly an essential factor while buying a product like a roof membrane. In general perception, more warranty coverage means the product is of good quality. Mule-Hide offers a 10-Year Warranty for its membranes.
While it's a long year of coverage, some people, including me, think the warranty coverage could be a little longer. Since this is a pretty good roofing system, more years of warranty coverage would give buyers confidence.
What Could Have Been Better With Mule-Hide Roofing?
While I have no complaints about the quality of Mule-Hide, there are some other issues I want to shed light on. You should know those to get the complete picture of this product.
So, here are some cons of Mule-Hide roofing:
Not Satisfactory Warranty
Mule-Hide offers only 10 years of warranty. This is not satisfactory to me and a lot of others. They could offer more warranty coverage since their product is excellent. It will make customers confident.
While a roofing membrane color is not so important because you cannot see it most of the time, you might still want to match it with your exterior walls.
That's why Mule-hide should introduce more colors.
Frequently Asked Question (FAQ)
Who manufactures mule hide?
Mule-hide is a high-quality roofing system. It offers a lot of membranes that can effectively protect your roof from weather. The Lehon Company, based in Chicago, manufactures Mule-Hide products.
Which is the most durable roofing membrane?
A roofing membrane is crucial for protecting your roof. There are a lot of roofing membranes available. Among them are EPDM, Asphalt Shingles, Metal, Clay, etc. They can effectively protect your roof from any harm.
What is the best roof covering?
You will find many roofing covers for protecting your roof. Some of them are quite high in quality. One such product is EPDM rubber roofing. It is easy to install and provides a better result in protecting your roof.
What is the longest-lasting flat roof material?
Among many others, EPDM is the longest-lasting roof material that can last up to 20 years. So, you can install them for better results.
Final Thoughts
We are at the end of my Mule-Hide roofing reviews. I tried to cover all the bases while writing this piece. After knowing all the facts, I'm sure you're convinced already about this product.
Although it has both pros and cons, you can ignore the cons and look at the good side. I think the good side wins pretty well. Let me know what you think.