It's always a good idea to upgrade to a powerful engine-powered sprayer. And if you are already looking for one, you can consider either Stihl SR200 or SR-450 backpack sprayer to find the best option from the top two of their class.
Stihl SR200 weighs 18.7 pounds, and its container capacity is 2.1 gallons. On the other hand, Stihl SR450 weighs around 28.2 pounds, and it can contain 3.7 gallons of spray.
But their differences are not limited to these. There are many others, and you should know them. Stay with me for a while to see a detailed comparison between both sprayers.
Quick Comparison Table
Here is a quick comparison table between Stihl SR200 and SR-450 sprayers:
| | | |
| --- | --- | --- |
| Aspects | SR200 | SR-450 |
| Product Type | Value-For-Money Backpack Sprayer | Professional-Grade Backpack Sprayer And Duster |
| Features | May Superior Features | May Superior Features |
| Benefits | Offer Fewer Benefits | Offer More Benefits |
| Engine Power | 1.07 BHP | 3.9 BPH |
| Spraying Performance | Inferior To SR-450 | Superior To SR200 |
| Warranty | 2 Years Ultra-Limited Warranty | 2 Years Ultra-Limited Warranty |
| Price |  Around $440 | Around $560 |
In-Depth Comparisons Between Stihl SR200 And SR-450 Sprayer
Now that you have accumulated some basic knowledge about both the sprayers, we can get more details. You will need every detail to pick a suitable sprayer between these two options.
So, here are some in-depth ley differences between Stihl SR200 and SR-450 engine-powered sprayers: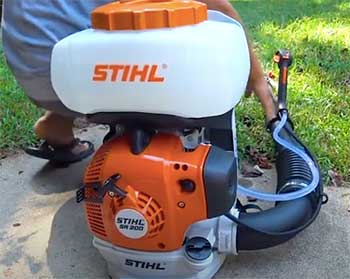 SR200 and SR-450 sprayers are both manufactured by the same company Stihl USA.
They serve a similar purpose, but you will find many differences between them. Let's see what is what.
Stihl SR200 is a lightweight, value-for-money backpack sprayer for small tree farms and vineyards.
You will get the similar portability a manual sprayer provides but with engine power.
You will get excellent performance with fuel efficiency and a low-emission 2 strokes engine.
On the other hand, SR-450 is a professional-grade powerful backpack sprayer and duster that can conveniently convert from liquid to granular applications. It also features a low-emission and fuel-efficient engine.
With its superior liquid and solid distribution capability, you can cover all the bases.
Both SR200 and SR-450 sprayers have become unignorably popular, featuring many outstanding aspects. But there is little difference between the features of these two sprayers.
You will find an anti-vibration system in both sprayers that reduce operating fatigue and offers a comfortable working experience. An adjustable support harness makes the Stihl sprayer and blower easy to carry.
It helps distribute the weight evenly across your shoulder and back so that you do not feel any fatigue carrying them.
Besides, their multi-functional control handle makes it easy to access all the functions, and you can complete your task without leaving the handle for once. Most importantly, the fact that they are made in the USA makes them stand out from others.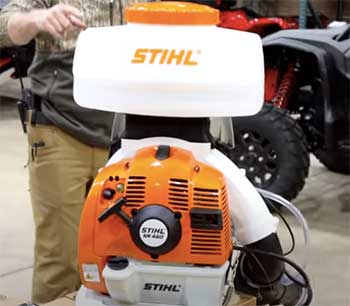 We already know that these sprayers have many similar features. It means they offer many similar benefits.
However, knowing them will help you understand the sprayers better.
With an ergonomic design, you can carry both sprayers quite comfortably. The fuel-efficient engine will consume 20% less fuel than conventional 2-stroke engines.
Besides, the comfortable handle makes it a one-hand joystick-style sprayer.
You will not only feel comfortable handling these sprayers but also achieve an excellently efficient spraying performance. On top of that, you will get professional-level spraying and dusting performance from Stihl SR-450. 
In addition to all these, Stihl will provide you with step-by-step instructions and guides for your projects. It is a pretty good deal.
Engine power has a vital role in spraying performance. Stihl SR200 comes with a 1.07 BPH engine capacity that offers 1.66 Cu. In. Displacement. Its fuel capacity is 36.5 ounces. 
Conversely, Stihl SR-450 has an engine capacity of 3.9 BPH, and it offers a displacement of 3.86 Cu. In. You can store 57.5 ounces of fuel in its tank. We can see SR-450 engine is twice as powerful as SR200. However, both machines are powered by gas.
Since they are sprayers, we can judge them better by their spraying performance. SR200 has a container capacity of 2.1 gallons. You can spray as far as 29 feet with this sprayer.
On the contrary, Stihl SR-450 has a container capacity of 3.7 gallons and can spray up to 48 feet. It turns out SR-450 offers better spraying performance too.
Coming from the same manufacturer, both SR200 and SR-450 offers similar warranty terms. You will get a 2 Years Stihl Ultra Limited Warranty with both the sprayers.
However, you can double the warranty by purchasing a six-pack of Stihl HP Ultra Oil or a gallon of Stihl MotoMix premixed fuel.
Before you decide about a particular product, you must know the prices of both sprayers. You will have to spend $440 for the Stihl SR200 sprayer. But Stihl SR-450 will cost around $560.
So, with superior engine and performance, you will have to spend a significantly higher price for SR-450 than SR200.
Which Sprayer Is Best For You?
From my above discussion, it's pretty clear which sprayer is better in terms of engine, capacity, and spraying performance. So, it shouldn't be difficult for you to understand which one you should go for.
You're right; I suggest you go with the Stihl SR-450 sprayer.
You might have to spend a bigger bill, but it's totally worth it. You will get professional-level performance with this sprayer. It has a better engine capacity and can contain more liquid.
Plus, you can spray up to a longer distance with SR-450.
However, if you have no need for professional-level performance and want to save some money, you can go for SR200. Watch this video to further understand why.
Frequently Asked Question (FAQ)
What is Stihl SR200?
Stihl SR200 is an engine-powered backpack sprayer than offers better performance than traditional sprayers but is easy to handle like them. It is lightweight and very easy to carry.
How can you double the Stihl Ultra Limited warranty?
Stihl provides 2 years ultra-limited warranty with all its gas-powered sprayers and blowers. But you can make it double by purchasing some selected products. If you buy a six-pack of Stihl HP Ultra Oil or a gallon of Stihl MotoMix premixed fuel, your warranty will be double.
Which Stihl sprayer is better?
Stihl SR-450 sprayer is better in spraying performance, engine capacity, and container size. Besides, you can spray both liquid and solid with this sprayer. That's why it's better than other gas-run Stihl sprayers. But it will cost higher than others too.
Is Stihl SR-450 worth it?
Stihl SR-450 is an excellent sprayer and blower machine with professional-level performance. You can comfortably carry this backpack sprayer and end your project with fun. Its superior engine capacity and spraying power make it worth your money and effort.
Final Words
You can take on a spraying or dusting project quite easily and comfortably if you have the right tool at your hand. And I'm glad that you found it from my comparison between Stihl SR200 and SR-450 sprayer.
Stihl SR-450 is such a tool you want to keep in your collection. So, go ahead, bring this sprayer home, and complete your tasks like a piece of cake.