Not sure how to go about your spraying needs?
Backpack sprayers are committed to serving you! This versatile time-saving machine can efficiently apply chemicals to your garden to increase productivity.
Now, let's distinguish the top-rated sprayers that you can choose from; My4Sons has a two-year warranty, while FlowZone has a one-year warranty. FlowZone comes with a 20-foot hose, but My4Sons has a hose length of 15 feet.
Interesting, isn't it? Can you imagine how much more you'll take away if you stuck around a little longer? So, read on!
A Quick Comparison Table
| | | |
| --- | --- | --- |
| Product Attributes | My4Sons | FlowZone |
| Warranty | Two-year | One-year |
| Hose Length | 15 feet | 20 feet |
| Battery Required | 12V lithium-ion | 18V lithium-ion |
| Item Weight | 13 pounds | 15.72 pounds |
| Price | $249 | $239 to $499 |
| Battery Life | Six to eight hours | Three hours |
| Pressure Range | 70 psi to 100 psi | Seven psi to 115 psi |
| Tank Volume | 4.5 gallons | 4 gallons |
| Pump Type | Agitator, Diaphragm, Pressure-dial | Heavy-duty diaphragm |
Significant Differences Between My4Sons And FlowZone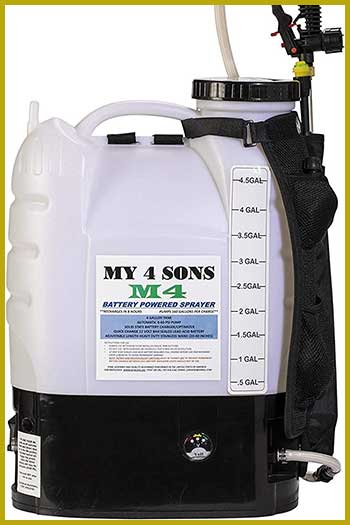 One critical factor that you should put into consideration is the warranty.
Why?
That assurance from the manufacturers is super relieving.
The two sprayers come with warranties, and that's a good start.
My4Sons has a two-year warranty that gives you a safe pass in case the product comes with defects.
On the other hand, FlowZone comes with a one-year warranty where you can return the product to the producing company.
Regarding security, My4Sons is undoubtedly a step ahead.
The hose length of a backpack sprayer plays a massive role in the area that will be covered and the time frame.
If your aim is treating a large lawn, you want an enormous hose length to cover the distance quickly. My4Sons has a hose length of 15 feet.
On the contrary, FlowZone has a 20-foot hose. The difference might appear minor, but the significance of it is unbelievable. I recommend the FlowZone sprayer if you want to quickly and efficiently cover a large area.
A battery is essential for any power-consuming equipment. Backsprayers have different types of batteries that they work with to serve the intended purpose.
My4Sons uses 12V batteries that are usually needed in processes consuming a lot of power and energy. They lower energy levels and offer protection against discharging.
In contrast, FlowZone uses 18V lithium ions that have high durability and provides you with more run time.
Let's be honest; no matter how padded the shoulder straps are, a backpack that's too heavy is a no-go zone. For all I know, that could go as far as causing sores and back pains, and you don't want that.
My4Sons weighs 13 pounds, while FlowZone weighs 15.72 pounds. If weight is a factor you don't joke with and want a sprayer as light as possible, help yourself with My4Sons.
It's always nice to have different product prices to make choices easier. My4Sons costs $249, which is slightly more affordable.
In opposition, FlowZone is more expensive, ranging from $249 to $499. If you want exclusive features like an adjustable variable speed dial and delightful versatility, among other things, FlowZone should be at the top of your mind.
However, if you are not prepared to spend a lot, probably because you need the tool urgently, My4Sons is the perfect pick.
Isn't it annoying to charge your battery now and then in the middle of some work? A long-lasting battery is a key to a fast, efficient, and enjoyable task.
The power unit of My4Sons is incredible since it can last up to eight hours before you recharge.
Oppositely, FlowZone has a cell life of three hours maximum before it dies. You must constantly recharge, especially if you're doing a big job.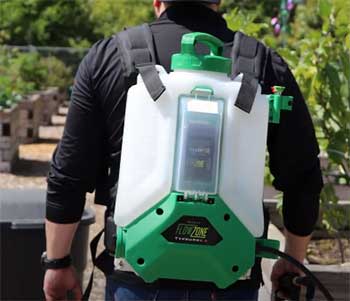 The greater the pressure, the faster and better you spray away all the troublesome details on your land.
A little secret; FlowZone offers one of the best pressure ranges on the sprayers' planet.
This remarkable tool can give a pressure of up to 115 psi. That's right, 115 psi.
Inversely, My4Sons has a maximum pressure range of 100 psi.
So, now you decide. If you need a backpack tool that works like a pressure washer when cranked all through, FlowZone is the answer you're seeking.
My4Sons can hold up to 4.5 gallons, which ensures you can continuously spray for hours. Switching from the garden to the flower bed in a blink of an eye while maintaining momentum is not just a dream.
You can do it with this sprayer!
In contrast, FlowZone has a tank capacity of 4 gallons which is also good enough. However, you should opt for My4Sons if you want an enormous tank volume.
My4Sons features a variety of robust pump systems, all of which are dedicated to giving you a fulfilling spraying experience. Such include an agitator pump known to optimize battery life, a diaphragm for efficiency, and a pressure dial to help get the job done fast.
Conversely, FlowZone adopts a heavy-duty diaphragm pump that increases the flow rate, which peaks the performance.
Which Backpack Sprayer Is Better?
Do you prefer one brief answer or a detailed one?
I'll go with the latter. In a competition or game, there is always a winner, as is in product comparison. The difference is, now you get to decide which one has your best interest at heart, based on your preferences. As easy as that!
My4Sons is a light sprayer with more tank volume, battery life, pump types, and an extended warranty. On the other hand, FlowZone has a longer hose length, saves time, and has an excellent pressure range.
Frequently Asked Questions (FAQ)
What is the difference between a FlowZone typhoon and a Cyclone?
FlowZone typhoon has a 5.2Ah lithium-ion battery, whereas Cyclone has a 2.6Ah lithium-ion battery.
Where are FlowZone sprayers made?
FlowZone sprayers are manufactured in three facilities; two in North America and one in China.
How far does a backpack sprayer spray?
A backpack sprayer can cover 1,000 to 10,000 square feet conveniently and quickly.
Final Verdict
After My4Sons and FlowZone differentiation, what do you think? Or rather, what do you have your mind on?
If you are eyeing excellent battery life, more tank capacity, more warranty, affordability, and a light sprayer on your back, make sure to consider My4Sons.
Nevertheless, FlowZone is up for the task if you want a great flow rate and a remarkable pressure range that will get the job done in seconds. Say goodbye to the cumbersome manual application and embrace a backpack sprayer!