Choosing a suitable blower is always a challenge. And if it is between Echo 8010 and Echo 9010, you might need outside help.
This comparison between Echo 8010 and 9010 blowers will help you to find the best backpack blower from these two options.
Echo 8010 blower comes with one heavy-duty air filter to protect the engine from dust and debris. On the contrary, Echo 9010 backpack blower comes with a 2-stage air filter that protects your engine from dust and increases its longevity.
Let's find out some more decisive comparisons between them.
A Quick Comparison Table
Here is a quick comparison table between Echo 8010 and Echo 9010 backpack blowers:
| | | |
| --- | --- | --- |
| Aspects | Echo 8010 Backpack Blower | Echo 9010 Backpack Blower |
| Blower Type | Backpack Blower With 44N Force | Backpack Blower With 48N Force |
| Materials & Design | Carbon Fiber Frame | Carbon Fiber Frame & Metal Pipe |
| Engine Capacity | 79.9 CC | 79.9 CC |
| Spraying Performance | Inferior To 9010 | Superior to 8010 |
| Special Features | Lightweight | Inti-Vibration Feature |
| Benefits | Offers Fewer Benefits | Offers More Benefits |
| Weight | 11.9 KG | 12.1 KG |
In-Depth Comparisons Between Echo 8010 And 9010 Backpack Blower
A detailed comparison between these two backpack blowers will help you better understand the differences. So, let's dive deeper.
Echo 8010 and 9010 are powerful backpack blowers with excellent performance and power.
Let's see what you should expect from these blowers.
Echo PB-8010 is considered one of the most powerful backpack blowers with excellent engine power and incredible airflow.
You can use it for any professional job where you need massive power to get your tasks done.
On the other hand, the Echo X series PB 9010 is simply the most powerful professional backpack blower, claims many professionals. Its industry-leading 48N of blowing force can take on any heavy-duty clean-up job.
Besides, this beast with tube-mounting throttle makes it an easy-to-use machine and pushes productivity to a new height.
Materials are an essential factor for any product as it determines its durability and performance. A blower with high-quality materials will last longer than typical ones.
A carbon fiber-made frame and fan case make Echo 8010 a lightweight and ergonomic backpack blower so that you can carry it comfortably. Besides, the fan intake will keep your back cool by circulating air around your back.
On top of that, a heavy-duty air filter at the top of the unit will keep your blower's engine safe from dust and debris.
Echo 9010 backpack blower comes with Posi-loc pipes with a metal ring situated on the lower one. Besides, you will get two air filters protecting the engine from dust. The main filter is pleated paper, and the other is a foam prefilter.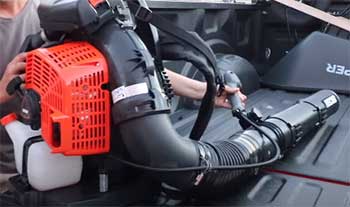 You will receive high-performing results from both blowers as they possess the same engine capacity.
You will get a similar 2-stroke professional-grade engine with 79.9 cc displacement.
But Echo 8010 blower has a fuel capacity of 86.56 fluid ounces. Conversely, Echo 9010 has a fuel capacity of 83.8 fluid ounces.
Both blowers come with a standard see-through fuel tank. Besides, you will get a diaphragm carburetor with 9010.
Although these two blowers have many differences, their engine power is quite similar. That's why people call them the beasts.
Spraying performance is one of the most vital aspects you should consider before choosing a backpack blower. The better-performing one will make your tasks easier and save you a lot of time.
With a powerful engine, Echo 8010 produces a maximum airflow of 1071 at a speed of 211 MPH and 44 N of force. On the contrary, Echo 9010 provides 1110 CFM airflow at a speed of 220 MPH with 48 N of force.
So, it's clear that the Echo 9010 is superior in spraying performance to the 8010 with more airflow, speed, and force.
Echo 8010 comes with one of the Echo's most powerful engines. Its lightweight carbon frame makes it a lightweight and durable blower machine.
A cruise control throttle, ventilated pad in the back, anti-vibration system, heavy-duty straps, etc., make it an extremely comfortable and high-performing backpack blower machine.
On the contrary, Echo 9010 features a powerful 79.9 cc professional-grade 2-stroke engine. You can keep it on your back for a long time because its exclusive vented back pad provides air cooling around your back while carrying.
Apart from that, its superior performance and outstanding features with two air filters make it a standout backpack blower.
The echo 8010 backpack blower comes with a 5 spring anti-vibe technology that reduces vibration. With so many intuitive controls and superior features, you can easily control this machine.
On top of that, ventilating backpack pad and lightweight carbon fiber body make 8010 a super comfortable blower and drastically reduces operating fatigue.
By contrast, Echo 9010 comes with two air filters. A top mounting pleated paper filter and a foam prefilter keep your blower's engine safe from dust and debris, making it long-lasting.
You can quickly and conveniently control and run the blower because of its variable speed settings and cruise control with a tube-mounting throttle. Besides, the lower pipe's metal ring helps to scrap debris and prevents wear and tear.
Weight can be an essential factor for many users as you have to carry the backpack blowers on your shoulder. The dry weight of Echo 8010 is 11.9 kg. On the contrary, the dry weight of the Echo 9010 backpack blower is 12.1 kg with a standard pipe.
So, Echo 9010 is slightly heavier than Echo 8010.
Which Backpack Blower Is Best For You?
Now that you have all the information at hand, it's time you make your choice between the two.
After an intensive discussion on various features, it's clear that the Echo 9010 backpack blower generates more blowing power than Echo 8010.
So, I suggest you go for Echo 9010 for superior performance and extended benefits. In short, you'll get two air filters, excellent control, and Posi-loc pipes with this blower, which will produce an unparalleled performance throughout your project. 
Now, watch the video testimonial from its proud owner.
Frequently Asked Question (FAQ)
Whats the difference between Echo 8010 and 9010?
You will find many differences between Echo 8010 and 9010 backpack blowers. 9010 offers better airflow performance and is a bit heavier than 8010. 
What is the most powerful Echo backpack blower?
Echo PB 9010T is the most powerful backpack blower from Echo. With a 79.9 cc engine, 1110 CFM airflow, and 220 MPH airspeed, no other blower can deliver as good a result as this one.
What is the most powerful Echo handheld blower?
With superior features and engine power, PB 2620 is the most powerful handheld blower from Echo. This lightweight and feature-packed X Series blower will provide professional-grade performance.
How much does the Echo 8010 blower weigh?
Echo 8010 is made from a carbon frame, and that's why you'll find it very lightweight and durable. It weighs around 11.9 kg when it's dry.
Final Words
My Echo 8010 vs. 9010 reviews have given you all the necessary data for choosing the best backpack blower. And now that you know which one is the better option, there is no chance you'll end up with the wrong one.
In conclusion, I would again suggest you go with Echo 9010 blower machine so that you can perform your tasks easily and fast.