STIHL 291 Chainsaw has a 3.76 bhp engine power, whereas 311 chainsaw has 4.2 bhp. STIHL 311 Chainsaw is a better choice for heavy-duty professional jobs, whereas STIHL 291 Chainsaw appears ideal for small or moderating woodworking tasks.
When choosing a reliable chainsaw, you want to consider its motor power, Guide bar size, portability, warranty, safety features, special technology, and working purpose. Here we come up with a comparison between STIHL 291 and 311 to help you choose the best one.
A Quick Comparison Table
A significant difference exists between these two high-quality chainsaws. We will walk you through a small table to know their fundamental dissimilarities.
| | | |
| --- | --- | --- |
| Specifications | STIHL 291 Chainsaw | STIHL 311 Chainsaw |
| Engine Power | 3.76 bhp | 4.2 bhp |
| Guide Bar Length | 16 in. | 16 in. |
| Special Technology | Reduced-emission Engine Technology | Decompression Valve Technology |
| Chain Oil Capacity | 8.12 oz. | 11.8 oz. |
| Fuel Capacity | 16.9 oz. | 20.3 oz. |
| Oilomatic® Chain | .325 RM3 | .375 RM3 |
| Displacement | 55.5 cc | 59.0 cc |
| Powerhead Weight | 12.3 lbs | 13.67 lbs |
| Price | Lower | Higher |
Comprehensive Differences Between STIHL 291 And 311 Chainsaws
So, you already got a brief overview. But is it enough to make a better purchasing decision? Maybe not! That's why we come up with an in-depth comparison session.
The engine of power of STIHL 291 is 3.76 bhp and STIHL 311 is 4.2 bhp.
Though both options are good enough, 311 has more power than 29.
You can clear trees from your property more effortlessly and turn them into firewood.
With STIHL 311, handling bulky and heavy threes will be easygoing.
When choosing a perfect guide bar length, you need to ensure its size is at least two inches longer than the thickness of the things you want to cut.
Both chainsaws have a 16-inch guide bar. Since it comes in a standard size, you can effortlessly cut down small trees or get off shrubs. This makes them less heavy too.
STIHL 291 chainsaws are equipped with Reduced-emission Engine Technology to zero or very low exhaust emissions. You can count it as an eco-friendly product.
On the contrary, STIHL 311 features Decompression Valve Technology to start the chainsaw smoothly. It can also decrease the compression significantly while cranking.
The Chain Oil capacity of STIHL 291 is 8.12 oz., and STIHL 311 is 11.8 oz. Hence, you need to change the refill of the oil less frequently for 311.
However, changing the oil is necessary once it exceeds the expiry date. Use always fresh lubricants. Keeping a sufficient amount of oil will ensure smoother and safer cutting.
STIHL 291 has a fuel capacity of 8.12 oz. In contrast, STIHL 311 comes with an 11.8 oz. fuel capacity. 311 chainsaw appears a perfect choice for long-term works.
You don't need to refill the fuel in the middle of the cutting. It also prevents unwanted fuel shortages, which would have caused seizing pistons and damage to the engine.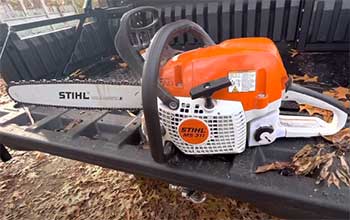 STIHL 291 comes with a.325 RM3 Oilomatic® Chain. It can ensure increased comfort with minimal vibration levels.
Also, the unit has soft cutting attributes and reduced chatter
On the contrary, STIHL 311 features a 375 RM3 Oilomatic® Chain.
Since the unit has more horsepower, this type of chain is a perfect match. It will require less sharpening.
STIHL 291 comes with a 55.5 cc displacement rating, whereas STIHL 311 has a 59.0 cc displacement rating. Hence, you can generate more power from the 311.
Higher piston displacement is a better choice if you want to get more out of a chainsaw. But STIHL 291 can effortlessly handle several cords of firewood.
The weight of the STIHL 291 after removing the chain and guide bar is 12.3 lbs. On the contrary, STIHL 311 weighs 13.67 lbs.
Though both Gas-powered chainsaws are heavy, STIHL 311 is slightly heavier. It will give you less maneuverability. Beginners may struggle to manage it appropriately.
The average price of a gas-powered chainsaw can be anywhere from $350 to $1000, depending on the brand, quality, additional features, and size.
A STIHL 291 chainsaw may cost around $500 to $550, whereas STIHL 311 may have a price tag of $600 to $650, depending on the brand.
Which Chainsaw Is The Best For Your Work?
So, you have already learned about all the core differences between these two chainsaws. But now the question: Which is a perfect choice for your work?
If you regularly handle only light or moderate-type works, choosing STIHL 291 is entirely okay. The unit has a lightweight construction, providing you with more measurability.
On the contrary, if you are a professional woodworker who handles many heavy-duty jobs, STIHL 311 is a better pick. It comes with a powerful motor.
Handling different types of more challenging jobs will be easygoing. You can continuously work for hours without any break. After all, it has higher fuel and oil capacity. This video review explains why it's a good choice.
Frequently Asked Questions (FAQ)
How good is a STIHL 311 chainsaw?
STIHL 311 chainsaw is a true workhorse with ample power. Its Electronic Ignition ensures smooth and quick starting. You will feel comfortable holding it due to its Anti-vibration System.
How big of a bar can you put on a STIHL 311?
The maximum recommended bar for STIHL 311 is 55 cm (25″). Cutting more than the recommended size will affect the chainsaw's performance.
How many CC is a 291 STIHL?
The cc or displacement of 291 STIH is 55.5 CC.
How many horsepower is a STIHL 311?
A STIHL 311 has a 4.2 brake horsepower, which is powerful enough to handle tougher jobs.
Bottom Lines
Here we come to the conclusion part of STIHL 291 vs. 311. You can use either option if it can fulfill your job requirement. STIHL 311 is a perfect choice for cutting more giant trees quickly.
You can even do rip cutting to split huge items into halves or quarters.
STIHL 291 is also a good option for cutting different sizes of trees in minutes. It can run strongly. You can go through vast trunks with minimal issues. It is pretty easy to use and requires simple maintenance.