A chainsaw is one of the most important tools that you can have. If you are very passionate about DIY, a chainsaw is a must for you because you can use it for different work such as felling trees, cutting firewood, etc.
But you might wonder which one you should choose since there are a lot of amazing options available in the market. Even though you decide to have a Stihl chainsaw, you will get more confused to see their vast range of models.
But don't worry, this article will solve all your confusion!
A Quick Comparison Table
Here's a quick comparison table so that you can easily understand the main differences between these two chainsaws-
| | | |
| --- | --- | --- |
| Specifications | Stihl 391 Chainsaw | Stihl 362 Chainsaw |
| Weight | 13.67 lbs  | 12.3 lbs |
| Power | Less than Stihl 362 | More |
| Maintenance | Less Complicated | Complicated |
| Decompression Valve | Not Available | Available |
| Cost | Less Expensive | Expensive |
Key Differentiation Between Stihl 391 And Stihl 362 Chainsaw
Now, we will discuss the major differentiations in detail and try to make a decision about which one is the best chainsaw between these two-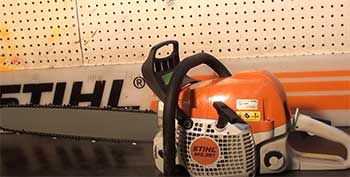 You should definitely consider the weight when you buy a chainsaw. The weight of the chainsaw matters a lot while working.
Lightweight chainsaws are always preferable because it gives you much comfort.
Your hand might start shaking if you hold a heavy chainsaw for a long time.
Therefore, the cut will not be straight and it might lead to an accident.
The weight of the Stihl 391 chainsaw is 13.67 lbs. On the other hand, Stihl 362 weighs 12.3 Ibs which is almost 1.5 pounds less than Stihl 391. You might be thinking that the difference is very small and it does not really matter.
But you will definitely feel the difference when you work for several hours or have to move your chainsaw a lot to do tree felling.
Engine Power and Displacement Variation
BHP or Brake horsepower is determined by the amount of braking force provided and is a measure of the machine's usable power. Brake horsepower measures how much work a motor can produce under ideal circumstances.
This effort is computed without taking into account the impacts of any auxiliary elements that might reduce the motor's real speed. BHP was created to compute and compare the output of steam engines, and it is measured inside the engine's output shaft. 
So, here lies the difference between the engine power of the Stihl 391 and 361 chainsaw. Stihl 391 has 4.4 bhp engine power, whereas Stihl 362 chainsaw's engine power is 4.6 bhp. That means the engine power and capability of Stihl 362 are definitely greater.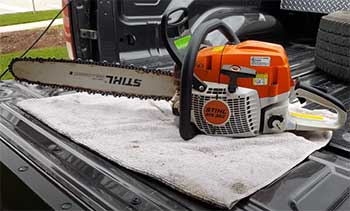 But if you talk about displacement, the scenario is different here. Chainsaw power is also determined by displacement, which is the volume that the piston displaces during its upward stroke.
Centimeters or cubic inches are used to measure displacement. The explosion of the pressurized fuel/air mixture powers the piston and enlarges the displacement.
The displacement of Stihl 391 and 362 are 64.1 CC and 59.00 CC, respectively.
So, if we only consider the measurement of displacement, Stihl 391 wins here. However, displacement is measured with centimeters, and this small difference does not make Stihl 362 less powerful.
Moreover, because of the bhp measurement, we can say that Stihl 362 is more powerful than Stihl 391.
Electrical and gas chainsaws are the two most popular types of chainsaws in the market. Gas chainsaws require more maintenance than electrical chainsaws.
Though Stihl 391 and 362 are both gas chainsaws, the maintenance of the Stihl 362 chainsaw is a bit complicated.
Stihl 362 needs periodic adjustments to keep the chain in the correct position. The customer reviews also show that Stihl 362 starts to act weirdly if they do not do the maintenance more frequently.
Price is a very important factor to us when we decide to buy something. Gas chainsaws are generally a bit costly, and that's why many of us might look for a cheaper option within the category of it.
If you have a limited budget and do not have a bigger project to work on, Stihl 391 can be a good option for you. It has all the essential features you might need and gives you value for money t the same time.
You will get a Stihl 391 (18-inch bar chain) for $630 to $670+. But you have to pay almost $200 more to get a Stihl 362 with the same bar length. A Stihl 362 will cost you around $870 which is undoubtedly an expensive one.
Frequently Asked Question (FAQ)
Is a Stihl 391 a pro saw?
Yes, you can call a Stihl 391 a pro saw. It is Easy-to-use and has a high-torque chainsaw for cutting firewood or collecting wood that performs better. The high torque can provide several different speeds just with a click.
What's the biggest bar you can put on a Stihl 391?
The biggest bar you can put on Stihl 391 is a 25-inch bar. But it is not recommended to use such a large bar continuously. The ideal bar length to put on Stihl 391 is between 16 and 20 inches. Gas chainsaws work at their best when the bar length is right and fits perfectly.
What is a Stihl MS 391 worth?
You can get a Stihl MS 391 for around $670. Stihl MS 391 is costlier than Stihl 391 because this model has an outstanding fuel efficiency feature.
Can you run a 25 in Bar on a Stihl 391?
Yes, you can. But it is recommended to keep the bar length between 16 and 20 inches. A 25-inch bar on Stihl 391 can cause poor performance.
Final Words
A chainsaw is a helpful tool but must be used properly and with safety gear. Not all companies can be trusted, and you should double-check the quality of a chainsaw before buying.
Stihl 391 vs. 362dilemma is very common as they both are excellent chainsaws. If you want a chainsaw that is less expensive, Stihl 391 will be the best for you.
Otherwise, you can always choose Stihl 362 as it has lots of advanced features and specifications.