Stihl is very popular for its power cutters and the TS series is an example of why. TS 700 and TS 800 are the two most popular options in this series.
They're both very similar but of course, different. The main differences between the two models are their weight and cutting depths.
As anyone in construction knows that you need high-quality power cutters to get straight cuts every time. Both TS 700 and TS 800 can get you that, but people still choose one or the other.
So, what makes them stand apart? Let's take a look.
A Quick Comparison Summary
If you're one of the "always-on-the-go" persons, this part is for you. If you want to know the gist of it all minus the fluff, this table notes them down for you. Feel free to go through it for a quick summary.
| | | |
| --- | --- | --- |
| Feature | Stihl TS 700 | Stihl TS 800 |
| Weight | 11kg (25.6lbs) | 13kg (28lbs) |
| Cutting Depth | 4.9 inches (125 mm) | 5.6 inches (145mm) |
| Extra Features | No magnesium guard or water supply | Magnesium guard and water supply |
| Cutting Wheel | 14 inches | 16 inches |
Now for the less busy people, let's get to the details.
Key Differences Between Stihl TS 700 And TS 800 Power Cutter
A power cutter is a pretty big deal and you can't really afford to go back on one. Once you get a machine you get it. This is why it is very important to know exactly what you want from them. Knowing your requirements will make choosing one easier.
TS 700 and TS 800 are pretty similar. Most of their features are the same, but some things set them apart. Weight, cutting depth, and blade size are some of the factors that make them different. What else? Let's take a better look.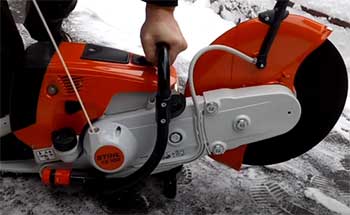 Weight is one of the major differences between these two machines.
The website descriptions might tell you TS 800 is lighter, but the real story is different.
The description you see on Stihl's official website is a little deceptive, to be frank.
The TS 800 is listed as "a whooping 0.7lbs lighter than the other model" but there's a plot twist.
Stihl TS 800 is only lighter if you consider the machine and the blade.
But TS 800 also comes with water facilities and that makes it heavier than the TS 700. With the machine, blade, and water facility in consideration, TS700 takes the crown at 11kg (25.6lbs). TS 800 stands at 13kg (28lbs) so TS 700 is the clear winner here.
Another major difference between TS 700 and TS 800 is cutting depth. Cutting depth is how deep you can cut with the saws. TS 800 easily wins this department with a 5.6" cutting depth.
The TS 700 model is amazing for cutting your regular concrete or asphalt blocks. But if you want to cut bigger blocks, TS 800 is your friend. It cuts into 5.6" deep while the TS 700 goes up to 4.9".
TS 800 comes with some extra additions, especially for the exterior. TS 700 is the more plain one among the two. It doesn't have any extra guards or anything else.
TS 800 on the other hand comes with a magnesium guard and a water supply feature. The water supply is to keep the blade cool.
Another major difference. Cutting wheels are the most visible difference between TS 700 and TS 800. The TS 700 model comes with a 14" blade.
Then you have the TS 800 with a 16" blade, the biggest among the Stihl handheld cutters. As you can guess, TS 800 wins this round too.
Which Power Cutter Should You Pick?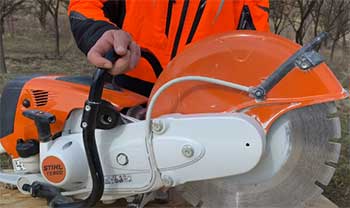 The answer to that depends completely on your personal preference. Both power cutters are amazing, have very few price differences, and have similar features.
So the decision really comes down to other factors.
If you work for long hours and want something lighter for work, the TS 700 is your best choice.
You'll have to compromise a little on the cutting depth for this but that's up to you.
If you're looking for something that will cut deep and you don't have issues with weight, go for the TS 800. This won't be good for working a long time because of the weight but if cutting deep is your focus, this is the better choice.
Overall TS 700 would be the most well-rounded choice among these two unless you're specifically looking for something to cut deeper.
Frequently Asked Questions (FAQs)
It is hard to cover everything in a single article so if you have some more questions, it is understandable. Here are a bunch of questions people ask often about TS 700 and TS 800 power cutters. Hopefully, these can help you out more.
What size blade does a Stihl ts800 take?
TS 800 is Stihl's biggest power cutter. This machine holds a 16" (400 mm) blade. This is the biggest size Stihl power cutters come in (for handheld ones).
How do you start a Stihl demolition saw?
Start with placing the machine on a flat surface in a clear area. Press the throttle interlock and throttle trigger together. Move the power switch to the start position and release both throttle buttons. Set the choke to cold-start, press the compression button and depress the purge pump. Now pull your handle until the machine starts.
How much does a concrete saw weigh?
That depends on the saw manufacturers. There's a pretty close weight range for concrete saws. It can go from 20lbs (for handheld machines) to 2200lbs (walk-in saws) depending on the model, manufacturer, and style.
Final Verdict
And there's your Stihl TS 700 vs. TS 800 comparison. Both saws are well-rounded but if you had to pick one, TS 700 would be a good idea.
And if you're good with a heavier machine, TS 800 is a nice choice. Either way, these are two of the best power cutters out there so feel free to give these a shot!