Are you frozen in your track searching for the right cabinet for your kitchen?
It happens to many people because choosing a kitchen cabinet involves a lot of things. But you're lucky you have found me.
In this write-up, I'll tell you about the two best kitchen cabinets and their differences. So, you can choose a suitable kitchen cabinet without looking back and forth. StarMark and Kraftmaid are undoubtedly the best names for good-quality cabinets.
Let's dive deep to learn more about them.
A Quick Comparison Table
Here is a quick comparison table between StarMark and Kraftmaid cabinets:
| | | |
| --- | --- | --- |
| Aspects | StarMark | Kraftmaid |
| Cabinet Style | 6 | 5 |
| Special Feature | Soft-Close Hinges Close Automatically | Provide Semi-Custom Cabinets |
| Quality |                                 Superior Quality | Pretty High Quality |
| Material | Woods and MDF | Woods |
| Finishes | Offers More Finishes | Offers Fewer Finishes |
| Color Family | 10 Color Family |  9 Color Family |
| Warranty | Limited Lifetime Warranty | Limited Lifetime Warranty |
In-Depth Differences Between StarMark And Kraftmaid Cabinets
You need more details about these two cabinet brands to make the right decision. So here are some key differences between cabinetries.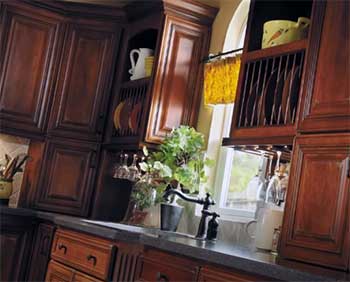 You will get 6 design styles from StarMark Cabinetry. Contemporary, Cottage/Farmhouse, Ornate, Shaker, Traditional, and Transitional.
Each style has multiple designs and color options.
On the contrary, Kraftmaid has 5 styles of cabinets. Traditional, Transitional, Contemporary, Modern, and Rustic.
These styles also hold multiple designs. As you can see, there're some differences between the styles. However, you will get more style variations in StarMark cabinets.
StarMark and Kraftmaid cabinets are trendy among people because of their quality and wide array of variations. Let's see some features of these two brands' cabinets.
Each StarMark cabinets are handcrafted. You will find hundreds of details in these cabinets. It offers well-crafted Framed and Inset cabinets for the kitchen.
There are solid wood dovetail drawers that come with these windows. Plus, they come with a genuine wood interior.
The hinges of these cabinets close automatically and are also soft close. You will also get roll-out trays with base cabinets.
On the other hand, Kraftmaid cabinets are hand-assembled. They provide semi-custom cabinets for the kitchen. These cabinets come with adjustable shelves and offer maximum storage.
Because of the Concealed Whisper Touch hinges, you will get six-way adjustable soft-close doors.
On top of that, because of the excellent construction, you can perfectly align Kraftmaid cabinets in your kitchen wall. The interior has a natural birch wood grain lamination.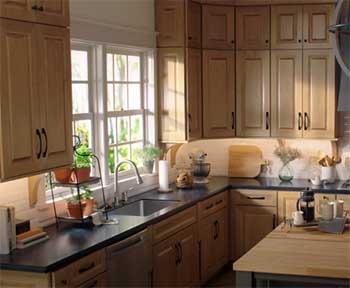 Regarding quality, both StarMark and Kraftmaid cabinets stand very tall.
But if you compare each other, StarMark is ahead of Kraftmaid cabinets because of its material quality, variations in design, and wide range of color options.
However, Kraftmaid's cabinet quality is also top of the class. Its materials and hardware are solid and long-lasting.
Besides, this brand also offers a wide range of designs, colors, and finishes. It's just not as good as StarMark cabinets.
StarMark mainly makes cabinets from various types of wood. You will get Alder, Cherry, Hickory, Maple, Oak, Quarter Awn Oak, Rustic Alder, Rustic Hickory, Walnut, etc., options for these cabinets.
Besides, you will also get MDF cabinets from them.
On the contrary, Kraftmaid makes kitchen cabinets made from various woods only. Some options are Maple, Cherry, Evercore, Oak, Hickory, Rustic Alder, Foil, Rustic Maple, High Gloss, etc.
Since Kraftmaid only uses wood to make all the cabinets' parts, they are pretty long-lasting.  
StarMark cabinets come with various finishes. Some of them are Toffee Ebony, Chocolate, Tarragon, Slate Nickel, Oregano Ebony, Rattan, Hazelnut, Cappuccino, Mocha, Nutmeg, etc. You can select one based on your preferences and the interior of your house.
In contrast to StarMark, Kraftmaid offers only 7 finishes for its cabinets including Weathered, Standard Topcoat, Vintage, Suede Topcoat, Distressed, Vintage Suede, and Aged.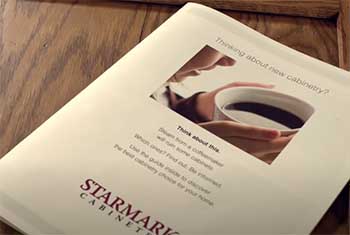 Color is an essential factor for cabinets. Since cabinets from both brands come pre-finished, you must choose your color carefully.
StarMark cabinets come with 10 different color families.
Such as Black, Blue, Dark Brown, Gray, Light Brown, Medium Brown, Red, White & Off-White, and Yellow.
On the contrary, Kraftmaid cabinets have 9 color family options. They are Black, Blue, Cream, Green, Dark Finishes, Greys, Light Finishes, Mid-Tone Finishes, and White.
Warranty is a crucial factor for kitchen cabinets. It indirectly tells about the quality of a product. StarMark offers a Limited Lifetime Warranty for all its kitchen cabinets.
Similarly, Kraftmaid cabinets also come with a Limited Lifetime Warranty. So, you will get a similar warranty from both cabinet brands.
Which Cabinet Will Be Best For You?
Now you know the differences between the two cabinet brands. So, I don't think choosing one will be difficult for you anymore. It's entirely up to you.
However, if you ask me for suggestions, I would tell you to go for StarMark cabinets.
You will get material variation there. Plus, StarMark offers more style, finish, and color options. The quality of cabinets is also better in StarMark.
So, these cabinets are better than Kraftmaid cabinets in almost every way.
Frequently Asked Question (FAQ)
Are StarMark cabinets good?
StarMark is one of the top names in the cabinetry industry, and they make cabinets from various wood and MDF. People love these cabinets because of their quality, style, and variation.
Which brand is best for kitchen cabinets?
The kitchen cabinet industry is enormous, with many players in it. But only the best brands offer quality cabinets that are aesthetically beautiful and durable. StarMark, Sektion, Kraftmaid, etc., ate the best names for kitchen cabinets.
Are KraftMaid cabinets made in China?
Kraftmaid cabinets are not made in China. These semi-custom cabinets are entirely made in the USA, and Their manufacturing plant is located in Middlefield, Ohio.
What are StarMark cabinets made of?
StarMark uses solid wood and MDF material to make its cabinets. These are not cheap wood. As a result, these cabinets are very sturdy and long-lasting.
Final Thoughts
Beautiful-looking kitchen cabinets can entirely change the look of your house. It also showcases your taste. So, putting up the best available cabinets within your budget is imperative.
StarMark vs. Kraftmaid cabinet details show that considering all the facts; the former will be the best option for you. So, what's going to stop you from doing the right thing?
Good luck, and let me know what you think.