The main similarity between these two flooring tiles is that both are saleable at Floor And Décor option. However, Nucore flooring tiles have more options to offer with various types of colors.
But Optimax flooring is better on the durability side with fewer flooring options and colors.
Both of these flooring tiles have their specifications. Let's discuss their main differences to end the debate between these two as to which one is best to choose.
A Quick Comparison Table
| | | |
| --- | --- | --- |
| Specifications | Optimax Flooring | Nucore |
| Total Products Available | Up to 27 Products | Up to 99 Products |
| Number Of Colors | Total 4 Color options | Total 10 Colors |
| Water Proofing | All products are waterproof | All products are waterproof |
| Finish | Authentic Texture Smooth Textured | Authentic Texture Hand scraped High Gloss Smooth Textured |
| Style | 25 products with a wood look 2 products with a stone look | 92 products with wood look 7 products with a stone look |
| Residential And Commercial Use | All Products can be installed at both places | 3 specific options for commercial Rest can be installed either commercially or home-based |
| Pricing | More than $5 sq/ft, which is expensive | Less than $5 sq/ft, which is less expensive |
Key Differences Between The Optimax And Nucore Flooring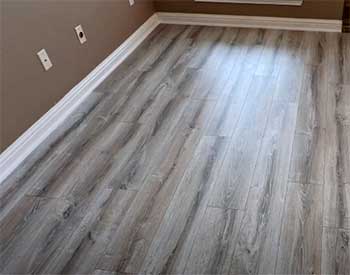 When it comes to the selection of the installation of the best tiles in your house, you always consider choosing more options for an easy and wider view.
That's why choosing from more options available is always recommended.
Keeping that in mind, Nucore has 99 products found at Floor And Décor Store.
You can choose any of the tiles options you want to install at your residential or commercial place.
However, looking at the Optimax flooring tiles, you will get only 27 products to choose from.
Though it is quite a deal, you are limited to fewer options than the Nucore. But the quality of either of these tiles options is not compromised.
Defiantly, when a brand like Nucore offers more products, it will also come Nucore gives you up to 10 colors for your specific tile option.
Be comfortable and choose from any color you want to match with your house furniture or simply that looks good to you.
On the other hand, Optimax provides only 4 color options for selecting your favorite tile.
So, you can select from these limited options to install any tile in the bathroom or anywhere else in the house or building you want.
Waterproofing is the huge similarity you can find between both tiles. It doesn't matter if you buy a tile from Optimax or Nucore; both are water resistive and don't let the water stick on the floor.
When such a thing is ensured in tiles, your floor will stay dry even if you have washed it with water recently.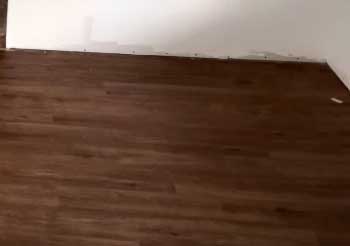 Finishing is something that improves and adds more to the look of your home/building floor.
That's why it must be available in multiple options to make your choice easier.
The same thing Nucore is doing.
Because at this floor tiles place, you will have finishing options like Authentic Texture, Hand scraped, High Gloss, Smooth, and Textured.
Therefore, you can select any finishing to find on your floor.
But compared with the Optimax, you can only choose from Authentic Texture, Smooth and Textured finishings. Here at Optimax, things are limited.
At Optimax or Nucore, you can have a wood look on the floor or a stone look. But which one gives you more always matters.
Nucore offers you up to 92 options with wood on the floor, and 7 with stone looks on the floor.
On the other hand, Optimax has up to 25 products with wood looks and only 2 options with stone looks on the floor.
Residential And Commercial Use
Both floor tiles brands offer tiles for either commercial usage or residential usage. However, when you go with the Nucore, you can choose 3 specific options for commercial usage only.
But that doesn't mean that the other 96 options are unavailable for commercial use. Yes, they are.
Comparatively, Optimax offers all the options for residential or commercial usage.
Optimax tiles are a bit expensive when bought in square feet. Here, the maximum square feet can go above $5, which you will not find at Nucore.
Because Nucore keeps per square foot below $5, their maximum price for the square feet of a tile will be highest at $4.99. So, Nucore is offering cheaper floor tiles than Optimax.
Which Floor Tiles Are Better For You?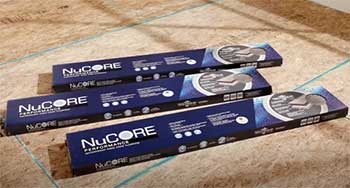 Coming this far, we have observed Nucore with many positive features because of its wide range of offerings, multiple colors, finishing, and style options.
On top of that, these tiles are less expensive than Optimax, which is undoubtedly a big difference you can make.
So, choose Nucore if you want to select from a sea of tiles at a very affordable price. But selecting anything from Optimax will also not be a worthless purchase just because there are few options and little expensive ones are available.
The final decision will always be yours.
Frequently Asked Questions (FAQ)
What Type Of Flooring Is Optimax?
To bring that optimum style and expected performance to your floor, Optimax flooring is a wood-look floor that is comparable to Vinyl. It is dent-free, waterproof, and extremely scratch resistant.
Is Optimax Laminate Or Vinyl?
Optimax is wood-look flooring that is not Vinyl but can be compared to Vinyl.
Does Nucore Scratch Easily?
Many reviews state that Nucore tiles are easy to scratch and dent, which may not be a better option for you because people love to have scratch-free flooring.
How Do You Clean Optimax Flooring?
You can use any shiner or floor cleaner to clean your Optimax or other tiles. For premium cleaning, consider using the Swiffer WetJet Multipurpose Floor Cleaner to clean your Optimax tiles.
Final Thoughts
You are deciding between Optimax Flooring and Nucore could be hard and cozy due to many similarities. However, Nucore is easily scratchable and denting, but Optimax's completely diverse may help you decide the best flooring for yourself.
So, always choose wisely and consider which option is best for you. Let me know your experience with either of these tiles to share with others.
Have a nice day!