The majority of experts agree that one of the key elements to getting a good night's sleep is having the ideal temperature in bed.
Our internal body clock induces a 1 to 2-degree reduction in body temperature during sleep; that's why a climate control system in your bed can give you the ultimate comfort.
But you might get confused about which temperature control system you should buy for your regular use. Smart Duvet and BedJet are good options though they have a few differences in their features and specifications.
A Quick Comparison Table
| | | |
| --- | --- | --- |
| Specifications | Smart Duvet | BedJet |
| Temperature control | Uses evaporation method | Uses air to regulate the temperature |
| Control system | App | Remote control system |
| Noise level | Low white noise | 38-47 dBA |
| Unique Feature | Self-making bed | Aromatherapy diffuser kit |
| Price | Expensive | Expensive but cheaper models are also available. |
Key Differentiations Between Smart Duvet And BedJet
Now let's find out the major differences between these two climate control systems in detail so that you can pick the best one for your bed.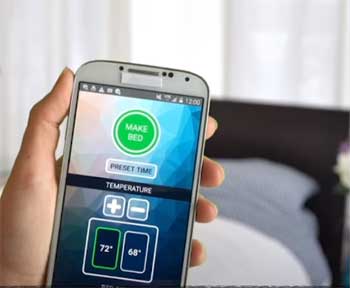 The main objectives of these devices are to keep the temperature in control so that you can get a sound sleep.
These devices use some mechanism to control the temperature.
Active cooling systems come in three varieties: bed and pillow fans, air-cooled, and water-cooled systems.
Bed and pillow fans circulate cool air around your body by blowing air under your sheet.
There is no active ventilation, heating, or cooling. The biggest benefit is price; these are quite affordable.
Air-cooled systems cool the air before pumping it into your bed, for example- the BedJet. The BedJet uses air to manage temperature and offers adjustable temperature settings for both single and partnered sleepers.
By delivering cool or warm air straight into your bed, the BedJet controls temperature.
The Smart Duvet works a bit differently. The Smart Duvet uses evaporation cooling to chill your body using only room temperature air.
Our body uses the same natural technique to control its internal temperature. Since water evaporates from our skin, our body physically cools down.
Smart Duvet creates a real cooling effect by increasing air circulation under your Duvet, enhancing the body's natural evaporation process.
Decibel A is used to measure noise levels (dBA). The decibel level rises with increasing volume. The approximate noise level of BedJet is 38-47 dBA which is very low than other noises.
But when turned on, the BedJet does make a faint buzzing sound, which gets louder as you turn up the fan speed. So, this is something to take into account if you have trouble falling asleep or need complete silence.
The Smart Duvet also makes noise, but it is more like white noise, which does not hamper sleep.
If you are tech-savvy, you may prefer Smart Duvet more because it works through the Smart Duvet app on your phone. Using only your smartphone, you can set the appropriate temperature for your side of the bed.
The BedJet only has a remote-control system. However, the good thing is the remote is not only elegant in appearance, but it is also incredibly simple to operate.
If using technology in the bedroom makes you feel uneasy, you should go for BedJet. The remote screen is easy to read, and everything is properly labeled.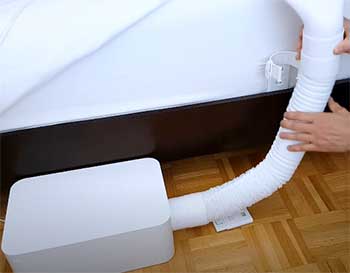 If we compare the unique features of Smart Duvet and BedJet, the Smart Duvet will definitely be the winner here.
It is a dual-zone climate-controlled self-making bed.
 You can set your bed to automatically make itself whenever you want using the SmartDuvet app, even when you're at work.
BedJet also offers some unique features, like an aromatherapy diffuser kit.
By putting essential oils into the diffuser, you will get a relaxing and calming effect all night long.
The diffuser filters for the aromatherapy nozzle's oil diffuser can be cleaned with detergent and reused numerous times.
It also offers a cloud sheet, which is particularly made for the BedJet. The cloud sheet is made of cotton and is so comfortable that you will fall in love with it.
Customers love the 'self-making' feature of Smart Duvet and most of the positive reviews of Smart Duvet are about this feature.
But customers are not fully satisfied with its Smart Duvet app as it still has a few bugs.
For BedJet, customers prefer how quickly the temperature changes. They also say that the timer is one of the most practical features because it prevents the BedJet from turning off while they're unconscious.
Frequently Asked Questions(FAQ)
Which is better BedJet or Chilipad?
The Chilipad is better than other cooling devices in terms of outstanding cooling power. The Chilipad can cool beds to as low as 55°F since it uses water instead of air, which makes its cooling capacity less dependent on the outside temperature than the BedJet.
How does the smart duvet work?
The bed-making technology in the Smartduvet is efficient yet incredibly easy to use. The inflatable layer between your Smart Duvet and duvet cover is pumped with air. After pumping the air, you can control the temperature for either side of the bed using the Smartduvet app.
Is BedJet just a fan?
No, the BedJet is more than a fan. The BedJet is a better version of a fan that blows cooling or warming air directly into your bedsheets. BedJet manages sweating and provides an ideal climate-controlled environment during the whole night by wicking away moisture and heat from both your body and the bed surfaces.
What is BedJet worth?
The Dual Zone Bundle costs about $1,000, while the Single Zone BedJet3 costs about $450.
Final Words
A Smart Duvet or BedJet can be an intriguing alternative to more conventional electronic blankets and mattress pads. They both could be an effective addition to any mattress, blanket, Duvet, or comforter.
The connectivity with smartphones and other cutting-edge capabilities, the Smart Duvet and BedJet can assist in providing a more pleasant surface on your mattress for people who experience trouble with temperature while sleeping.
Hope this Smart Duvet and BedJet comparison could give you a clear idea about these two products and make you choose the right one.