Buying a replacement window can be tiring. With all those options in brands and designs, you will become confused in no time.
But no worries, my Amerimax vs. Milgard review will help you choose the best option for a replacement window.
Both brands are well known for their replacement windows. But Amerimax's standard super spacer, brass roller, triple weather stripping compared to Milgard's aluminum spacer, nylon roller, and double weatherstripping.
Let's find out more about them.
A Quick Comparison Table
Here is a quick comparison table between Amerimax and Milgard Vinyl replacement windows:
| | | |
| --- | --- | --- |
| Aspects | Amerimax | Milgard |
| Product Lines | 6 | 5 |
| Features | Offers Superior Features | High-Quality Features |
| Available Colors | More Colors | Fewer Colors |
| Quality & Durability | Superior | Inferior |
| Warranty | Limited Lifetime | Full Lifetime |
| Price | Higher | Lower |
In-Depth Comparison Between Amerimax And Milgard Vinyl Replacement Windows
Now that you have drawn some quick ideas on Amerimax and Milgard, it's time we dive deeper. You will need more information and a comprehensive comparison to make the right decision.
Here are some key differences between Amerimax and Milgard vinyl replacement windows: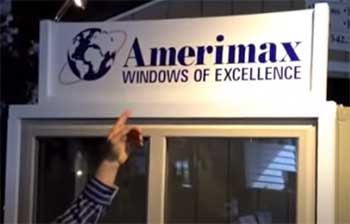 You will get multiple product lines from both Amerimax and Milgard.
Under these product lines, many designs are available for replacement windows. Let's see what they have to offer.
Choose your vinyl Amerimax replacement windows from 6 different window lines.
They are Amerimax Masters Grande, Amerimax Aristocrat, Amerimax Craftsman Portrait, Amerimax New Horizon Sliding Door, Amerimax Rivera French Sliding Door, and Versailles Patio Door Series. 
On the other hand, Milgard also has various product lines in its portfolio. Tuscany Series, Trinsic Series, Style Line Series, Tuscany Series Patio Doors, and Trinsic Series Patio Doors.
So, we can see that Amerimax has more replacement vinyl windows line under their belt.
Both Amerimax and Milgard vinyl replacement windows are packed with different features. While the features differ from brand to brand, you will find various features based on different series of the same brand.
Amerimax vinyl replacement windows come with dual-panel and double-strength glass. SuperSpacer and triple weatherstripping make them highly sturdy and durable.
You will get maximum protection from 10-part Titanium Dioxide.
Besides, you can easily clean Amerimax windows because of the single hung tilt. Its slanted chamber in the frame will drain water fast.
In addition, you will get excellent sliding performance from the brass roller and steel rail reinforcement.
On the contrary, Milgard vinyl replacement doors are durable, and with non-corroding materials, you won't have to spend much money maintaining them. Besides superior weatherproofing, you will find these windows are exceptionally energy efficient.
On top of that, Milgard's two-coating formula protects windows from outside heat, water, and extreme weather. Plus, Titanium dioxide makes these vinyl windows more heat resistant.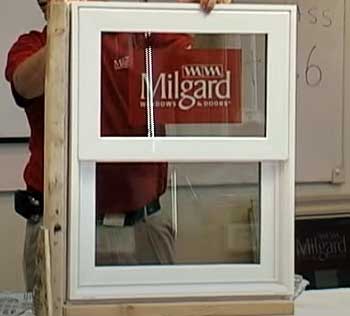 Color is an essential factor for windows. You can easily choose one replacement window from the vast options that go with your house paints.
Let's discover available colors for both brands.
Inside of Amerimax's vinyl replacement windows will be white. However, ten color options are available for the exterior.
You can choose from Sandstone Black, Tile Red, Evergreen, Sage Green, Brown, Truth Bronze, Bronze, Gull Gray, and Slate Blue.
In contrast to Amerimax, Milgard offers double coating for all its windows. Besides, a wide range of exterior frame colors is available. Such as Black, Tan, White, Bronze, Espresso, Classic Brown, Silver, etc.
Amerimax replacement windows are better than Milgard ones when it comes to quality. However, both brands produce very high-quality windows.
But while choosing the best one, many users have said they would prefer Amerimax over Milgard.
It's for the fact that Amerimax is better. Its welded frame and sash corner make them highly durable. Plus, the heavy-duty fin seal triple weatherstripping strong arms weather ability.
Amerimax offers a Limited Lifetime warranty for its vinyl replacement windows. Additionally, you will get free service for 20 years. Color-coated exterior windows come with a 10-year warranty.
On the other hand, Milgard provides a Full Lifetime Warranty for its windows for original buyers. If you sell your home, the successive owner will get another ten-year warranty from Milgard.
For Amerimax windows, you will have to spend between $350 and $650, including installation.
On the contrary, Milgard windows will cost between $250 and $550. So, Amerimax windows are more expensive than Milgard in the bare eye.
Which Vinyl Replacement Window Brand Is Best For You?
According to my previous discussion and many certified user experiences, Amerimax vinyl replacement windows are better than Milgard replacement windows.
You will get better features, weather safety, and more durable replacement windows from Amerimax. Besides, it offers you more exterior color options, product lines, and designs.
The sole downside is that you will have to spend more money on this window.
But I can tell you that a little bit of extra money won't feel much when looking at the features and benefits attached to Amerimax windows.
Frequently Asked Question (FAQ)
Is Milgard a good brand?
Milgard is a national brand and famous for its replacement windows. You will get a high-quality replacement and new construction windows and patio doors from this brand.
Is Anderson better than Milgard?
Anderson and Milgard are both excellent brands producing high-quality windows and doors. But Milgard is better in quality than Anderson because of its superior materials.
What is the difference between Milgard and Anderson windows?
The main difference between Milgard and Anderson lies in their materials. Milgard makes windows from 4 materials, whereas Anderson uses three types of materials.
How does Milgard compare to Pella?
Vinyl windows from Milgard and Pella are of similar quality. But Milgard makes aluminum windows, whereas Pella has wooden and fiberglass windows in their portfolio.
Final Words  
Choosing the right windows is pretty essential. Failing to do that will cost you heavily. You'll not just lose a massive chunk of money; you'll have to spend a lot of extra energy and time on this.
I'm glad you have found my Amerimax vs. Milgard review and read it. Now, you won't have to worry about any of it.