When deciding the best kitchen cabinets for your new or old home is concerned, Showplace Cabinets and Kraftmaid has a lot of discussions. Kraftmaid gives you the best box construction as their Ventage series is charming, plus it comes with some best construction specs. 
But with Showplace cabinets, you will find them more customizable. However, their standard construction is a little thick, which may require a little more upgradation. 
The Quick Comparison Table
| | | |
| --- | --- | --- |
| Specifications | Showplace Cabinets | Kraftmaid |
| About Companies | Serving homeowners in the USA from 1999 | Being one of the leading cabinetry makers from 1969 |
| Products Offering | Cabinetry for rooms, Kitchens, and Bathrooms   | Cabinets, Storage & Accessories, Hardware, Decorative Enhancements, Replacement Parts, Bath, Cabinet Care |
| Made in | USA | USA |
| Best About | Customizable | Best Construction Specs |
| User Rating | 4 | 4.5 |
| Warranty On Products | Lifetime Limited Warranty | Lifetime Limited Warranty |
| Materials Used In Production | Wood, Acrylic   | Wood |
| Finishing | Not that excellent finishing | Excellent finishing |
 Considerable Differences Between Showplace And Kraftmaid Cabinets
Kraftmaid and Showplace are two different banks of the river. Let's dig into their main differences and determine which cabinetry is better for your next kitchen project.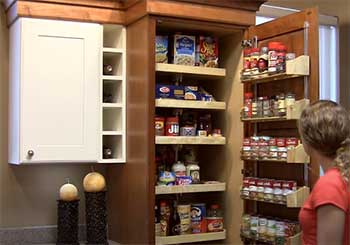 When you compare Showplace with Kraftmaid, there is a vast difference between the periods these giants have been in business. 
The Showplace is a new offering to many homeowners for their kitchens, rooms, bathrooms, and other cabinetry requirements. 
Despite being a new company inaugurated in 1999, they claim to provide all the expected products for Americans to get the home they have planned in their dreams. 
This dream is fulfilled by offering long-lasting cabinetry products that are durable for a long time. 
But compared to the Showplace, Kraftmaid is considered a king in the cabinetry business in the USA. The company has served Americans since 1969 and is much older than the former. 
In the USA, they serve people with some best cabinetry products, even better than Showplace. And they are more trusted than Showplace.
Showplace covers you only with other cabinetry and box options available for rooms, kitchens, and bathrooms. 
The variety is not limited. But with Kraftmaid, you can go a little vast as they have huge offerings. 
They come with unique project ideas and an extensive gallery of pre-work that would inspire you to create something similar. 
Moreover, Kraftmaid offers separate hardware for old replacements, etc. 
The best and most loving thing about both Cabinetry brands is both are built in the USA. Americans love their home country's products, and when you buy from either, you will get the best products in town. 
Their line of work could be different, but when you hear about the USA-made, a relief of self-confidence will increase.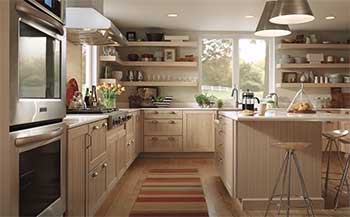 Both brands have something worth considering.
You get the best construction specs when you think of the Kraftmaid cabinetry. 
The vintage series is impressively designed and is better than standard construction.
But compared to this, the Showplace products are more customizable.
You can upgrade their cabinetry once you have purchased it. 
Looking at the user rating, we get 4.5 stars with Kraftmaid, as it is highly loved and used by most Americans. The fame comes from such extensive duty service over such a long period. 
However, Showplace comes with four stars which is also beneficial to consider the second-best cabinetry products in town. 
Whether you buy from Kraftmaid or Showplace, both brands provide a limited lifetime warranty. 
A warranty like this helps you get infinite repairing of the products once they have a first-time buyer. 
However, the warranty will not apply if you sell your house to someone else. 
Within this warranty, you can enjoy free repair services whenever there is a defect with any cabinetry or box. 
Kraftmaid cabinetry products are made with the finest quality wood. This wood is used in building doors, windows, and other kitchen and bathroom products. 
That's also the case with Showplace cabinetry; they give you multiple wood products. 
They also use acrylic finishing whenever something is available for you to use inside your house.
With Showplace, you may get poor finishing and require extra upgrading. 
However, you will get cabinetry with a more refined finish and excellent outlook whenever you rely on the kraft maid. 
Which Cabinetry Is Better For Your Home?
If I were you, I would love to go with Kraftmaid cabinetry because of the higher rating, more love from people, and providing the best construction specs. 
However, recommending Showplace is also okay when you are limited with budget but still want quality cabinetry to place inside your home. 
Frequently Asked Questions (FAQ)
Who Makes The Highest Quality Kitchen Cabinets?
Coming this far, Kraftmaid is one of the best and highest-quality Kitchen cabinets in the USA. If you have any complaints, why don't you buy them yourself and use them inside your house? They will stand out best in every matter!
Which Kitchen Cabinets Are Most Durable?
When you need to confirm the most durable cabinets, it includes Solid Natural Wood Cabinets. These are considered the most durable and meet the highest standard of longevity and performance. The types of wood used in their production include birch, maple, cherry, walnut, and oak. 
Is Kraftmaid A Good Brand?
Since it's been working since 1969 and has a higher rating in the eyes of many Americans, it's indeed an excellent brand to consider. 
What Are The Best Cabinets For A Kitchen?
The best cabinets for the kitchen are either made out of Solid Wood or Engineered wood. Since solid wood is a little expensive, you can consider engineered wood cabinets as those will be less expensive. 
Final Thoughts
There will be no hard feelings on choosing between the Showplace Cabinets Vs. Kraftmaid when both are providing quality. Have a Showplace for extended customization when required. 
And have Kraftmaid, which provides the best quality features, durability, and more. Whatever you choose will be your best decision depending on the budget and other factors.