Are you looking for the right brand to purchase woodworking or metalworking tools but freeze in your tracks?
In that case, you haven't got much help. But you are not entirely out of luck because you found his in-depth Shop Fox vs. Grizzly review.
Here you'll see the differences between these manufacturers and retailers of machinery for woodworking, metal, and power tools. So, let's take this show on the road.
A Quick Comparison Table
Here, let's take a look at a quick comparison table between Shop Fox and Grizzly:
| | | |
| --- | --- | --- |
| Aspects | Shop Fox | Grizzly |
| Brand Type | Manufacturer, Wholesaler | Manufacturer, Retailer |
| Product Lines | 4 | 6 |
| Available Products | Fewer Products | More Products |
| Quality | Similar Quality | Similar Quality |
| Availability | Widely Available | Limited Showrooms |
| Warranty | 2 Years | 1 Year |
| Price | More Pricey | Less Pricey |
In-Depth Differences Between Shop Fox And Grizzly
The above comparison table has given you some basic ideas. A more detailed comparison between the two brands will help you understand them completely. 
Stick with me here because I will show you an in-depth comparison between Shop Fox and Grizzly.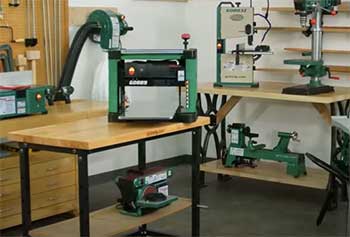 Shop Fox is one of the top brands for woodworking and metalworking machinery in North and South America.
Being a manufacturer, they produce their products in Taiwan and China and wholesale across North America and South America.
Over the last 25 years of their operation in the market, they have become a top machinery supplier because of their unmatched customer care support, warranty, and product quality.
On the other hand, Grizzly is a nationwide retailer and an internet company. They retail and wholesale woodworking, metalworking, power tools, and accessories. It was set up in 1983 and has provided quality products since then.
They sell their own label products as well as various other power tools and machines of other brands in their showrooms and online stores.
Both Shop Fox and Grizzly have multiple product lines under their belt. Let's see what they have got for you.
Shop Fox is mainly a woodworking and metalworking machine manufacturer and wholesaler. That's why their product lines are limited to it.
You will have various Shop Fox machines under Woodworking Machine, Metalworking Machine, Machine Accessories, and Related Products line.
In contrast to Shop Fox, Grizzly offers more product lines and substantially more products for customers. They sell their machines under Woodworking Machines, Metalworking Machines, Blades, Power Tools, Router Bits, and Accessories product lines.   
So, you can see Grizzly has two more unique product lines than Shop Fox.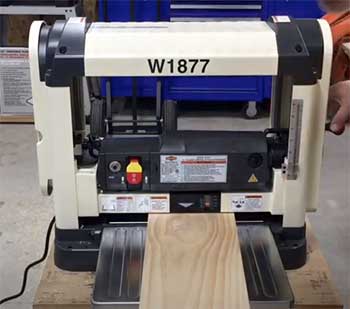 Shop Fox and Grizzly produce and sell hundreds of woodworking and metalworking products under various product lines.
But Grizzly has more products in its portfolio. However, let's check what products the two brands offer.
A vast selection of Shop Fox's machines includes Table Saws, Jointers, Planers Wood, Metal Bandsaws, Shapers, Wood and Metal Lathes, Sanders, Dust Collectors, Mills, Drill Presses.
Besides, Shop Fox sells various other types of specialized machinery for commercial and DIY projects.
On the other hand, available products in Grizzly include Table Saw, Jointers, Bandsaws, Planers, Mills, Welding, CNC, Sanders, Grinders, Woodworking Bandsaw Blades, Metalworking Bandsaw Blades, and Table Saw Blades.
In addition to all these tools, Grizzly also sells various power tools, including Cordless Circular Saws, Cordless Drills, Cordless Grinders, Router Bit Sets, Laminated Bits, Straight Bits, Roundover Bits, etc.
When it comes to quality, you can give the same point to both brands. As a matter of fact, Shop Fox and Grizzly are owned by the same person. Sometimes, the exact product comes with different brand labels.
So, you can't find that much of a difference in quality between both brands. Nevertheless, you can count on Shop Fox machines with a well-built reputation for accuracy and reliability.
As a wood or metalworker or a DIY enthusiast, you will get excellent performance and the best value from its machines and stationary equipment.
To top it off, you can say the same for Grizzly machines because they are made from the same feather.
Although Shop Fox and Grizzly are siblings, they follow different sales approaches and channels. 
Shop Fox is a manufacturer and wholesaler. So, it does not retail its products. All its products are available via authorized dealers. You will also find them in independent retailer shops.
On the other hand, Grizzly is a nationwide retailer. Upon purchase, it sends products via mail. Apart from them, there are two Grizzly showrooms where you can go and directly buy its products.
One showroom is located in Bellingham, Washington, and the other one is in Springfield, Missouri.
All Shop Fox machines are covered by 2-year non-transferable warranty from Woodstock International. It begins from the original purchase date but won't apply to consumable parts and defective products due to misuse.
After approving the warranty, Woodstock International, Inc. will repair or replace parts and machines at its expense, subject to availability.
In contrast, Grizzly offers a 1-year warranty for all its machines and parts. After confirming your claim, Grizzly will replace or repair the broken parts or machines.
Regarding pricing, Shop Fox machines are more expensive than Grizzly. Both brands represent similar quality, but the price differs because of the warranty period and after-sales services.
A longer warranty covers shop Fox products, and it offers excellent after-sales service to its customer. It is the sole reason for a higher price.
Conveniently, Grizzly charges less for its machines. Not for the quality, as they are the same. The price is lesser because of the shorter warranty. 
Which Brand Is Best For You?
It's already clear that Shop Fox will be a better option than Grizzly for woodworking and metalworking machines. In terms of quality, they do not have many differences.
But when you consider other factors, you'll see that I'm telling the truth.
Shop Fox machines are covered by 2 years of warranty compared to Grizzly's 1-year warranty. Plus, their products are widely available in retail shops and authorized dealers. That is why you should choose Shop Fox.
Frequently Asked Question (FAQ)
Are Grizzly and Shop Fox the same?
Shop Fox and Grizzly are two different brands owned by the same person. Both brands manufacture their products in the same facility. Sometimes you'll find their products identical.
Are jet and Shop Fox the same?
Jet tools and Shop Fox are two different wood, metalworking, and various tool manufacturers. But the good thing is that you can use their parts interchangeably.
Are Grizzly Tools Made in USA?
Grizzly is an American wood and metalworking tool manufacturer and retailer. It sells its products in the USA, but it does not produce them here. Grizzly tools are now made in China.
Where are Shop Fox planers made?
Shop Fox is one of the top wood and metalworking manufacturers and wholesalers in North and South America. But its machines are now manufactured in Taiwan and China.
Final Thoughts
A woodworking or metalworking tool can make or break your entire project. So, there's no way for you but to choose the right tool from the right brand because the right brand will give you the best aftersales support.
I'm glad for you that after reading my Shop Fox vs. Grizzly review, now you know which the right brand to go to is.