Interior painting can be a real pain- especially choosing the right color. Not for you, because you found my Sherwin Williams Infinity vs. Showcase review. 
Here's what happens when you go through this article. You will know the features and differences between the two best interior paints available. Eventually, you will leave with a clear idea and a choice. 
So, let's get down to it. 
Showcase Vs. Infinity Comparison Table 
You can learn about both paints and their differences from a quick comparison table. Plus, it will help you understand the in-depth comparison later in this article. Here's a quick comparison table between Sherwin Williams Infinity and Showcase. 
| | | |
| --- | --- | --- |
| Aspects | Infinity | Showcase |
| Type | Advanced Performing Paint And Primer | Stain Blocking Paint & Primer |
| Special Feature | Gold Standard Resists Scuff Marks And Scratches | Advanced Stain And Scrub Resistance |
| Usage | Interior | Interior |
| Available Sheens | 3 | 4 |
| Performance | High Performing | High Performing |
| Cleaning Up | Water & Soap | Water & Soap |
| Available Sizes | 3 | 3 |
| Warranty | Lifetime Limited Warranty | Lifetime Limited Warranty |
In-Depth Differences Between Sherwin Williams Infinity And Showcase
A quick comparison table is only good enough for a rough idea. You need more detailed information on both paints to make up your mind. 
I will show you a comprehensive comparison between Showcase vs. infinity paint in this part.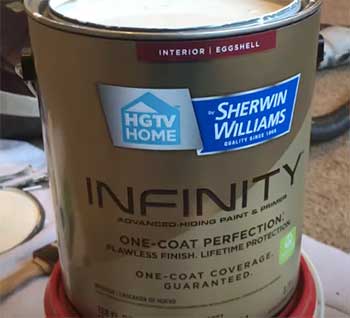 Although they serve the same purpose, I've found them slightly different from each other.
Infinity is a 100% acrylic-based formula that provides an ultra-smooth application. 
Most importantly, it is the most durable and advanced performing paint and primer from Sherwin Williams.  
On the other hand, Sherwin Williams Showcase is also an acrylic-based paint and primer formula specializing in stain blocking.
It is designed to withstand frequent washing and sturdy scrubbing. 
Sherwin William Infinity is a one-coat paint. With its gold standard, you can resist scuff marks and scratches using infinity paint. 
The stain repellent feature easily washes off all common stains. Besides, the paint can block any existing stains.  
On the contrary, the Showcase is a one-coat paint that stays clean on the surface for longer. It offers advanced stain and scrubs resistance. 
On top of all these, both infinity and showcase paints are GREENGUARD GOLD Certified for low chemical emissions. Plus, you can protect your interior walls from molds and mildew because of their antimicrobial formula.
Sherwin William has designed both Infinity and Showcase to serve the same purpose. That is interior paint and primer. You can use both of them to prepare interior walls properly. 
They also work on trim and ceilings of old painted or even bare drywalls. Apart from that, you will get an excellent result using them on plaster, masonry, wood, and primed metal.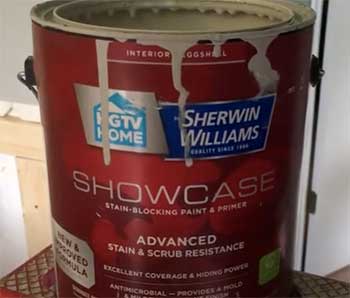 Usually, paint with a higher sheen level can resist more stains and are washable.
But here, we will see how many sheens these paints offer. 
Because the higher the sheen number, the more option you can choose from. 
You will get 3 sheens from Sherwin William Infinity interior paint. They are Flat, Satin, and Semi-Gloss sheens.
In contrast, Showcase interior paint is available in 4 sheens- Eggshell, Flat, Satin, and Semi-Gloss. 
Sheen controls whether you will have a glossy surface or a matte surface after painting. So, having a larger sheen option is always an advantage. 
We can easily differentiate between two paints by their performance. But unfortunately, Sherwin Williams has designed both infinity and showcase paints in a way so that they can provide similar performance regardless of their differences. 
Both paints can cover from 300 to 400 square feet per gallon. They take 1 to 4 hours to become touch dry, but you can recoat them in 2 hours even if it's not necessary. 
There is no way you can differentiate and select the best one based on their performance. 
Cleaning up is easy for both of these Sherwin Williams paints. You just need soap and warm water for that. Clean any spills, spatters, hands, and tools with soap and warm water, and the procedure is the same for both paints. 
Ensure that you flush spray equipment with a compatible cleanup solvent for both paints to prevent your tools from corrosion. 
Size is an essential factor in choosing paint. No wonder you would like to purchase a container size close to your requirement. That's why more size options will always make you happy and relieved. 
Sherwin Williams Infinity interior paint comes in 3 size options. A 1 Quart Container, a 1 Gallon, and a 5 Gallon Container. 
Similarly, Showcase interior paint offers 3 container sizes: 1 Quart, 1 Gallon, and 5 Gallon. So, no differences here either. 
Judging both Primers from William, one can realize the differences between how much appreciation each one has on the internet.
When you look at the Infinity Primer, it comes with 4.4 stars rating, which is more than Show Case.
It means the Infinity is recommended and used more over the Showcase. In the meantime, Showcase Primer has only a 4.3 stars rating, which is not less but still not like Infinity.
So, one can decide from the ratings of these primers which one will suit your next painting project best.
Usually, the Primer from Williams is of high quality, and only one coat is enough sometimes to cover your desired surface.
When you consider Infinity or Showcase, each one gives you the strength to apply one coat and cover all the stains already appearing on a specific surface.
On the other hand, some low-quality Primers need more coats to stick to the surface you are using them on.
Comparing both Primers on the time each one takes to get dried, they both have similarities.
It takes up to 1 to 4 hours for an Infinity or Showcase primer to completely dry until and unless you can go for another coat.
Yet, you may not need the second coat. However, these Primers are better with a drying time limit than those ordinary primers available in the market.
Re-coating Recommended Time
The time required for applying the second coat is usually more for those ordinary primers. But here, this thing is great because one can find only 2 hours of re-coating time with each Primer, whether Infinity or Showcase.
You can apply the second coat once you have waited at least 2 hours. But this thing is for sure you may not need a Re-coating when you are using a Primer from William.
There is another difference between these two primers: the difference in their prices. The Infinity is a cheaper Primer that costs almost $70 at Lowes.
At the same time, you can have Showcase for below $50 without facing any problems. It will help you decide which one is in your budget.
As both paints come from the same manufacturer, they are covered by the same type of warranty. You will get a Lifetime Limited Warranty when you purchase any paints from Sherwin Williams, including these two. 
But you have to make sure you hit all the requirements to become eligible for their warranty. 
Which Interior Paint Is Best For You?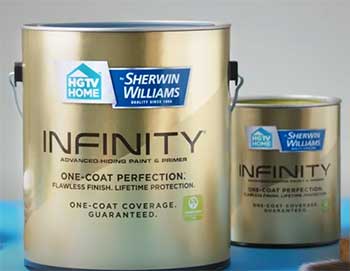 As per the above discussion, you can see more similarities than differences between Infinity paint and Showcase.
It's a close call between these two. 
How can you select the best one from them?
Taking a microscopic look at both paints, you will find that Sherwin Williams Infinity Interior paint is better than its counterpart, Showcase Interior paint. 
How do I know this? 
A lot of customers voted for this paint. 
Besides, when you look at the features, you will find that Infinity is a Gold Standard paint that will last longer than Showcase. While it lasts, you will get an advanced paint and primer performance throughout the time. 
Frequently Asked Questions (FAQ)
Is Sherwin-Williams showcase a good paint?
Sherwin Williams Showcase is an excellent acrylic-based interior paint. With all its superior features, you will get excellent stain and scrub resistance from this stain-blocking paint and primer. You can use it in those areas where walls require regular brisk cleaning. 
Is Sherwin-Williams Infinity really one coat?
Sherwin William Infinity is an acrylic-based premium quality interior paint. The most fantastic feature is that it requires only one coat. Plus, you will get 50 percent more washable, scrubbable, and stain-resistant performance than its competitors. 
What are the different levels of paint at Sherwin-Williams?
Sherwin Williams has a lot of paints in its portfolio. They belong to different levels. Some are premium quality expensive paints, and others fall in the cheaper category. Emerald, Duration, SuperPaints, etc., are some of the paint levels in Sherwin Williams. 
Which type of Sherwin-Williams paint is best?
Sherwin William is a famous paint manufacturer with a lot of product lines. But among them, Sherwin Williams Cashmere Acrylic Latex Interior paint is considered the best. It is more expensive than any other paints offered by this manufacturer. 
Conclusion 
Interior paint is an integral part of our home. It works like a dress. Good paint will make your home not only beautiful but also it will protect it from stains, molds, and mildew. 
So, now way you can fail in choosing the best. 
I'm happy that my Sherwin Williams Infinity vs. Showcase review will come in handy for you. Now that you know the best paint, nobody can stop you from giving your home a nice makeover.