A nice finish of luxurious paint can make your place look much more attractive. You need to use the best paints available on the market.
That is where my Benjamin Moore Advance vs. Sherwin Williams Emerald review fits in.
They are two of the best paints available out there. Knowing all the features and their comparison will allow you to choose one suitable for your home.
So, let's see what these paints offer and how they are different.
A Quick Comparison Table
A quick comparison table will allow you to get some idea about both the paints in a snap. You will need only a few seconds and might end up with a decision.
Here's is the comparison table between Benjamin Moore Advance and Sherwin Williams:
| | | |
| --- | --- | --- |
| Aspects | Benjamin Moore Advance | Sherwin Williams Emerald |
| Variants | 5 | 5 |
| Special Feature | Engineered with Gennex Color Technology | Paint and primer in one |
| Available Colors | 3500 Colors | 200+ Color |
| Cleaning Up | Water and Soap | Advanced Washability |
| Available Sizes | 1 Gallon; 5 Gallon | 1 Gallon; 5 Gallon |
| Warranty | 25 Years Non-transferable Warranty | Lifetime Limited Warranty |
Key Differences Between Benjamin Moore Advance And Sherwin Williams

You have gathered a quick idea of Benjamin Moore's Advance and Sherwin Williams's features and differences. If you want to know more, this is the part you have to stick with.
So, let's talk about both paints' features and where they are different from one another.
Benjamin Moore Advance is a premium quality paint based on waterborne alkyd. It offers a handful of long-lasting finishes and paints for the interior and exterior. They are ideal for walls, woodworks, doors, cabinets, trims, etc.
Sherwin Emerald is also a premium paint line with many paints for interior and exterior use. They provide beautiful and smooth finishes across various surfaces. You will get stunning results in fewer coats.
Let's have a look at the key differences between these two paints:
Both Benjamin Moore Advance and Sherwin Williams offer a full line of variants. Benjamin Moore Advance has 5 different variants covering both interior and exterior painting.
These variants are ADVANCE Interior Paint- Primer, ADVANCE Interior Paint- Matte, ADVANCE Interior Paint- Satin, ADVANCE Interior Paint- Semi-Gloss, and ADVANCE Interior/Exterior Paint- High Gloss.
On the other hand, Sherwin William Emerald also comes with 5 variants, including Designer Edition Interior Latex Paint, Exterior Acrylic Latex Paint, Interior Acrylic Latex Paint, Urethane Trim Enamel, and Rain Refresh Exterior Acrylic Latex Paint.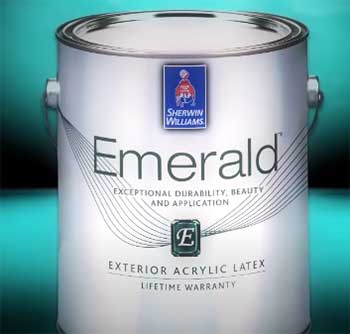 Benjamin Moore Advance is a luxury paint engineered with its signature Gennex Color Technology. This line of paints is tinted with Benjamin Moore's patented waterborne colorants.
Besides, they offer low VOC, and you can easily apply them with brushes and paint rollers.
Depending on the variants, these paints become set to touch ready somewhere between 4 and 6 hours.
Moreover, based on the variants, you can recoat them in 8 to 16 hours s.
Sherwin William Emerald series is a paint and a primer in one. They are well-known for their uniform finish, most pleasing colors, and flawless appearance.
On top of that, they come with anti-microbial agents that protect your walls from molds and mildews. They also feature very low VOC at less than 50 g/L.
Benjamin Moore Advance series paints are available in 3500 colors! It is a massive deal for any homeowner. Some of the popular colors are white, black, ready-mix white, 1X, 2X, 3X, 4X bases, and thousands of others.
On the contrary, Sherwin William offers more than 200 colors for its Emerald series. All these colors are available in flat, satin, and gloss sheens.
Cleaning up is easy and quick for both paints. You can clean up Benjamin Moore Advance paints with just water and soap.
Similarly, Sherwin William Emerald is also washable with water and soap, but it has advanced washability technology. However, these paints are highly resistant to water streaking and spotting when applied to walls and other surfaces.
Both Benjamin Moore Advance and Sherwin William Emerald come with two size options. You can choose between a smaller 1-gallon container and a bigger 5-gallon container.
Benjamin Moore offers a 25 years non-transferable warranty for its Advance series paints. The warranty is applied to the original buyer and cannot be transferred.
In contrast, all Sherwin Williams Emerald paints come with a Lifetime Limited Warranty.
Which Paint Is Best For You?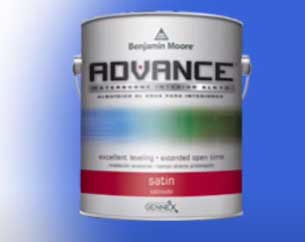 I'm sure you have already figured out which paint is suitable for your home with all the discussion and information.
Both these paints are very high-quality products. Undoubtedly, they will give your house a beautiful makeover.
But you can choose the Benjamin Moore Advance series if you are very particular about colors and shades. It offers a massive range of colors for the interior and exterior. 
But if you are not interested in water-based colors, you should go for Sherwin Williams Emerald paints. They are latex-based and very easy to mix.
Frequently Asked Questions (FAQ)
What paint is comparable to Sherwin Williams Emerald?
Sherwin Williams Emerald is a premium finish paint for interior and exterior surfaces. You can compare it with Benjamin Moore's Aura or Advance and Regal select lines.
What paint is similar to Benjamin Moore advance?
Benjamin Moore Advance is a waterborne paint, and you can compare it with Sherwin Williams's trim paint ProClassic Waterborne Interior Acrylic Enamel. 
Is Benjamin Moore as good as Sherwin Williams?
Both Benjamin Moore and Sherwin Williams are well-known brands for their quality. They both have high and low-quality paints in their portfolio.
Is Sherwin Williams Emerald worth it?
Sherwin Williams Emerald is a latex-based premium quality paint that provides a smooth finish. You will get an excellent result from this paint.
Conclusion
Choosing paints can be very intimidating, and if you fail to pick the right one, the regret will last for a long time. I hope my Benjamin Moore Advance vs. Sherwin Williams Emerald review comes in handy for you.
However, I suggest you not go for the brand, whichever paint you select. Please select the product based on its quality and benefits.