Sherwin Williams being in the market for more than 100 years, has become a big name. If you plan to use Sherwin Williams for your painting job, you must know about two particular paints: Cashmere and Superpaint.
You will get a detailed review of Sherwin Williams Cashmere vs. SuperPaint from this article.
Cashmere and Superpaint both represent quality and durability. But they have many differences. I will tell you where they are distinct from one another. It will help you to choose the right paint for your project.
A Quick Comparison Table: Cashmere Vs. Superpaint
Here is the comparison table between Sherwin Williams Cashmere and Superpaint:
| | | |
| --- | --- | --- |
| Aspect | Cashmere | SuperPaint |
| Available Finish | Flat, Medium Lustre, Pearl, and Eg-Shel. | Flat, Satin, and Semi-Gloss. |
| Air Purifying Technology | No | Yes |
| Odor Elimination |                       No                      | Yes |
| Easy Cleaning | Yes | No |
| Mold & Mildew Protection | No | Yes |
| Usage | Paint and Primer | Only Paint |
| Color Options | 1700 | 1700 with 540 Living Well Collection |
| Price | Around $53.19 for 1 gallon | Around $57.59 for 1 gallon. |
Key Differences Between Cashmere and SuperPaint
Cashmere provides an elegant look on your interior wall. It is an ultra-smooth paint that gives a rich, silky finish and is easily applied.
This paint will make your house look neat with a scrubbable easy cleaning feature.  
Superpaint, on the other hand, contributes to better air quality in your house with its innovative technologies. This paint comes in huge color variations, including Living Well collections. You will feel fresh with this paint on your wall.
Now, let's check the key differences between Cashmere and Superpaint: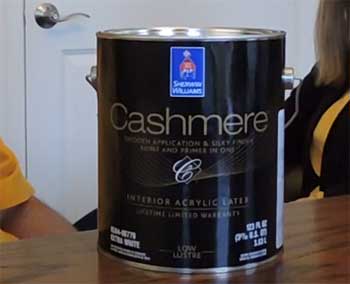 Paints with more available finishes ensure that you have better options. Cashmere has 4 available finishes: Flat, Medium Lustre, Pearl, and Eg-Shel.
On the contrary, Superpaint has 3 finishes: Flat, Satin, and Semi-Gloss.
Flat gives a non-reflective appearance and hides any uneven surfaces. With high gloss, medium lustre is better for door painting. Pearl is somewhat between eg-shel and semi-gloss.
Eg-shel works better with walls and is easy to clean. Sating gives a rich look and slightly gloss finish.
Air purifying technology is an innovative technology that makes a paint so much better than others. It enables the paint to contribute to fresh air in any house and feel fresh.
Superpaint has air purifying technology. It helps this paint to reduce the volatile organic compounds or VOC. 
Cashmere does not have this technology. As a result, this paint is exposed to a higher VOC from fabrics, carpets, cabinets, etc.
Some paints come with a high odor. It becomes impossible sometimes to bear the odor. Again, with innovations and product development, some paints have odor elimination capability.
This technology allows paints to eliminate odors from their surroundings.
Superpaint comes with odor elimination technology. It helps this paint to reduce and, in some cases, stamp out odors from its surroundings.
With this paint on your wall, you will not have a cooking odor and lousy smell created by pets. Unfortunately, this incredible technology is also missing from Cashmere.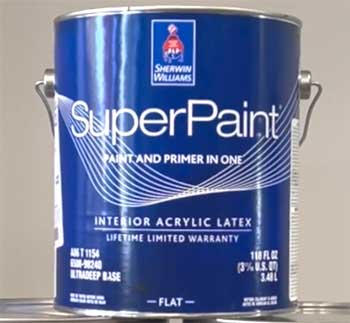 Indoor walls are always exposed to stains and scrubs, especially if you have a small kid at home. In that case, paint with an easy cleaning feature is a huge bonus.
It actually becomes a top priority for specific buyers.
Cashmere is a scrubbable paint and very easy to clean and maintain. As a result, it can protect walls from stains.
Even if your wall gets stains somehow, this paint will allow you to wash it away pretty quickly.
Although Superpaint keeps the wall fresh and relatively easy to clean and maintain, but nothing like Cashmere.
Molds and mildew can destroy your wall pretty fast. Wall paint is the only agent protecting your wall from mold and mildew. So, most modern paints now have anti molding and mildew agents.
Superpaint is one such paint. It has anti-microbial agents that eliminate the growth of mold and mildew on your wall or any other place.  
On the other hand, Cashmere has some protection over mold and mildew, but it does not have this particular anti-microbial agent. As a result, it is inferior to Superpaint in terms of protection from mold and mildew.
Both Cashmere and Superpaint are made for interior painting. You can use them to paint your walls, doors, kitchen cabinets, and many more.
Cashmere is best for residential spaces. Most importantly, it works as both paint and primer. So, with Cashmere, you do not need to buy primer separately.
Superpaint does not work as a primer. However, with Superpaint, you will need only one coat to make your resident look neat and fresh.
Both these paints have huge color options for choosing. Cashmere comes in 1700 colors and gives an ultra-rich silky finish.
Superpaint also has similar color options. But what sets Superpaint apart is its 540 colors inspired by Living Well Collection.
The price might become an issue when they have to choose. You might want to look at the price before making your final decision.
According to their official website, you will get 1 gallon Flat Cashmere for $53.19.
On the other hand, 1 gallon of Flat Superpaint will cost you $57.59 on its official website. Superpaint is a bit more expensive than its counterpart.
Which Paint Is Suitable For Your House?
Both Cashmere and Superpaint are interior acrylic latex paints. They are excellent in quality, and you already know their differences. So, it is clear which paint is a better option than the other.
So I'm sure now you know which one you will choose. But let me tell it anyway.
Superpaint is the better option between these two paints. Both are from the same maker and serve the same purpose. Features like air purifying technology, odor elimination, anti-microbial agents, and color options make Superpaint superior to Cashmere.
Cashmere is also an excellent pint with an easy cleaning feature. But many other features that are available in Superpaint are missing here.
So, you should buy Superpaint. It is a bit more expensive than Cashmere, but you know you are buying the better one.
Frequently Asked Questions (FAQ)
Is Cashmere better than superpaint?
Cashmere might be better than old Superpaint in terms of richness in finish. But a new version of Superpaint is available with air purifying technology. It is superior to Cashmere in air purification, mold protection, odor elimination, color options, etc.
Is Sherwin-Williams cashmere paint worth it?
Cashmere is an excellent indoor scrubbable paint that is durable and can wash stains effortlessly. It covers and level excellently on the wall, not as good as Superpaint, but still better than many.
Is Sherwin-Williams Cashmere paint better than duration?
Duration is another acrylic latex paint from Sherwin Williams, which is more durable and better for stain protection than Cashmere. But Cashmere is better in terms of color richness and smoothness.
What Sheen is Sherwin-Williams Cashmere?
Cashmere interior acrylic latex paint comes in 4 different sheens Flat, Medium Lustre, Pearl, and Eg-Shel.
Final Word
It is always hard to choose the right paint for our house with many colors and finishes. Anybody other than professionals can easily get intimidated while choosing one.
But I hope my Sherwin Williams Cashmere vs. Superpaint review comes in handy for you.
Now you know which paint has what and which one you should choose. So, best of luck with your project.