When it comes to choosing new kitchen cabinets, Schuler and Diamond are two of the most popular brands on the market.
But which one is right for your home?
In this comprehensive guide, we'll compare Schuler and Diamond cabinets across a variety of factors to help you decide which is the better option for your needs and budget.
Key Differences At A Glance
| | | |
| --- | --- | --- |
| Factor | Schuler | Diamond |
| Construction | Dovetail drawers, 5/8" cabinet sides | Doweled cabinet boxes, 1/2" cabinet tops |
| Woods Used | Oak, maple, cherry veneers | Birch, poplar veneers |
| Warranty | Limited lifetime warranty | 5 year limited warranty |
| Pricing | $200-500 per linear foot installed | $100-200 per linear foot installed |
| Style Focus | Traditional and ornate | Transitional and contemporary |
| Customization Capability | Excellent, wide range of options | Good, some limitations on layout |
| Quality Reputation | Known for outstanding quality | Provides good value for budget |
Overview of Schuler Cabinets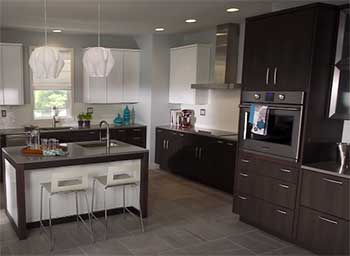 Founded in 1954, Schuler cabinets are manufactured by MasterBrand Cabinets, one of the leading cabinet makers in the United States.
Schuler focuses on traditional styled cabinets in a variety of wood species and finishes.
Some key features of Schuler cabinets include:
Traditional styled doors with intricate detailing and optional distressing
Wide range of wood species and finish options including oak, maple, cherry, hickory, and thermofoil
Dovetail drawers with soft-close glides
Variety of organizing and storage accessories
Made in the USA
Schuler is known for its classic design and high-quality materials. The cabinets are very customizable with ample options to select door styles, finishes, and functional accessories. This allows you to design your dream kitchen.
Overview of Diamond Cabinets
Diamond Cabinetry is part of the Masco Cabinetry family and is manufactured in the United States as well. Diamond offers a wide selection of door styles and finishes to match any design aesthetic.
Here are some notable features of Diamond cabinets: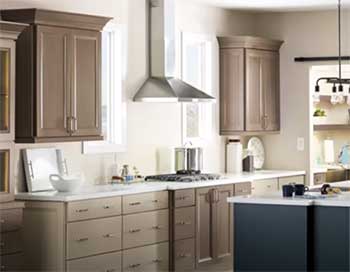 Transitional and contemporary door designs with recessed panel and slab options
Stain, paint, and thermofoil finish choices
Soft-close drawer guides and adjustable shelving
Variety of organizational accessories and inserts
Limited lifetime warranty
Budget-friendly prices without compromising quality
Diamond cabinets cater to homeowners looking for stylish cabinets with plenty of storage solutions at an affordable price point.
The versatile design and finish options work well for modern or traditional kitchen designs.
Comparison of Quality and Construction
When evaluating kitchen cabinets, quality of materials and construction are top concerns. Both Schuler and Diamond offer well-made cabinets, but there are some differences in how they are constructed.
Wood Quality
Schuler uses high-end solid wood and wood veneers such as oak, maple, and cherry for their cabinet boxes and doors. This provides strong, durable, and war-resistant cabinets.
Diamond opts for more affordable wood species like poplar and birch plywood for the cabinet box along with oak, maple, or thermofoil doors. The cabinet boxes are sturdy though the door fronts won't be as strong as solid wood.
Cabinet Box Construction
Schuler cabinets have dovetail joinery on the drawers while Diamond uses a sturdier doweled construction method for the cabinet box and shelves.
Both brands offer 3⁄4" cabinet sides though Diamond has 1⁄2" cabinet tops, bottoms, and shelves while Schuler uses 5/8'' thickness.
Schuler's thicker cabinet components add more stability for heavy-use kitchens.
Hardware
Schuler includes Blum or Salisbury soft-close door hinges and full extension drawers as standard. Upgraded hardware options are available.
Diamond uses decent quality self-closing hinges and glides with optional upgrades at an additional cost.
Schuler's higher-end hardware provides smoother operation and better durability.
Warranty
Schuler has a limited lifetime warranty on their cabinetry.
Diamond provides a limited 5-year warranty.
Schuler's generous warranty provides better protection should any defects occur down the road.
Kitchen Design Capabilities
Beyond construction, it's important to consider the design capabilities of each cabinet brand. Schuler and Diamond both offer versatile options for achieving different kitchen layouts and styles.
Style Options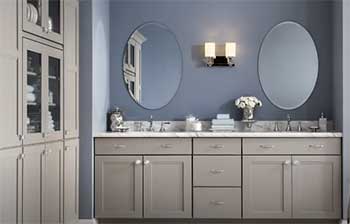 Schuler excels at providing traditional kitchen designs with ornate details and custom molding options. Their distressed finishes and accent glazes help create French country, rustic, and cottage looks.
Diamond offers more contemporary and transitional styled cabinets with minimalist frames and slab door designs. Their range of finishes and colors supports modern minimalist or urban chic kitchens.
For very traditional kitchens, Schuler is the better choice while Diamond works well for both classic and trendy aesthetics.
Customization
With expansive style and finish selections, Schuler enables high levels of cabinet customization for specialized kitchen layouts. Unique sizes, storage solutions, moldings, and more can be incorporated.
Diamond has a decent range of sizes, finishes, and accessories to customize their stock cabinetry. However, significantly customized kitchen layouts are harder to accommodate than with Schuler.
For complex kitchen floor plans or unique designs, Schuler is the better brand for modification capabilities.
Budget
As a premium brand, Schuler cabinets come at a higher price point, ranging from $200-500 per linear foot installed. This provides excellent quality without budget constraints.
Diamond is notably more affordable, with cabinet prices averaging $100-200 per linear foot installed. This makes Diamond a great option for cost-conscious homeowners.
Schuler accommodates larger budgets while Diamond caters to buyers looking for value.
Pros and Cons of Each Brand
To recap the key differences between the two brands, here is an overview of the main pros and cons of each cabinetry line:
Schuler Pros:
Made from superior solid wood materials
Thicker cabinet box components add stability
Soft-close hinges and glides included as standard
Greater customization capabilities for unique designs
Generous limited lifetime warranty
Schuler Cons:
Significantly more expensive than other brands
Limited contemporary door style options
Primarily traditional aesthetic
Diamond Pros:
More affordable price point
Transitional and contemporary door designs
Can still customize within style catalog
Good selection of storage accessories and inserts
Diamond Cons:
Lesser quality woods used for construction
Hinges and glides need upgrading
Limited highly customized layouts
Shorter warranty period
Which Cabinet Brand Is The Better Choice?
Based on this detailed comparison between Schuler and Diamond kitchen cabinets, you may be wondering which is the better brand overall. Here are some recommendations based on different homeowner priorities:
For superb quality with flexible customization, choose Schuler. The superior construction and materials make Schuler an ideal investment if budget allows. The expansive traditional styles and custom options enable high-end kitchen designs.
For contemporary aesthetics on a budget, Diamond is the better fit. Their affordable pricing combined with trendy door styles and finishes help homeowners achieve chic kitchens without overspending. Flexible storage options provide functionality.
For a balance of quality, style, and value, either could work well. Diamond provides pleasing quality for more cost-conscious homeowners who still value good construction. Schuler offers outstanding craftsmanship for buyers who desire true customization.
At the end of the day, think about your budget, preferred aesthetic, and how customized your layout needs to be. This will help you determine if Schuler's luxury cabinets or Diamond's affordable options are the winner for your new dream kitchen.
Frequently Asked Questions (FAQ)
Does Schuler make good cabinets?
Yes, Schuler is renowned for making high-quality, luxury kitchen cabinets. Their cabinets are constructed from solid wood with meticulous joinery and detailing. Schuler cabinets are designed to last, which is evident from their lifetime warranty and reputation for outstanding craftsmanship.
Are Diamond cabinets good quality?
For their moderate price point, Diamond cabinets provide very good quality and construction. While made with affordable woods and standard hardware, their cabinet boxes feature sturdy build methods and quality finishes. Diamond offers homeowners pleasant style and function that competes with brands at higher price points.
Who manufactures Diamond cabinets?
Diamond Cabinetry is owned by Masco Cabinetry, a leading manufacturer of kitchen and bath cabinets. Masco Cabinetry produces quality cabinetry under several brand names from factories based in the United States.
What is the best quality of cabinet?
Schuler cabinets are widely regarded as one of the highest quality cabinet lines on the market. Their premium woods, expert craftsmanship, sturdy build, luxury hardware, expansive customization, and attention to detail set Schuler apart. Brands like Schuler that manufacture in the USA from solid woods generally represent the best cabinet construction quality.
Closing Remarks
When outfitting your kitchen with new cabinets, Schuler and Diamond both provide attractive options that can fit different budgets and design aesthetics. Schuler carries luxury name recognition for outstanding traditional craftsmanship. Diamond competes as an affordable option with contemporary style.
Evaluate your priorities for investment amount, cabinet construction, customization needs, preferred visual style, and overall quality standards. Doing so will help you determine if Schuler's premium quality or Diamond's appealing value is the ideal choice when selecting materials for your kitchen remodel.