Scotts WeedEx weed preventer can prevent more weeds and grass from all types of lawn in spring and fall. On the other hand, Scotts Halts Weed Preventer can prevent only crabgrass in spring and poa annua, henbit, and chickweed winter grass in the fall.
Wouldn't you want to walk on a fresh lawn all year round? But weeds can spread pretty fast, making the lawn bushy and unattractive. That's why applying weed prevention at least twice a year is a must.
In this article, I'll discuss two weed preventers and show you the best solution.
A Quick Comparison Table
| | | |
| --- | --- | --- |
| Specifications | WeedEx Weed Preventer | Halts Weed Preventer |
| Special Feature | Effective Pre-Emergent Control Of Crabgrass | Keeps Lawn Free From Crabgrass All Season |
| Ingredients | 1.71% Pendimethalin | 1.71% Pendimethalin |
| When To Apply | Early Spring & Fall | Early Spring & Fall |
| Applicable To | More Weeds & Grasses | Fewer Weeds & Grasses |
| Coverage Area | 5,000 Square Feet Per 10 Lb. | 5,000 Square Feet Per 10 Lb. |
| Price | $ 23.99 | $ 26.49 |
Key Differences Between WeedEx and Halts Weed Preventer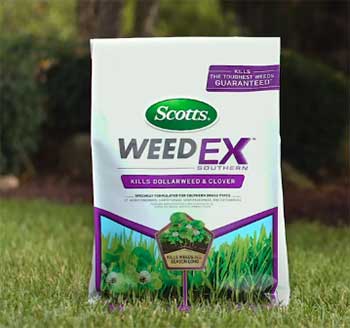 Scotts WeedEx Prevent With Halts can prevent crabgrass and problem weeds all year.
In fact, it stops crabgrass even before it starts.
After applying it on your lawn, you will get effective pre-emergent control of crabgrass, foxtail, spurge, oxalis, and other grassy and broadleaf weeds.
On the other hand, Scotts Halts Crabgrass and Grassy Weed Preventer protect your lawn from weed invasion.
One application in a year will keep your lawn free from crabgrass all season long. Most importantly, the product's performance won't be affected by rain, snow, or freezing weather after application.
The main active ingredient of WeedEx and Halts is Pendimethalin, consisting of 1.71% of the entire formula for both products. The rest of it consists of other necessary components. Pendimethalin is a selective herbicide of the dinitroaniline class.
That means it does not kill all the plants that come in touch with it; instead, it kills targeted plants. It's primarily used as an herbicide that destroys and prevents the growth of certain plants like grasses and weeds. People mainly use it on lawns and crops.
Application time is similar for both herbicides. You must apply them twice a year to get a yearlong weed-free lawn. You have to apply WeedEx and Halts in Early spring to get a fresh lawn for the entire season.
Then you have to apply it again in the fall to have weed-free and crabgrass-free for the whole winter. For southern California, apply them before March 1st; in northern California, apply them before mid-march.
There are three ways you can apply them. You can spread them using a rotary spreader with a 2¼ setting, a drop spreader with a 4½ setting, or a wiz spreader with a 3 ¼ setting.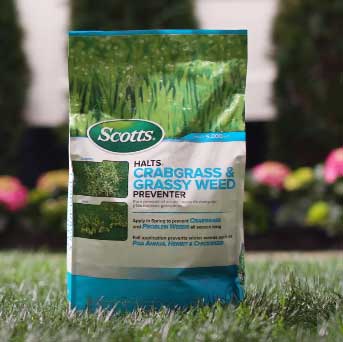 You can use both herbicides in almost all types of lawns.
However, WeedEx can prevent more weeds and problem grasses compared to Halts.
With WeedEx you can protect your lawn from crabgrass, foxtail, spurge, barnyard grass, fall panicum, goose grass, oxalis, etc., in the spring.
And in the fall, it can prevent moss, henbit, chickweed, poa annua, corn speedwell, and other winter weeds from your lawn.
In contrast to WeedEx, the Halts weed preventer only prevents crabgrass all season and winter weeds like poa annua, henbit, and chickweed. It also prevents moss in the fall.
There is no difference in coverage area between the two solutions. Both the herbicides can cover up to 5,000 square foot area per 10 pounds of the products. And these herbicides are packaged as 10 pounds bags.
There are a couple of dollar differences between WeedEx and Halts weed preventer. You will have to spend $23.99 for 10 pounds of WeedEx.
On the other hand, 10 pounds of Scotts Halts will cost you $26.49. However, both are available in many online stores with lower price tags.
Which Weed Preventer Will Be Best For You?
I'm sure you have caught more similarities than differences between these two products, and it can be tough to pick up the right one. Well, both these herbicides are pretty good in action, to be honest.
But I would suggest you go for WeedEx weed preventer. It can effectively prevent crabgrass before it starts growing. Besides, you can prevent more types of grasses with this product.
Frequently Asked Question (FAQs)
Is WeedEX the same as halts?
WeedEx and Halts are two different products with similar purposes. They are both weed preventers that can control weed growth and crabgrass for year long. However, they belong to the same manufacturer and have the same active ingredients. However, WeedEx can prevent more types of weeds and grasses.
Is halts a good pre-emergent?
Yes. Halt weed preventer is a good pre-emergent that can prevent weeds and many types of grass from growing on your lawn. It's a safe product for almost all types of lawns and many types of grass like St Augustine. However, it won't work on dichondra and bent grass lawns.
What weeds does Scotts Halts prevent?
Scotts Halts can prevent various common types of weeds from your lawn. In spring, it can prevent crabgrass all season. In the fall, this weed preventer does not let many weeds from growing, including poa annua, henbit, chickweed, etc. Using this product twice a year will keep your lawn free of weeds for an entire year.
What is the best crabgrass preventer?
Crabgrass can be a pain to remove if you do not use the right product on your lawn. Many herbicides and weed preventers are available on the market, but only a few deliver top-notch performance. Some of them are Syngenta Tenacity Turf Herbicide, Scotts Halts Crabgrass & Grassy Weed Preventer, etc.
Final Thoughts
I've found very few differences between WeedEX and Halts weed preventers. So, you can pick the one you find first. However, my suggestion would be the WeedEx. Not that it goes out of the way and works better than its counterpart.
But you'll be able to protect your grass from more types of weeds, that's it. Additionally, it's cheaper so you'll have to spend less money on maintaining your lawn.