There are many different kinds of fertilizers available on the market that enrich the soil with nutrients. The Scotts Company produces the fertilizer under the name 'Turf Builder.'
But you might wonder which Turf Builder you should use as the Schotts company has so many options in this category.
As Scotts Triple Action and Weed and Feed- two are the popular turf builder of this company; we will do a detailed analysis between them so that you can pick the best one for your lawn.
A Quick Comparison Table
Here's a quick comparison table between these two fertilizers for your better understanding-
| | | |
| --- | --- | --- |
| Specifications | Scotts Triple Action | Scotts Weed and Feed |
| Fertilizer Type | Synthetic | Synthetic |
| Features | Kills, Prevents and Feeds | Kills and Feeds |
| Ideal temperature for the application | 60- 80 degrees F | 60- 90 degrees F |
| Coverage | 4,000 sq feet per bag | 5,000 sq feet per bag |
| Price | $ 37.49, $ 88.99 | $34.49, $ 86.49 |
| Customer reviews | Positive | Positive |
Key Differentiations Between Scotts Triple Action And Scotts Weed And Feed
In this part of the article, we will talk about the major differences between Scotts Triple Action and Scotts Weed and Feed in detail –
There are different kinds of fertilizers that can be found in the market. However, we can categorize these fertilizers into two broad categories.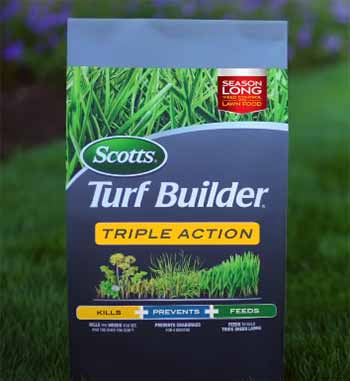 These are- synthetic fertilizers and natural fertilizers. Scotts Triple Action and Scotts Weed and Feed, are both synthetic fertilizers.
The major characteristics of synthetic fertilizers are their rapid action and availability in various forms, including liquid, pellet, granule, and spike.
Synthetic fertilizers are water soluble and quickly absorbed by plants.
This gives the plants a brief boost of nutrients and causes them to turn green more quickly.
One of the unique characteristics of synthetic fertilizers is that it helps fight against weed, which is generally impossible with organic or natural fertilizers.
Scotts Triple Action and Scotts Weed and Feed- both are under the 'Turf Builder' fertilizer category. Though the category is the same, these two fertilizers have their own features.
With Scotts Triple Action Turf Builder, you will get three different benefits in one packet. That means it kills, prevents, and feeds at the same time.
Here 'kills' indicates that Scotts Triple Action kills different types of weed from your lawn. It mainly kills broadleaf weeds, which include dandelions and clover.
It also prevents future weeds from growing. Grassy weeds such as barnyard grass, fall panicum, foxtail, annual bluegrass, etc., are very fast-growing. Scotts Triple Actions solves this problem by preventing them.
Last but not least, it also feeds. That means it helps to build thick and green lawns.
In Scotts Weed and Feed Turf Builder, we can see two features – Kills and Feeds. It mainly kills the weed and feeds to thicken your lawn. Though these are its main features, Weed and Feed also help to prevent harmful weeds from growing.
Daytime Temperature For Applying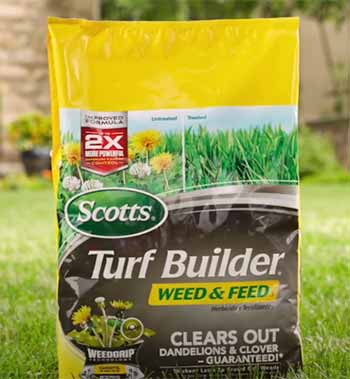 You can use the temperature as a guide if you're not sure when to stop feeding your lawn for the first time.
The ideal temperature for the ground is about 55 degrees Fahrenheit.
Depending on where you live, the perfect time to fertilize your grass is between March to April.
The ideal thing to do is to water your lawn a few days before applying the fertilizer, whether by sprinklers or rain.
However, Scotts Triple Action and Scotts Weed and Feed suggest two different temperature guides for the application.
Scotts Triple Action claims that it works best when the daytime temperature stays between 60 and 80 degrees F.
They also suggest applying Scotts Triple Action on the wet lawn with a Scotts Spreader.  
Scotts Weed and Feed's temperature guide is a bit different from Scotts Triple Action's. You can apply Weed and Feed when the daytime temperature is 90 degrees F.
But the ideal temperature range for applying Weed and Feed is between 60 and 90 degrees F.
The company mentions different lasting times for fertilizers in the lawns.
When you use the triple Action, it is more effective and provides more features but usually lasts for less period.
The ideal time for the Triple Action from Scotts is up to 4 months when you need to apply it again.
Compared to that, the ideal time for the Weed and Feed goes for 3 to 5 years as it comes on the internet. You can find its effects in the soil even after a greater period.
It is a similarity one can find between both products. Both can be used for wet lawns only.
Because only then will these fertilizers work and stop those insects from hurting or damaging those grown seeds.
Therefore, you must never use the Triple Action and Weed and Feed into a dry lawn because they won't be effective at that period.
There is a difference between the Application timing of both fertilizers, such as the Triple Action; you need to apply it two times a year. And the break between these times is of 4 months.
Conversely, Weed and Feed are recommended. Application time goes for 2 times in a year with a 30 days break interval.
The formulas for these products are different and show that Triple Action from Scotts is more effective than Weed and Feed.
You cannot and shouldn't use these fertilizers for any crop except for the growth and protection of your lawn.
It will be a mistake because these are not recommended for anything except lawns.
The table shows that Triple Action is made to perform more functions, whereas Weed and Feed are made to perform fewer actions.
It helps us decide which is right for our next lawn protection project.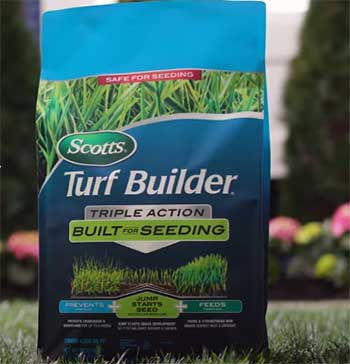 Now let's compare which one can help you to save a few bucks.
Scotts Triple Action comes with a price of $ 37.49 and $ 88.99.
The bag, which costs $ 37.49, can cover up to 4,000 sq feet. The one with $ 88.99 can cover up to 12,000 sq feet.
Similarly, Scotts Weed and Feed also come with two different options – $34.49 and $86.49 per bag.
These two options can cover up to 5,000 sq feet and 15,000 sq feet, respectively.
So, it is almost clear that Scotts Weed and Feed cover more areas and costs less than Scotts Triple Action.
If your goal is only to kill the weed, then choose Weed and Feed because you can meet your objective while spending less amount of money.
Company Overview And History
Orlando M. Scott established Scotts in 1868 as a high-end seed provider for the American agriculture sector. The company started selling lawn grass seed to households in the early 1900s, and in 1924 it became the first manufacturer to send grass seed goods directly to retailers.
Products from Scotts could only be purchased over the mail before 1924. Scotts had 66 employees and $1,000,000 in sales by the year 1940. 
Now the business produces and markets consumer lawn, garden, and pest management goods as well as soilless indoor gardening tools. It has become a reliable source for customers over the years.
Frequently Asked Questions (FAQ)
Should I use Scotts Weed and Feed or triple action?
If you want to kill and remove the weeds like clover, dandelion, and plantain, you should use Scotts Weed and Feed. But if your main goal is to protect the lawn as well as thicken the grass, you should use Scotts Triple Actions.
What is the difference between Scotts Turf Builder triple action and weed and feed?
One bag of Scotts Weed and Feed Turf Builder (14.29 lbs) can cover up to 5,000 Sq. On the other hand, one bag of Scotts Triple Action Turf Builder (17.2 lbs) can cover 4,000 sq. ft., which also feeds new grass, controls lawn weeds, and prevents foxtail, dandelions, fall panicum, etc.
When should Scotts triple action be applied?
Apply when the daytime temperatures range from 60 to 80 degrees F.  Apply before the third or fourth mow.  Apply the solution in spring when the dandelions start to bloom. But do not apply when it's windy. Avoid applying if rain is predicted within 24 hours of application.
How long does it take Scotts triple action to work?
Generally, it takes 2-4 weeks to work completely and destroy the weeds from the root. However, the weeds may seem greener and healthier a few days after applying. Keep patient, and wait at least 14 days to see the result.
Final Words
Every homeowner wants a stunning lawn that is lush and green. Green grass does not grow immediately; instead, it needs sufficient fertilization. Fertilizer works like magic to feed your grass and protect it from weeds.
But if you are still stuck to the Scotts triple action vs. weed and feed dilemma, go through the detailed discussion about these two. Both are amazing options; you just have to pick the right one according to your lawn and its problems.