We apply different herbicides and fertilizers on the grass and plants in our houses, farmhouses, golf stadiums, and more. At this time, a considerable debate between the Lesco Dimension and Stonewall Herbicides can be seen.
Let me tell you something; the Stonewall is best for multiple types of weeds.
But Dimension is also not alarming if appropriately applied. It is usually recommended to use in Spring. The Stonewall can be used in the fall.
Still, many users recommend using Stonewall over Dimension from Lesco Pre-Emergent.
A Quick Comparison Table
| | | |
| --- | --- | --- |
| The Main Differences Based Upon | Lesco Dimension | Lesco Stonewall |
| Season Usage | For Spring | For Fall |
| Recommendations on Either | Lower | Higher |
| Weed Coverage | Applicable for a few types of weeds | Applicable for more than 29 different types of weeds |
| Which One To Use Before Crabgrass germination? | Not that recommended | Highly recommended |
| NPK Analysis | 5-0-17 | 24-0-11 |
| Lasting time | Up to 4 months of weed control if applied properly | Up to 5 months if applied properly |
| Toxic for plants? | Not Toxic | Not Toxic |
In Detailed Differences Between Lesco Dimension And Lesco Stonewall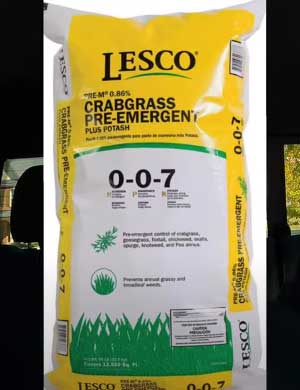 Both pre-emergent herbicides and fertilizers are made to be applied in different seasons over the grass to control weed production.
You can use the Dimension when it is Spring and Stonewall when it is fall.
However, Stonewall can also be used in Spring.
But most people do not recommend using the Dimension for the fall season.
These herbicides belong to the same brand, so we have no questions about the effectiveness and quality of these products.
Recommendations On Either
I've seen many people choosing the Stonewall between both. That's why my recommendations would be the same.
They use this fertilizer because it is highly rated and works well on various weeds. Whether it is nutgrasses, including the annual Poa, the purple one, or any other, Stonewall proves to be better.
Most people seemed happier with the Stonewall over Dimension, even believing that both belong to the same brand.
The Stonewall claims to cover more weeds than Dimension. You can use it to kill or terminate numerous weeds from grass and other plants. According to one user, a Stonewall herbicide is ready to cover more than 29 weeds.
But the fact is, this option could also vary with the Dimension ensuring that it also comes with different weed coverage options. Depending on your plot window, you can use whichever comes with more weed coverage.
Which One To Use Before Crabgrass Germination?
Stonewall is the best choice to use before the crabgrass germination window. The herbicide is also better in case you are using it for turf. The users say that Stonewall effects are better than Dimension.
However, some also claim that Dimension usually has some post-emergent capability on the crabgrass. If you are going to use either of these for the crabgrass germination window, choose the best one.
The products I am comparing come with different NPK ratios. This ratio specifies the mixing of the top three chemicals in a fertilizer that includes Nitrogen, Phosphorus, and Potassium(K). The better the numbers, the more effective herbicide or grass will be.
In that case, we can see the Stonewall standing better than Dimension and is considered reasonable to use for grass and plants.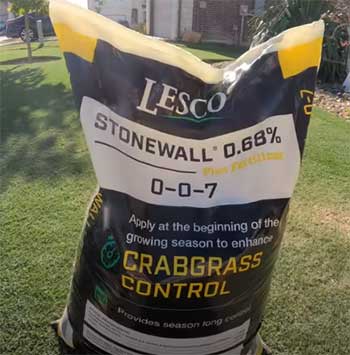 Lesco recommends the proper usage and mixing of these products if the aim is to get more productivity.
In this scenario, the better the mixing process, the more extended fertilizer will stand.
Lesco states that if you properly apply Dimension, it can easily last almost 4 months.
But in the case of Stonewall, it can also go better.
I mean to say, the fertilizer can last up to 5 months only if you know the proper mixing and better product usage.
Both herbicides and fertilizers are not toxic for plants and grass. Because both are made to terminate the weeds that produce by the plants.
That's why you can have the right mix and use it over plants or grass. Be sure to mix the correct quantity to get the best results.
Which Pre-Emergent Herbicide Is Better To Use?
Stonewall leaves an impression on the Dimension due to its better features and high user recommendations.
However, Dimension is also okay if you apply it in the Spring Season. Both products' timing and quantity matter considerably to have the most effective results.
The price and lasting period in either of these are also similar to some extent. Still, more users use Stonewall over Dimension.
Frequently Asked Questions (FAQ)
What is Lesco Stonewall?
It's a pre-emergence herbicide used to control particular grass and broadleaf weeds that might grow in your turfgrasses. We can use it in several golf stadiums, playgrounds, house lawns, and wherever required.
Which Is Better, Barricade Or Dimension?
Both are used in controlling the pre-emergence of crabgrass. These effective herbicides must be applied appropriately and work perfectly according to their duties.
How Long Does Lesco Dimension Last?
The lasting period of Lesco Dimension is usually up to 4 months if you apply it with proper care and mixing. But it may not last till this period if a person doesn't follow the procedures recommended by Lesco.
Is Stonewall The Same As Prodiamine?
Stonewall is the name brand of Prodiamine. Both have the same purpose of usage. You can use the Stonewall and Prodiamine as a herbicide and fertilizers for weed removal from grass.
Wrapping Up
The comparison between Lesco Dimension and Stonewall is worth it because it helps you choose the best one for your lawn application. Most users go easy with the Stonewall because they find it more durable and practical for the pre-emergence of crabgrass.
In contrast, the Dimension might have a few downsides. But still, it can be applied in several types of grass to control multiple weeds.
So, decide according to the time and weed controlling specification with either of these herbicides from Lesco.