Candlelight cabinets and Kraftmaid are two top-rated cabinetry brands in the US. If we look at various aspects of these brands, their main differences come from their product variety and customization.
Good cabinetry not only helps you organize your stuff in the kitchen, but it can change the outlook of your kitchen.
So, without further ado, let's compare Candlelight and KraftMaid cabinetry and see which cabinetry brand can help you organize your kitchen with functionality and stylish appearance.
A Quick Comparison Table
Before getting into the details, let's look at the comparison table below. This table shows the differences between the brands from different aspects.
| | | |
| --- | --- | --- |
| Specifications | Candlelight Cabinets | Kraftmaid Cabinets |
| Material | Cherry, Hardboard, Hickory, Maple, Oak, Birch, and walnut | Maple, Oak, Cherry, Alder, fiberwood, hardwood, and plywood |
| Variations | Less variation | More variation |
| Customization | Semi-custom cabinets | Custom, semi-custom, and stock cabinets |
| Quality and performance | Good | Excellent |
| Cost | Reasonable | Expensive |
| Availability | Medium | High |
Key Differences Between Candlelight And Kraftmaid Cabinets
Now that you know about the differences let's discuss them in detail. You'll get a clear idea about different aspects of Candlelight and KraftMaid from the discussion below. In the end, you'll be able to figure out the best choice.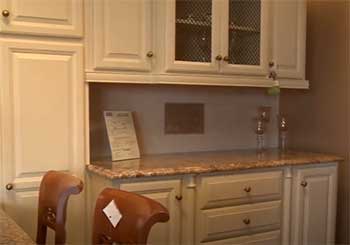 Regarding material options, both brands offer hardwood that most customers look for.
Both brands are available for all the standard hardwood options, including maple, oak, and cherry.
However, KraftMaid offers plywood cabinets too, which Candlelight doesn't provide.
This plywood option can make a massive difference for many customers looking for affordability.
Variation is another crucial factor for a more customized look that aligns with the kitchen plan. In that regard, KraftMaid offers more variation with various designs and lineups. There are color options, design themes, and the opportunity to decide every aspect of the cabinet.
On the other hand, Candlelight offers variations too, but they are not close to KraftMaid.
Customization, especially in cabinets, is essential to attract customers and allow customers to stand out from standard designs. In that regard, KraftMaid is way ahead of Candlelight with Custom, semi-custom, and stock cabinets.
On the other hand, Candlelight only offers stock and semi-custom cabinets.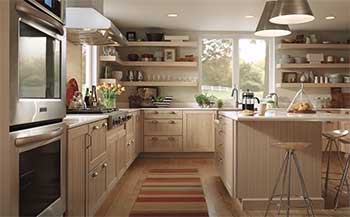 In terms of quality and performance, both brands are pretty close to one another.
There is not so much difference in this segment.
However, some extra features like accessories, hardware, and more high quality with KraftMaid give it a slight upper hand over Candlelight in terms of quality and performance.
Affordability will be a massive factor in determining the suitable cabinet brand. Because of the variations and customization, KraftMaid has a higher price than Candlelight.
But on the bright side, their plywood cabinets will cost you less than Candlelight cabinets. But if we take the plywood out of the equation, candlelight is an overlay, more affordable option.
A customer can only access the brand if the products are widely available. KraftMaid is doing a better job by making it available through Home Depot and Lowe's across the US.
On the other hand, KraftMaid lacks this wide availability and is only available at smaller franchisees that you may not have in your area.
Which One Will Be The Best Fit For Your House?
Considering all the factors, the best fit will vary from man to man. Everyone has their preference, and if you prefer affordability over customization and variation, then Candlelight is the suitable brand. Otherwise, KraftMaid is a clear winner of this comparison with a better overall score. 
Frequently Asked Question (FAQ)
Which brand is best for the cabinet?
There is no specific brand you can say is the best in today's market. Over the years, quite a few cabinet brands have developed their selling point. In today's market, IKEA, Kraftmaid, and Porcelanosa are considered some of the best cabinet brands with their innovation and customer satisfaction.
Which kitchen cabinets are most durable?
Durability is one of the key considerations when purchasing cabinets to ensure longevity. If you ask which cabinets are most durable, the answer is those made with hardwood. These cabinets are expensive but look the best and last the longest. Oak and male wood are two trendy hardwood options.
Are light maple cabinets outdated?
As I said earlier, hardwood cabinets are the best option for durability and appearance. As a popular hardwood option, light maple wood was never outdated. It has a nice natural color, durable, and has a lovely grain pattern, making it an excellent cabinet material.
Are KraftMaid cabinets made of solid wood?
Yes, KraftMaid cabinets are made of different materials, and solid wood is one of them. KraftMaid's solid wood cabinets are one of the reasons why this brand is so popular among users.
Final Words
That's a wrap for today. I hope my article has been helpful enough to figure out the differences between Candlelight cabinets and Kraftmaid and clear out any confusion you have.
As you can see, both brands have their strength and weaknesses that might appeal to different types of customers.
Moreover, I think both brands have different target user bases. So, first, you need to figure out what type of cabinetry you are looking for and set your budget. After that, you can easily decide which brand can fulfill your need.