Are you confused about choosing between Scag vs. Grasshopper?
Both brands offer a wide range of functional lawnmowers. But many essential factors must be accounted for selecting the best option. Here, we will show you their core differences to help you choose the better one.
The latest Scag Lawnmowers come with a Kawasaki® 791DFI engine and are run by unleaded gasoline. New models of Grasshopper Lawnmower have a 3-cylinder, 962 cc engine powered by diesel.
The first one has a higher cutting speed than the latter.
A Quick Comparison Table
| | | |
| --- | --- | --- |
| Specifications | Scag Lawnmower | Grasshopper Lawnmower |
| Engine | Kawasaki® 791DFI engine | 3-cylinder, 962 cc |
| Fuel | Unleaded gasoline | Diesel-powered |
| Cutting Deck Size | 32 inches to 52 inches | 48 inches to 72 inches |
| Cutting Speed | 2 to 6 mph | 7.5 mph to 10.5 mph |
| Cutting Quality | Good | Better |
| Durability | Good | Higher |
| Price | Affordable | Slightly Higher |
Primary Differences Between Scag And Grasshopper Lawnmower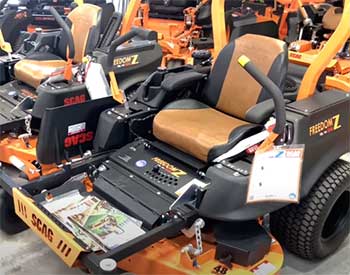 New models of Scag lawnmowers feature a Kawasaki® 791DFI engine. They have a less than 15% failure rate.
Plus, these digital fuel-injected engines have optimized air/fuel ratios.
The latest lawnmowers from Grasshopper have a 3-cylinder, 962 CC.
They are extremely powerful and robust. Their compact design and economical fuel consumption make them a great deal.
You will need unleaded gasoline to operate Scag lawnmowers. They don't produce harmful gases that are toxic to human beings. Plus, no pollution will be caused to the environment.
Grasshopper lawnmower powered by diesel. It is highly efficient and provides excellent mileage. But, it is slightly pricier to buy than other options.
Cutting Deck Sizing options
Cutting decks of Scag Lawnmowers are available in 32 inches to 52 inches. You can cut small to mid-range grasses quickly within a short period.
On the contrary, Grasshopper Lawnmowers have 48 inches to 72 inches cutting deck. They are a perfect choice for cutting larger and thicker grasses.
Scag lawnmowers come with 2 to 6-mph cutting. Slower cutting speeds are a choice for better results. They can get out the cut grass from under the deck quickly.
In contrast, Grasshopper lawnmowers have a rapid cutting ability, ranging from 7.5 mph to 10.5 mph. This comes in handy for a better cut in wet conditions.
Lawnmowers from both brands offer functional machines to cut grass well. Grasshoppers can cut grass more precisely with their high lift blade.
Their cutting system is engineered effectively to recirculate the clippings and chop all grass into a lot of tiny grass clippings.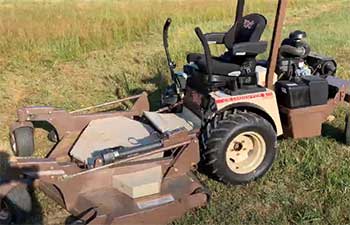 Both brands offer highly durable products, but Grasshopper is slightly more durable than Scag.
The average lifespan of a well-maintained Grasshopper lawnmower is around 20 years.
 Their heavy-duty construction and several protective features ensure long-lasting performance.
The manufacturer uses double-layered formed steel for the outer body for greater strength.
How much are you ready to pay to buy a lawnmower? Scag lawnmowers are more affordable than Grasshopper. But, the price you spend should give the value you deserve.
Grasshopper lawnmowers have commercial-grade construction. Hence, it is not hard to see why they have better riding and cutting capabilities.
Which Lawnmower Brand Is The Best For Your Lawn?
Randomly selecting a lawnmower brand will not add the desired value. Grasshopper lawnmowers are professional-grade. They have top-notch cutting abilities.
Their tightened deck has increased baffles to ensure better sucking and chopping up the clippings precisely. You can spread the already-cut grass around the yard by backing over.
 In contrast, Scag lawnmowers are a better choice for residential purposes. They are cost-effective to operate. Their simple design makes people use them effortlessly.
You will get impressive maneuverability to run these user-friendly mowers in a limited space. Its affordable price makes it a perfect choice for beginners.
Frequently Asked Questions (FAQ)
Who is Scag owned by?
Metalcraft of Mayville, Inc. is the main owner of all products of Scag. The manufacturing company makes both commercial and residential power items.
Is Scag a good mower brand?
Scag offers affordable, cost-effective, and simple-to-operate lawnmowers. They are mostly suitable for residential purposes and can last for a decent period if adequately maintained.
Who makes Grasshopper lawnmowers?
Moridge Manufacturing manufactures all the lawnmowers of Grasshopper, which was founded in 1958. Their main manufacturing unit is located in Moundridge, Kansas.
Is Scag better than Gravely?
Scag lawnmowers are a better choice than Gravely since Scag has almost similar engine power while being more affordable. But the cutting performance may be between them.
Bottom Lines
When buying a reliable lawnmower, you want to consider its size, adjustable settings, ergonomics, safety features, drive system, comfort, and many more. Regardless of your option, you want to ensure you get the best value according to your budget.
If you don't want to compromise cutting and mind spending a few bucks more, Grasshopper is the best choice. Its commercial-grade construction makes it a perfect pick for heavy uses.
But Scag is also a good choice for regular residential uses. Just take care of it appropriately.