Toro Timemaster lawnmower comes with a Briggs & Stratton® 223CC OHV engine, whereas Honda HRX features a Honda GCV200. The cutting width, height adjustment, weight, and fuel capacity are higher for Toro Timemaster than Honda HR.
Are you feeling torn apart to choose between Toro Timemaster and Honda HRX?
Regardless of your option, it should cut considerably with ample power. You don't want to stop while cutting thicker grass in the middle of the mowing session.
Let's dive deeper into it! 
A Quick Comparison Table
Wondering how Toro Timemaster differs from Honda HRX? Here is a small table to give you a quick idea,
| | | |
| --- | --- | --- |
| Specifications | Toro Timemaster | Honda HRX |
| Engine | Briggs & Stratton® 223cc OHV | Honda GCV200 |
| Starter | Recoil or Electric | Recoil |
| Cutting Width | 30″ | 21″ |
| Cutting height adjustment | 1.25″ to 4.25″ | .75″ to 4″ |
| Deck Material | Steel Deck, Cast-Aluminum Frame    | NeXite® |
| Blades | Toro Atomic blades with dual-force cutting system | Twin blades (MicroCut System®) |
| Fuel Capacity | 0.30 gal. | 0.24 gal. |
| Weight | Approx. 144 lbs to 150 lbs | Approx. 95 lbs to 97 lbs |
| Warranty | 3-years GTS Full warranty | 5 years residential warranty |
In-Depth Differences Between Toro Timemaster And Honda HRX
The abovementioned table is probably not enough to make an effective purchase decision. That's why we mention a head-to-head comparison session between these two brands.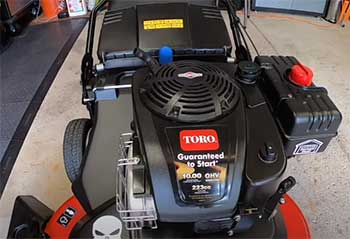 Lawnmowers from Toro Timemaster come with a Briggs & Stratton® 223cc OHVthat can generate around 6.50 gross HP.
You will get decent power from this engine.
In contrast, Honda HRX has a Honda GCV200t that can generate around 5.6 gross HP.
With its higher torque, you can use it for any residential lawn mowing tasks.
Toro Timemaster offers both a recoil and electric starter for their lawnmowers, whereas Honda HRX has only a recoil starter. Engage the recoil starter system by turning on the combustion.
But an electric starter is more effortless to operate. All you need to do is flip the switch to start your lawn mower.
Toro Timemaster comes with a 30″ cutting width deck. This comes in handy for larger yards. It will take less time to mow grass for the entire lawn.
In contrast, Honda HRX features a 21″ cutting width deck. Though you can use it for larger yards, finishing the mowing will take a little more time.
Cutting Height Adjustment
You can set up your Toro Timemaster from 1.25″ to 4.25″. This gives you more convenience in cutting medium and taller grasses.
On the contrary, the cutting height of the Honda HRX is adjustable from .75″ to 4″. It is a more appropriate choice for cutting smaller and moderate grass.
Decks from Toro Timemaster are made from steel with Cast-Aluminum frame. They can easily withstand damage and corrosion.
 Honda HRX has a unique NeXite® deck. It is made from polymer materials. Plus, rust, dents, and corrosion will cause minimal damage.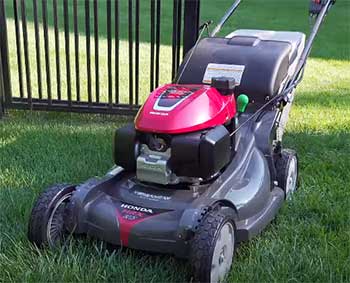 Lawnmowers from Toro Timemaster have Toro Atomic blades with a dual-force cutting system.
They can provide top-notch quality cuts to keep your lawn healthy and strong.
In contrast, Honda HRX has Twin blades (MicroCut System®) to cut all grass consistently for ultra fine clippings.
You will achieve excellent mulching and bagging.
Due to several larger parts of the Toro Timemaster, it is heavier than Honda HRX. Hence, you will get more flexibility with Honda HRX.
Toro Timemaster comes with only a 3-year GTS Full warranty, whereas Honda HRX offers five years residential warranty. This makes the Honda more reliable.
Which Lawnmower Brand Is The Best For Your Lawn?
Before choosing a particular lawnmower, you want first to determine how quickly you prefer to cut. Lawnmowers from Toro Timemaster appear a more appropriate choice for larger lawns.
Their wider decks, highly adjustable blades, and powerful motor make them ideal.
In contrast, when your garden size is small or moderate, and you prefer to make the grass smaller, Honda HRX is the best choice. Though its motor is less than Toro Timemaster, the Honda GCV200 can perform consistently with minimal fuel consumption.
Frequently Asked Questions (FAQ)
Is Honda mower better than Toro?
Though both brands make reliable and durable lawnmowers, Toro is a better choice in terms of the overall value you get.
Is the Toro time master worth it?
Lawnmowers from Toro Timemaster have decent quality. Their powerful motor, large deck, and blade size make them an ideal choice for cutting grass for small, medium, and larger yards.
Is Toro TimeMaster good on hills?
Toro TimeMaster can perform impressively well on hills, but its transmission isn't the strongest. Hence, allowing gravity to do most of your mowing work is better.
How fast is the Toro TimeMaster?
You can get up to 4.5 mph of propelled speed from a Toro TimeMaster mower if you push it accurately and utilize the Self-Propel system appropriately.
Final Thought
So, which options have you decided to choose between Toro TimeMaster vs. Honda HRX? Both options are good in their particular perspectives.
Toro TimeMaster is better for heavier and longer mowing sessions, whereas Honda is a good choice when you want more flexibility and portability.