The right table saw blade draws the line between glue-ready, clean joints, and burnt wood that makes you think you are sitting next to a bonfire.
Between Ridge Carbide and Forrest, the difference lies between quality and price. If you want to take your woodworking game to the next level, you need to know which one is better for you.
Keep reading to learn how the two fare against each other.
A Quick Comparison Table
| | | |
| --- | --- | --- |
| Specifications | Ridge Carbide | Forrest |
| Blade Kerf | Thin and thick kerf | ⅛", 9/64", 3/32", 11/64", 7/64", and more |
| Blade Diameter | 160 mm to 14" | 160 mm to 16" |
| Blade Tooth Configuration | ATB and flat-top | ATB and flat-top |
| Tooth Gullet | Varies by model | Varies by model |
| Additional Features | Carbide tips ⅓ bigger than most blades | 40% thicker carbide |
Key Differences Between Ridge Carbide And Forrest Table Saw Blade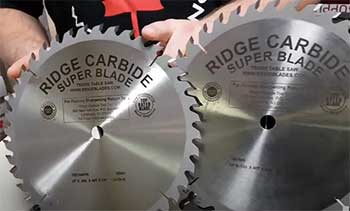 Kerf defined the blade's thickness and how much material it can remove with every stride.
A thicket kerf can remove more material.
The length of a full kerf blade stands at ⅛", and these kinds of blades resist deflection and vibrating when gliding across wooden boards.
But they do need more power to work.
In general, table saws can work with a standard ⅛" blade. For benchtop table saws that can be seen being sold in large boxes, under 3 horsepower, we suggest a thinner kerf blade as they were made specifically for this market. 
However, if you still want to get a full kerf blade, blade stabilizers would be a great addition, which are basically big washers that latch onto the blade.
Thin kerf blades do not need as much power, but they are more prone to vibrations and annoying chatter marks.
For Forrest, the blade kerf types available are ⅛", 9/64", 3/32", 11/64", 7/64", and more. And for Ridge Carbide, the blades are differentiated by thick and thin kerf.
Most table saws come with 10" blades, from budget-friendly, DIY-lovers' units to pricey, feature-rich cabinet saws.
Although they are frequently used to design cabinets, these have not been titled cabinet saws for that purpose. Instead, the saw's base and motor are enclosed in a steel cabinet under the table.
While 12" table saws are available, they are used mostly in industrial works. The reason table saw blades usually feature 10" saw blades is because of a long history that runs down everything from steel to economics to market competition.
In summary, the 10" version seemed to be meeting the needs of most consumers and aligned with the technology available.
Notably, smaller blades are the standard in new cordless table saws given their compact power plant. Make sure to always get the right-size blade for the job.
At Ridge Carbide, you can pick up blade saws with blade diameters ranging from 6 ½" to 14". There are also 160 mm, 200 mm, and 300 mm blades.
The narrowest blade saw sold by Forrest is 160 mm in diameter. It can go up to 16".
Blade Tooth Configuration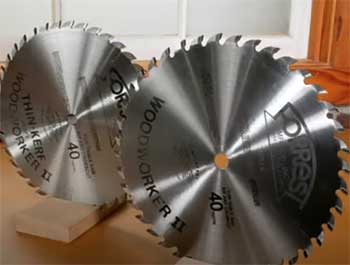 The tooth configuration of the blade enhances how the blade chops down on the wood.
Stable ripping is achieved by flat top blades.
A rip suggests that wood is being cut along its length or grain.
While most cuts on a table saw – particularly benchtop table saws – classify as rips, thus, square-tooth rip blades deliver better, chatter-free, crisp square edges.
Other blades within this section are mostly considered Alternate Top Bevel (a tooth is a ground to the right, the other to the right) or a mix of square top and ATB which you will notice on combination blades.
Combination blades are perfect for ripping (mostly on table saws) and crosscutting (generally in a miter saw). 
They also feature sets of teeth labeled one square tooth, otherwise known as "raker," and four ATB. Both are good for ripping and crosscutting.
Apart from the standard configurations, specialized blades are available for cutting many other materials, such as wood laminates.
At both Forrest and Ridge Carbide ATB and flat-top designs are available.
A gullet is a space between the teeth. It determines how effectively a blade works on the wood. Blades made to cut wood quicker, like rip blades, feature deeper gullets.
Precision-cut blades generally come with smaller gullets and are made to make smooth cuts.
At a microscopic level, chips have to be cut out after the tooth "bites" into the wood fiber. The gullet is the space occupied by those chips after that.
After the gullet moves through the wood, wood fiber is ejected by centrifugal force into the table saw's dust chute. Bigger gullets can take more wood fiber.
Tooth gullets vary based on the model for both brands.
Extra features only add to the charm of a good blade as they improve performance and durability.
They primarily try to reduce the vibration and heat that makes chatter marks on the cut line and dulls the teeth. Search for blades that come with anti-vibration slots, which reduce distortion produced by heat.
Although most blades feature carbide tips, there is certainly a difference between them. The best blades have more carbide in comparison to commodity blades.
Think of blades with nonstick coatings that develop blade life and facilitate faster cutting.
For example, Ridge Carbide says that some of their best table saw blades feature carbide tips ⅓ bigger than most blades. On the other hand, Forrest says the carbide used in the construction of their blades is 40% thicker.
Which Table Saw Blade Is Better for You?
The general consensus of users is that Forrest makes some of the best table saw blades on the market.
Many of them would go as far as to say Ridge Carbide's products do not even compare. However, we have found some hidden gems within Carbide's collection that are cost-effective.
Forrest is surely great but its products are in the pricier range. Consider that while making the purchase.
Frequently Asked Questions (FAQs)
Are Ridge carbide blades any good?
Ridge Carbide blades are good because the cuts are clean, there is a diverse array of blades to choose from, and they are affordable.
What is the best saw blade for ripping wood?
Rip blade is the best saw blade for ripping wood.
Are Diablo and Freud the same?
Diablo and Freud are produced under the same parent company, Bosch.
What saw blade should I buy?
Depends on what you want from the blade. For example, for cutting against the grain, you should get a crosscut saw blade.
In Conclusion
That ends our discussion on Ridge Carbide vs. Forrest. By this point, you should be able to tell the two brands apart and understand what kind of products they specialize in. 
We recommend you skim through the entire thing once more to make sure you have all the key points in your memory.