Restofinisher comes in a sprayer bottle, and you can easily spray it on the surface, whereas Restor-A-Finish comes in containers, and you can apply it with a simple wipe-on or wipe-off.
Restofinisher and Restore-A-Finish are wood restorers that make your old wooden furniture and fixtures look new. But which one should you use?
At the end of this comparison guide, you'll know because I'll show the features and differences between them. So, let's get right in.
A Quick Comparison Table
Here is a quick comparison table between Restofinisher and Restor-A-Finish wood finisher:
| | | |
| --- | --- | --- |
| Aspects | RestoFinisher | Restore-A-Finish |
| Product Type | Non-Toxic Wood Finisher | Original Color Restoring Wood Finisher |
| Special Feature | Comes In A Sprayer Bottle | Easy Wipe-In And Wipe-Off Process |
| Benefits | Offer Fewer Benefits | Offer More Benefits |
| Available Color | Translucent | 9 Available Color |
In-Depth Comparisons Between Restofinisher And Restor-A-Finish
You have drawn some basic ideas about their differences. But now it's time we get into more details because you need more information to make the right choice.
So, here are some key differences between these two wood finishers:
Restofinisher and Restore-A-Finish are wood finishers that make old surfaces look new. So, they serve the same purpose.
But there are some differences between them.
Restofinisher is a wood finisher that penetrates wooden surfaces and excellently works on three different surfaces.
You can easily repair old and faded lacquer, shellac, and varnish finishes. It gives an original color and luster to your wooden furniture and fixtures.
As it can penetrate fast, Restofinisher will go deep inside the wood surface and permanently cure the surface.
On the other hand, Restore-A-Finish is a wood finisher that restores and preserves the original finishes on the wooden surface. But the good thing about this product is that it does not require sanding or stripping. It also penetrates deep into varnish, shellac, and lacquer wood surfaces.
You can make your old furniture look amazingly beautiful by applying Restor-A-Finish without sanding or refinishing.  
Restofinisher is a unique finisher that can mask minor issues like abrasions, blemishes, and scratches. It works on most wooden surfaces and restores them within a few minutes.
As it comes in a sprayer bottle, anyone can work with it. You can cure cabinets, wooden floors, tables, or any other wooden surface with this.
Restore-A-Finish is a unique product with a superb ability to eliminate scratches and blemishes. You can apply it with an easy wipe-in and wipe-off process.
Besides, it offers a complete finishing job on most wood surfaces. You can blend out blemishes and scratches using this high-quality finisher.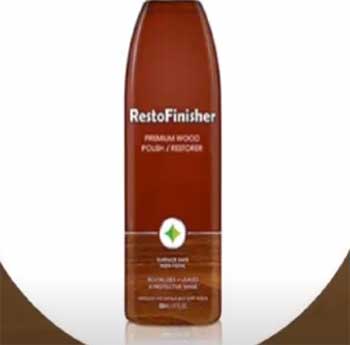 Because of the superior features, you will enjoy many benefits from both products. Here I will show you some significant benefits.
After knowing them, you can decide which benefits are beneficial for you.
Even though many of the benefits are similar, a few differences are there that you must know.
Restofinisher is an easy formula to work with. You can just spray it over a faulty wooden surface, wipe it with a clean cloth and watch the magic.
It fixes white heat rings, smoke damage, blemishes, sun fade, and other issues within a few minutes. Besides, it is an odorless and non-toxic formula.
On the other hand, Restore-A-Finish can work over old finishes; you won't have to sand it. It effectively removes white heat rings, watermarks, blemishes, and scratches.
Besides, you can also quickly eliminate sun fade, smoke damage, watermarks, oxidation, etc., issues.
Being a wood finisher, Restofinisher is available in a translucent color, but with its non-glossy polish, you will get an excellent finish over your old wooden surface. On the other hand, you'll get nine color options from Restor-A-Finish.
Choose your color from Neutral, Maple-Pine, Golden Oak, Cherry, Walnut, Mahogany, Dark Walnut, Dark Oak, and Ebony Brown.
Size can become an essential factor in choosing a product. People sometimes consider it while buying products. Restofinisher wood finisher is available in a 12 oz. sprayer bottle.
On the other hand, Restore-A-Finish is available in 16 oz. size. So, the latter comes in a slightly bigger size.
Which Finisher Should You Buy?
From my above discussion, you can see that both products are almost similar in terms of their features and benefits. So, you might become confused while choosing the best one.
Although they have many similarities, Howard restore-A-Finish is better in terms of performance.
It has many color options and offers more benefits. You can apply it directly over old colors and finisher. Plus, you will get a bigger container of it.
So, I suggest you go for Restore-A-Finish. It is a superior product to Restofinisher.
Frequently Asked Question (FAQ)
Does Restor-A-Finish last?
Restore-A-Finish is an excellent and unique wood finishing product that makes any old wooden surface looks new within a short period. Plus, it lasts a long time than other finishers.
Is Restor-A-Finish like Old English?
Yes, Restore-A-Finisher can make your wooden surface look like Old English. After applying it to your surface, it will look like Old English but with a little more shine.
Why can't you put polyurethane over Restor-A-Finish?
Restore-A-Finish soaks in quickly and makes the finish look like its original color and luster. On the other hand, polyurethane is a hard finish that absorbs less stain. That's why you can't put polyurethane over Restore-A-Finish.
Does Restor-A-Finish seal?
No, Restore-A-Finish does not seal a surface. Its work is to restore wood color to its previous original version. So, you cannot apply it with polyurethane for sealing or staining. There are other products that can seal your wooden surface quite easily.
Final Thoughts
After knowing all the differences between Restofinisher vs. Restor-A-Finish, you have a complete picture of both finishers. So, now it's easier for you to choose the right one. But I suggest you go with Restore-A-Finish.
By choosing it, you will get an excellent product for wood finishing. You won't regret choosing it. What do you think?
Let me know in the comment box.