If you've been anywhere near woodwork, you know how important staining is. Staining gives your wood products a nice finishing and acts as a barrier.
There are a lot of stain options like General Finish and Minwax. If you're confused between them, here is a General Finishes vs. Minwax comparison to help you.
General finish and Minwax – both are top choices for woodworkers. Which one you'll use is up to you, but here is a comparison of them to help you decide.
One-Minute Comparison Table
If you're in a hurry or just want the gist of the entire comparison, this is for you. Here is a quick breakdown of the whole thing you can read in one minute. If you want a rush brief, just glance through it.
| | | |
| --- | --- | --- |
| Feature | General Finish | Minwax |
| Stain base | Water, oil, gel | Water, oil, gel |
| Ease of Application | Easy | Less easy |
| Application option | Brush, foam roller, cloth | Brush, foam roller |
| Coating consistency | Even | Less even |
| Coverage | Usually semi-transparent | Usually clear stain |
| Drying time | 0.5-24 hours | 2-6 hours |
With the basic rundown out of the way, let's get into the detailed comparison of both brands now.
Detailed Comparison of General Finish And Minwax
As you can tell from the table above, this article will compare multiple features of both brands. The comparison will be more in-depth here so you can decide between them easily.
Wood stains (and dyes) have different bases. Wood stains are a mix of coloring agents and "carriers".
The color particles activate when the mix hits the wood. Carriers are the solvents the color particles are mixed with. These are what you know as the base.
A stain base is the first pointer to a wood stain's overall performance. You can guess things like drying times if you know the base. The more popular stain bases are oil, gel, and water.
General Finish has been popular for its oil-based stains for a long time. Most of their woodwork product is oil-based and have a positive reputation.
They later added a water-based line for woodwork products (including stains). Recently they've introduced gel-based stains as well. Gel-based products aren't a full line yet.
Minwax is the opposite. They're more popular for their water and gel-based products. They have an oil-based woodwork product line but that rarely comes to the spotlight compared to the other two.
Either way, both brands have a range of water, gel, and oil-based stains.
The ease of application actually depends on multiple factors. The stain consistency, brush using liberty, and even adherence – these all determine ease of application.
General Finish has a foot forward in this department but Minwax isn't too far behind.
Thicker wood stains are usually easier to apply on the surface. They seep through quickly (especially for porous wood) and are easy to control because of the consistency.
General Finish stains (all versions) are thicker than Minwax, so controlling them is easy. Even beginners can easily apply this.
What brush you can use to apply your stain doesn't really depend on the stain. Sometimes they work with even a rag, sometimes only specific brushes can do the job.
General Finish is more flexible when it comes to brushes. You can use a brush, foam roller, or even a rug to apply the stain.
Minwax is more restrictive on brushes, you can only use foam rollers or brushes to apply it properly.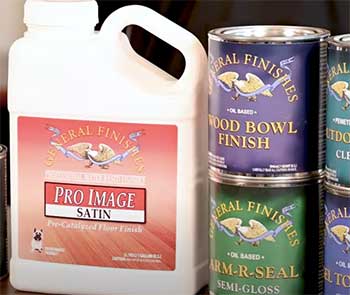 Even adherence is something all woodworkers want. Since most stains need multiple coats, it is important the brush strokes aren't standing out over a coat.
General Finish gets the edge here. The thick stain covers the surface easily. You won't have to work much to cover the whole area, and the coat will be even.
Minwax is easy too, but sometimes the brush lines can stand out because of the lower consistency.
General Finish is much more beginner friendly than Minwax. If you're looking for something you can easily control, you know which one you have to go for.
Coverage will tell you how much of the original wood texture you'll be seeing. Solid coat stains completely cover the original wood surface like paint.
Semi-transparent stains are like translucent coatings, you can see the original stain but it is toned down. Clear stains don't cover the original texture at all.
Most General Finish stains are semi-transparent. They cover the wood surface's original texture but you can still see them peeking out. Since most of their products are oil based, they also show less grains.
Minwax stains are usually clear ones. They cover the wood like a tint and keep all the texture visible.
The only problem is that the grains on wood are more visible too, unless you're going specifically for their oil-based stains.
Drying time depends on the stain base, but it can be different depending on the product too. Usually thick stains take more time to dry and thin stains dry quicker. Oil base stains take more time to dry compared to water based stains.
General Finish stains are like two extremes when it comes to drying time. The oil based thick stain takes almost 12-24 hours to dry before you can reapply another coat. The water based stain on the other hand takes about 0.5-2 hours to dry off.
Minwax stains have a more flexible drying time. The wood penetrating stain takes around 4-6 hours to dry off. The gel takes around 2 hours to dry off before you can apply a new coat.
Which One Should You Choose?

If you're more of a beginner or just want complete control over your wood stain, General Finish is the way to go. They're also your option if you want a full coverage stain and don't mind the long drying time.
If you have experience staining wood and your surface is vertical, go for the Minwax stains. They drip less so you can easily work with them for vertical surfaces.
They also dry quickly so you won't have to wait the entire day before applying a new coat.
Frequently Asked Question (FAQ)
Who makes the best wood stain?
Well, that boils down to your personal preferences. All brands make a range of wood stains. The bases, drying time – everything is different. You'll just have to figure out what you need. Whatever ticks off most boxes on your list is the best wood stain for you.
What is the best stain?
That depends on what you're looking for. If you want full coverage or a thicker stain, oil based stains are the best for you. If you want something like a tint with a lower drying time, water based wood stains are the best.
Do you have to sand between coats of General Finishes top coat?
Depends. If the surface you're working with is raw wood then yes. You will need to sand between top coats. For best results, use a sanding sealer first. Then follow up with 2 coats of the top coat and sand between applications.
Is oil-based stain better than water based?
Again, it depends on your preferences. If you're looking for less toxic options, water based stains are better than oil based ones. If you're looking for durability and lasting period, oil based stains are better for you.
Conclusion
General Finishes vs. Minwax is a pretty old debate among woodworkers. Both brads have a versatile range of products and they all have their key features.
Note down what you want and pick the stain that checks off the most points on your list, and you'll be all set.