Homeowners in the market for interior doors commonly search for a classic-looking door with a surface that is easy to paint. Reeb and Jeld-Wen are two industry leader brands offering such doors.
But how do you choose between them? My review on Reeb Vs. Jeld-Wen will show you how.
You can quickly get confused with dozens of options while choosing a door for your home. This article will show you the features and compare the two best brands allowing you to choose the suitable one.
Keep reading, and you will find out.
A Quick Comparison Table
A comparison table will allow you quickly understand the differences between these two-door brands. If you are in a hurry but want to have a brief idea of their doors, you must glance at them.
But before jumping into that, I want you to know that Reeb and Jeld-Wen are compared because of their high-quality materials, great designs, and various door models.
But there are some fundamental differences based on which you will pick up the right door for your home.
Here's a quick comparison between Reeb and Jeld-Wen Interior Doors
| | | |
| --- | --- | --- |
| Aspects | Reeb | Jeld-Wen |
| Available Style | Panel / Bifolds, French Colonial, French, Louvers | All Panel, Glass Panel, Bifold, Louver |
| Product Line | 4 | 8 |
| Door Material | Wood and Composite Materials | Wood and Composite Materials |
| Door Quality | High-Quality | Superior to Reeb |
| Availability | Local Lumberyard and Building Suppliers | Jeld-Wen Distributors, Home Depot |
Key Differences Between Reeb And Jeld-Wen Interior Doors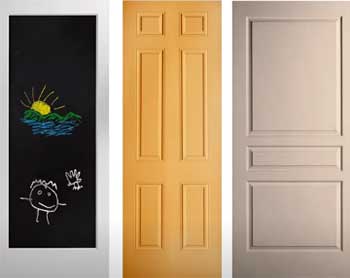 Think about it this way, a quick comparison table is a starter, but you need the main course to satisfy your hunger, meaning you need more details to pick up the right one.
In that case, you have to stick to this part because I'll give you a clear idea of how they differ from each other in more detail.
Bear with me here because I will show you the key differences between the two doors. So, let's jump into it.
More style helps a door brand reach a more significant portion of customers. Reeb offers a wide range of interior door styles, including Panel/Bifolds, French Colonial, French, Louvers, etc.
On the other hand, Jeld-Wen offers 4 styles for their interior door collections. They are All Panel, Glass Panel, Bifold, and Louver.
Product line refers to the number of brands, or interior door lines produced by a company. Both Reeb and Jeld-Wen have multiple product lines under their name.
Reeb's interior door product lines are based on door materials. For example, Pine, Fir, Hardwoods, and MDF are materials, but they are the name of Reeb's product line too.
On the other hand, you will find more than half a dozen product lines for JELD-WEN's interior doors.
Such as Flush Wood Composite Doors, IWP Wood Doors, Tria Composite Doors, the Moda Collection Doors, Molded Wood Composite Doors, Woodview Collection Doors, Authentic Wood Doors, and Studio Collection Doors.
The door material is probably the most important aspect you should consider while choosing a door. Not only will it determine the longevity of a door, but also how good the doors look when set.
Reeb produces its interior doors using various wood and composite materials, including Maple, Knotty Alder, Oak, etc. Similarly, Jeld-Wen interior doors are also made from wood and composite materials.
Cherry, Knotty Alder, Red Oak, Walnut, Mahogany, Primed, Pine, Knotty Pine, Knotty Alder, Oak, etc., are some of the materials.
Reeb holds the banner of a high-quality interior door manufacturer. Because of the materials and design, their primed doors are considered one of the industry toppers.  
On the contrary, Jeld-Wen doors are superior to Reeb's quality with various styles, colors, and finishes. Besides, most of their doors are handcrafted from the finest materials offering a wide range of custom designs. Most importantly, they are primed and ready to paint.
Both Reeb and Jeld-Wen interior doors are readily available for purchase. You will find Reeb doors in any local lumberyards or building supplier stores near your home.
In contrast, Jeld-Wen interior doors are also available near your home. You will find them on their authorized distributors and Home Depot outlets.
Which Interior Door Is Suitable For You?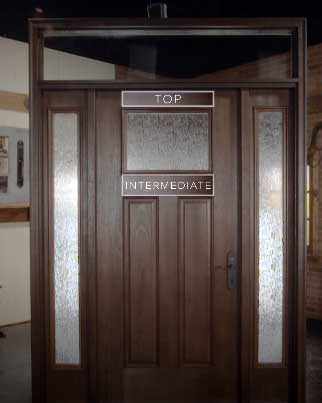 Here's the kicker, you should choose an interior door based on the quality, style, design, material, and availability.
Both Reeb and Jeld-Wen doors are widely available and come with various designs and styles; it all comes down to the quality.
As far as quality is concerned, Jeld-Wen interior doors are superior to Reeb doors.
Besides, most of their doors are handcrafted and offer a wide array of beautiful custom designs with dramatic contours, crisps, and clean lines.
Frequently Asked Questions (FAQ)
Are Reeb exterior doors good?
Reeb exterior doors are quality packed and come with three durability levels. Good, Better, and Best Durability makes them an industry leader for doors. Their exterior doors are no less in quality with solid material and beautiful finishes.
What is Reeb?
Reeb is a manufacturer company of doors, windows, and their hardware. It is well known for its various style, high-quality, and beautifully designed doors and windows. With three-tier durability, their doors are windows have a reputation for lasting longer.
Is Masonite and Jeld-Wen the same?
Masonite and Jeld-Wen are both door and windows manufacturers. They produce doors, windows, cabinet doors, and hardware. Interestingly, these two brands are the industry's largest manufacturers of interior molded doors from composite wood.
Does Reeb own Therma Tru?
No, Reeb does not own Therma Tru. They are entirely two different door manufacturers. Therma Tru is owned by Fortune Brands Home and Security, Inc., an Illinois-based door manufacturer.  
Final Thoughts
This is the part where I'll take my leave. Doors are an integral part of our home, keeping us safe from the outside world and making our house look beautiful at the same time.
I'm glad that my Reeb Vs. Jeld-Wenreview comes in handy.
I've suggested to you the best of the bests. Purchase that, and you'll live happily ever after.