Are you looking to get exterior doors for your home? Whether you are planning to rework your home or just setting up, exterior doors are something you have to consider for sure. 
Most importantly, you have to choose a high-quality door to get the best impact.
Choosing between Jeld-Wen vs. Masonite exterior doors can be a bit without proper knowledge. That's where I come in. 
I will give you an in-depth comparison overview of the two exterior doors, so you can find out which one is the best for you. Let's not waste a second and get right into it.
A Quick Comparison Between Two Exterior Doors 
Here is a quick comparison table for the two exterior doors for those running out of time. You can see the basic differences between the doors in a general sense.
| | | |
| --- | --- | --- |
| Specifications  | Jeld-Wen | Masonite  |
| Expertise  | Doors and windows  | Doors only  |
| Variety  | A lot of colors and styles  | Offers various patterns, designs, and textures  |
| Energy efficiency  | Good rating  | Impressive  |
| After-sales service  | Good  | Better  |
| Cost  | Affordable  | Higher  |
| Availability  | Lacks proper inventory  | Excellent inventory management  |
| Durability  | Great  | Good  |
Let's get real here; you can hardly decide on which one is a better option solely based on this table. That's why I would suggest you stick till the end and go through all the details I am about to discuss.
Key Differences Between JELD-WEN And Masonite Exterior Doors
The best way to choose an option between two exterior doors is to go through some factors both the doors provide. While the basic functionality of the doors is the same, there are some differences in the build and other factors that may impact your decision. 
So, let's get going with the different factors and see what kind of value you get from them.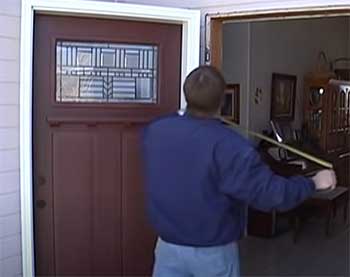 The first thing you have to go through is the material of the door because the material will determine the durability factor along with the looks and other possibilities.
Now, coming to Jeld Wen, they use a method called Aura Last Wood.
Their secret technique of making them wood has protection against wood rot, water saturation, and even termites.
The method uses a vacuum pressure process to strengthen the wood fibers. You just end up with excellent durability out of the wood in the bigger picture.
As for the Masonite doors, you get to see a different kind of processing in their woods. They use the process of heating and steaming, and applying pressure. 
This also provides the Masonite wood with great endurance and ends up with good durability.
With utmost honesty, I can tell you that none of the doors will disappoint you with the material quality. Having said that, I think Jeld Wen will be a bit better considering the protection it provides as an exterior door.
A great thing about these exterior door brands is their versatility. You don't have to stick to a certain pattern or style with any of them. So, now the question is, how do you choose one of them?
To start, Jeld Wen comes with various styles, designs, and patterns on its exterior doors. For the basics, you get fiberglass doors, steel exterior doors, and of course, wood doors. In the fiberglass door option, you get to see two choices. 
One is Aurora, and the other one is design pro.
For the wood, you get two options IWP wood and authentic ones. And then you have the steel doors option as well. Within these options, you get different choices of patterns and colors too.
Are you already impressed? Wait till you see the collection from Masonite. They have 6 kinds of exterior door collections. 
Within that, you can find paintable options and stainable options. As for the surface, there is a smooth option and a textured option.
You know what? That's not even the best part. You get almost 10 wood species options and textures for your Masonite exterior doors.
So, you can see that in terms of choices in your exterior doors, Masonite is the winner here. You can always rely on them to deliver versatility in terms of the looks and feel.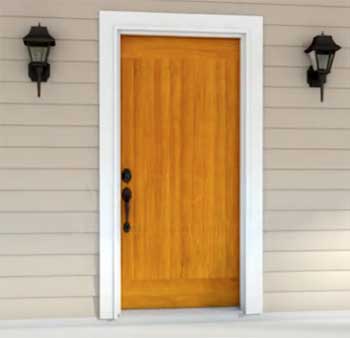 Here is a factor that provides a clear difference between the two exterior doors.
One is very readily available, and you have to struggle a little for the other one.
I won't keep you in the dark too much; Jeld-Wen is the door that isn't readily available.
Most of the time, when you check out their options, you just see that they are out of stock. 
To put this into technical context, they seem to have difficulty managing their inventories.
On the other hand, you get Masonite doors available at all times. The inventory management from the company is phenomenal. You will never have to worry about not getting the preferred option.
The question is, does this matter? Well, yes, if you are in urgency of getting a door for your home, you can rely on Masonite without any second thoughts. But with Jeld Wen, you will have to think about the availability factor first.
In terms of brand value, both are pretty much equal. They both are well known for providing quality doors.
However, if you are considering specialty, I have to say Masonite has an advantage over Jeld Wen in exterior doors alone. They specialize in making doors of high quality.
As for Jeld Wen, you get quality doors for sure, but they also emphasize windows. So, considering that, I would say Jeld-Wen will be a good pick for both windows and doors. 
But if you are looking for specialists, then Masonite is the pick. 
Here's another factor where you can easily pick a winner, and it's Jeld Wen. If you want to save up on some money, then Jeld-Wen is the pick for you. 
They are a bit more affordable compared to Masonite. So, you can consider Jeld Wen as more of a budget pick.
Which Exterior Door Will Be The Perfect Pick For You?
After going through all that, I think you have an idea of which one will suit your specific needs the most. While both of them are pretty impressive in quality, one has the edge over the other in some aspects.
For example, if you want to save up on money, then Jeld-Wen is the way to go. But if you want durability and reliance, then Masonite is a better pick for you. 
Also, if you are looking for plenty of options, Masonite is a clear winner.
Frequently Asked Questions (FAQ)
Are Jeld-Wen and Masonite doors the same?
The basics of the doors are pretty much the same. But they do have some differences in the looks. While Jeld Wen tends to be a bit darker, the Masonite doors tend to have better textures.
What brand of exterior door is best?
Masonite exterior doors are one of the best options you get when you have to match the interior style. They are excellent in quality and durability.
Does Masonite make good doors?
Yes, Masonite is a top-notch choice for doors especially when you think of exterior doors that require the most durability out of any other doors.
Are Masonite fiberglass doors any good?
Masonite fiberglass doors are pretty good in terms of the assortments you get to choose from. They are perfect when living in a non-severe sun area where the air is somewhat salty.
Conclusion 
After going through all that, in summary, I would say Masonite is a better pick overall when you are thinking about Jeld Wen vs. Masonite exterior doors. 
But if you are thinking about money, then Jeld Wen will have the upper hand there because they are much more affordable than Masonite.