Rainbird Maxi- sprinklers have been a trusted brand to its customers for over 30 years now. Its flexibility, reliability, and performance are outstanding, especially for your backyard or lawn.
There are different kinds of sprinklers available to do different kinds of jobs. Today we are going to talk about the rotors that are used to cover large ranges of your backyard.
If you are thinking of buying rotors for your lawn then you might want to check out these two fine products of Rainbird Maxi-Paw.
As both the products are amazing, we have prepared a comparison between this two for you to understand which one fits better in your backyard.
Quick Comparison Between Two Rainbird Sprinklers
Let's have a quick look at the table given below to get a quick comparison of the two hyped models of the Rainbird Maxi-Paw.
| | | |
| --- | --- | --- |
| Specification | Rainbird Maxi-Paw 2045A | Rainbird Maxi-Paw AG5 |
| Adjustability | 20°-340° arc or 360° full cycle | 20°-360° |
| Range | 1.5GPM-8.4GPM | 2.0GPM-8.4GPM |
| Nozzle Type | 7 | 4 |
| Angle | Adjustable | Fixed |
| Service | Better | Good |
| Cost | High | Moderate |
Key Differences Between Rainbird Maxi-Paw 2045A And AG5
Now that we have primary knowledge about the two models, let us jump into specifications. Knowing how these two models work specifically would help you decide which one is more flexible for you to use on your lawn or backyard.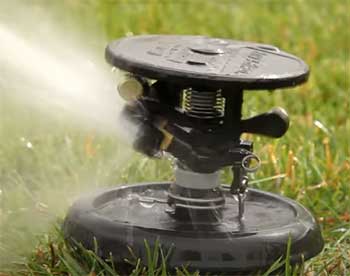 Both the models can rotate and adjust themselves from 20 to 360 degrees.
But in Rainbird Maxi-Paw 2045A, you can rotate it in either an arc from 20-340 degrees or in a full rotation of 360 degrees.
But this feature is not available for the Rainbird Maxi-Paw AG5.
Although it does not make a big difference in being a good quality sprinkler, having an arc can have both merits and demerits. Your arc might not be effective if you have an uneven surface on your lawn.
Again, it works great with the even ones.
There is a slight difference in the range of how many gallons per minute can the sprinklers cover. While the lowest range to start for the Rainbird Maxi-Paw 2045A is 1.4 GPM, it is 2.0GPM for the Rainbird Maxi-Paw AG5.
Both sprinklers have the highest capacity of 8.4GPM. As the Rainbird Max-Paw 2045A has a lower starting GPM, it can cover closer areas than the Rainbird Max-Paw AG5.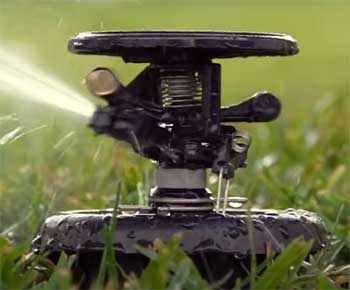 With every model of the Rainbird sprinkles, they would provide you with extra nozzles.
So, you don't have to worry about your nozzles getting broken or damaged and not finding the right fit later on.
The Rainbird Maxi-Paw 2045A comes with 7 different nozzles. These nozzles fit according to the angle you want your sprinklers to be in.
They can be adjusted to standard angles or lower angles depending on your requirements.
The Rainbird Maxi-Paw AG5 comes with 4 additional nozzles. As the angles are fixed here, you can only put it to the standard angle.
The angle of the sprinklers is important because it determines at which angle the water will cover your area and how much it would reach the level of the ground in your lawn or backyard.
The Rainbird Maxi-Paw 2045A has adjustable angles. It can be adjusted to both standard and lower than standard angles. It helps you get different options to use your sprinkler.
If you want to water it within the standard range you can do it and again if you want to lower it to the level of the grass, you can do that as well. The Rainbird Maxi-Paw AG5 does not have adjustable angles, its angles are fixed.
All the Rainbird Maxi-Paw sprinklers have very moderate pricing. It is affordable for all to use and also maintains great quality starting from its packaging to its performance in your backyard.
Both the Rainbird Maxi-Paw 2045A and Rainbird Maxi-Paw AG5 are not that expensive they are budget-friendly.
Although the Rainbird Maxi-Paw 2045A would cost a bit more than the Rainbird Maxi-Paw AG5 as it comes with more tools with some extra specifications inside the device.
The Rainbird Maxi-Paw 2045A ranges from $30-$40 whereas the Rainbird Maxi-Paw AG5 ranges from $18-$25 including the shipping charges. They also have some service charges, which would cost you extra few bucks.
Which One Will Be the Best Fit For Lawn?
There is no definite answer to which one of the two models is the best fit for your house. Both models are reliable and flexible to use.
The Rainbird Maxi-Paw 2045A comes with a slight modification of features like the nozzle adjustment and also the advantage of the pressure range of the nozzle. But the Rainbird Maxi-Paw AG5 also works efficiently and comes with a handy impact sprinkler wrench.
Honestly, you can choose any of these models but if you think you are in need of more specifications and features then go on with the Rainbird Maxi-Paw 2045A.
But if you think you want to save a few bucks and the slight change in features doesn't matter to you, then you can pick the Rainbird Maxi-Paw AG5. Watch this video to understand why.
At the end of the day, both of the sprinklers would give you the best features as Rainbird has been a trusted brand for years to the customers and its performance has never degraded other than any damage or external issues.
So, take your time, find out what you need right now and buy your sprinkler.
Frequently Asked Questions (FAQ)
Here are a few frequently asked questions about Rainbird Maxi Paw and AG5.
What is the difference between Maxi-Paw and mini paw?
The Rainbird maxi paw is an improved model of the Rainbird mini paw, which has far more powerful specifications than its forerunner. It has a potent irrigation system with effective distribution capabilities. The availability of different nozzle sizes is this rotor head's most alluring feature.
Which Rainbird sprinkler head is best?
The Rainbird 5000 sprinkler head is on hype in the market from the other ones for its unique pop-up rotational watering technology made for even and reliable spray. This is a fantastic choice for people seeking a self-contained model that can water up to 50 feet away, making it ideal for medium to large-sized lawns.
Another benefit of the device is that it is simple to install thanks to its slip-clutch mechanism.
Which sprinkler is better Hunter or Rainbird?
Hunter goods last a little bit longer than Rainbird ones. They can withstand higher PSIs, which is crucial for winterization, water pressure, and adverse weather. Hunter also comes with a better controller than the Rainbird which is easy to program. Although both are very reliable products, Hunter might be a better option.
What are the different types of Rainbird sprinkler nozzles?
There are arc nozzles, bubbler nozzles, pattern nozzles, and dual orifice nozzles. They come in many series and models. Some are based on efficiency and some are specified for the ground they are supposed to be used.
Final Words
After a good comparison between the two models of Rainbird Maxi-Paw, you must be able to choose the right one that fits your home design and structure. You can also go on and do your research in the market to find out more about the two products and see their reviews.