Did you know that Irigreen sprinklers can help you save water?
Now, who doesn't love that, right? Choosing the best kind of sprinkler for your home can get tricky since there are so many kinds and brands populating the market.
But, skimming through Irrigreen's features can minimize such confusion. Ready to meet the best water and money-saving all-rounder for your home?
Come along and read our article to know why this product can fit your home better than the rest.
Features of Irrigreen Sprinklers

So, here's the kicker. Irrigreen sprinklers will not only save you a ton of water and money, but it's also jam-packed with multiple unique designs and features that will steal your heart and flourish your lawn.
Thus, let's see why this perfect sprinkler should be the new addition to your home!
Irrigreen is a revolutionary sprinkler designed to utilize 50% lower water levels, eventually minimizing your costs too. This conventional way of waste-less approach leads to lowering the 195% waste regarding water.
The central head on the Irrigreen sprinkler ensures that your lawn gets sprayed evenly along the exact shape and zone. Thus, it wastes less while being super-efficient with its controlled spraying systems.
Imagine not contributing to wasteful water on your sidewalk or having to endure complex sprinkler mechanisms that spray water everywhere – phew, what a relief, isn't it?
Did you know that around five digital Irrigreen sprinklers are equal to approximately thirty to forty conventional mechanical sprinklers? Yes, you read that right!
Irrigreen uses a 250-ft pipe, whereas conventional sprinklers use 1500-ft plastic pipes. This also means that with Irrigreen, you need less than half the labor to install it with fewer parts to deal with lesser digging on your lovely lawn.
The installation is further simplified as Irrigreen requires no valves and merely two wires compared to mechanical sprinklers, which require around ten wires and five valves. The digital, intuitive mechanism in Irrigreen is cleaner, simpler, and as eco-friendly as possible.
With Irrigreen, the sprinkler's heads are digitalized, and hence can be controlled via the server as it can transmit data back and fro with the help of a controller. It operates on Cloud connectivity and can approximately adjust its head about hundred times per rotation.
You can acquire all the information on your mobile apps, such as the zone coverage, status of the sprinkler, and controls. So yes, it's finally possible to water only where you need it with exact shapes and zones controlled by you and the sprinkler.
Amazing, isn't it?
The Irrigreen digital sprinkler has an in-built 5′-30′ programmable throw. So, it's a no-brainer why there's the lowest water waste. Moreover, the precipitation rate and proper water rotation and scheduling are software controlled.
Users can zone out any shape they want to be watered, and the sprinkler will obey blindly. The controller also makes life easier for many, with its 16 to 32 digital zone and 12 to 24 valve zone programming on IG2 and IG2 Pro, respectively.
The sprinkler connections are entirely waterproof and embedded with dual flow sensors and Wi-Fi. Needless to say, Irrigreen's innovation has truly outdone all the other contenders.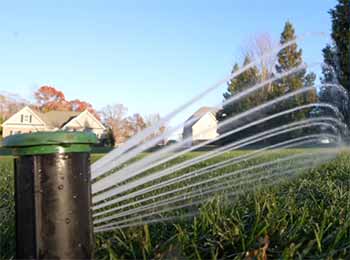 The trick with the controlled water feature in Irrigreen is that it's fully efficient.
Not only does it save you a ton of bucks, but it also intuitively wets each and every single grass strand.
With traditional sprinklers, the issue of inconsistent watering remains, which results in poor grass health.
But, those days are long gone if you own an Irrigreen. Irrigreen ensures that your lawn remains evergreen and healthy at all times.
Users mostly rave about Irrigreen's pop-up heads; that's a charm to look at even when it's on full show. Generally, your lawn will get an uninterrupted, cleaner look as the shower head remains hidden and out of sight between the grass strands.
However, the pop-up head remains a popular choice for all, as it's dipped with aesthetics and attractive design. The sprinkler is designed to retract within the grounds when not in use and pops up only when required. It's also helpful to avoid any damage or impact to users.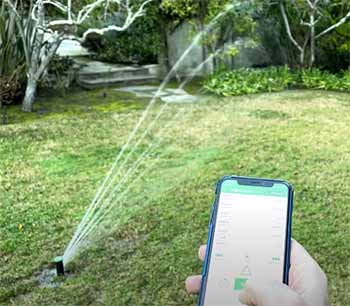 Now, who doesn't love a bit of versatility and variation, right?
Well, count on Irrigreen to serve you with everything that you crave for your lawn and some more. Irrigreen has a vast selection of its customers.
Users love that they can select from a wide range of pricing, product type, and style.
So, you don't have to be stuck with one absolute product. You can look at a few of their selections and price ranges and make a decision based on your perfect match.
Moreover, the overall cost might also be lower than most as the installation is much cheaper and simpler with Irrigreen!
What Could've Been Better With Irrigreen Sprinklers?
Even though Irrigreen sprinklers' sales have been flourishing thus far, there are certain drawbacks to it that customers would love rectified. Let's check them out.
The most daunting issue with Irrigreen seems to be its price tag. Users love its digitalized, controlled features – that's what makes it better than the rest!
However, an Irrigreen sprinkler isn't for everyone, and it's only because of its price point. To be fair, Irrigreen's raw materials are about 50% more expensive than generic ones. Thus, its overall price point is always high.
Frequently Asked Question (FAQs)
How much do Irrigreen sprinklers cost?
Irrigreen sprinklers cost around $230 each. However, the prices vary as the sprinkler's head numbers go up, with different features and mechanisms.
What are the standard sizes of sprinkler heads?
Sprinkler heads usually range within 2-20 inches and can reach water levels of 3-15 feet. It depends on the brand you choose and the type. Pop-up sprinklers can usually reach heights of 4-inches when active with blades that have a traditional measurement of 3-inches.
Are Irrigreen Sprinklers publicly traded?
The Irrigreen company is public and receives pro-rata shares along with acquisitions and share exchange.
What is smart irrigation?
Smart irrigation is an advanced technology sprinkler that combines digital nozzles that can irrigate with controlled water coverage. This leads to high water conservation and continuous monitoring of moisture-related conditions that can adjust water levels.
How do rotating sprinklers work?
Usually, rotating sprinklers have a bearing at the top of their head, which pivots according to required needs or in-built programming.
The top is attached to a threaded nut as well, which drives in a circular motion via the outgoing water's force and, thus, extends as needed towards the lawns. The sprinkler's arms get continuously pushed back towards the water stream via a spring making the heads rotate as needed.
Final Words
We hope our detailed Irrigreen reviews inclined you in the right direction because now you can easily judge the other sprinklers in the market and get what fits your specific needs. Honestly, no product will serve you right if it's not matched with your particular needs and requirements.
Thus, looking into the features and drawbacks before such a vital purchase is essential. Irrigreen reverts many issues that generic sprinklers have, and that's why it's a winning product for every lawn!