What if you get your hands on the flooring that equips both beauty and durability?
Well, put a smile on your face as I've come up today with such an item named Pure SPC Max. Let it be home, commercial places, gym, or anything else, the flooring complements every decoration with its alluring outlook.
Moreover, the combination of multi-layers makes it durable. Let's move a little forward to know the features and why you should prioritize the Pure SPC Max flooring over others!
Features of Pure SPC Max Flooring

I guess you're feeling interested in knowing the striking features of Pure SPC Max, right? If so, then let's jump right into the details.
Let's get familiar with the first noticeable feature that makes it a "real topper," guess what?
The Pure SPC Max comes in a waterproof design, allowing users to utilize this floor in a variety of places, including a house, office, gym, and so forth!
Thanks to the SPC, aka stone plastic composite it gets; Pure SPC Max is a better combination of top-quality plastic and sturdy stone material, ensuring ultimate longevity as well.
Only a few flooring brands include all the essential layers you require to get better service from the flooring. Luckily, Pure SPC Max features a wear layer, UV, decorative layer, bottom, and SPC core to maximize the resistance against stains, water spots, stubborn marks, and stuff like that.
Moreover, the SPC core offers a rigid base to deal with humidity and harsh weather conditions in the best way possible. So, feel free to consider it environment-friendly flooring.
Gives Sound-proof Protection
What if you get flooring that offers natural "sound-proof protection?" This is what the Pure SPC Max can do. The credit goes to its multi-layer material composition.
Consequently, you can listen to your favorite tracks at home at a mediocre sound level, and that too without bothering your neighbors! 
Offers Several Types & Designs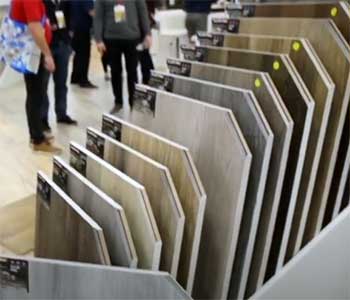 I'm pretty sure you'll love the versatility of the Pure SPC Max it shows off.
Not everyone has the same taste and choice in terms of choosing a specific floor.
So, to meet everyone's requirements, it comes in different types along with stylish modern designs, such as Silver Lake, Clover Creek, Glacier Point, Walnut Hills, Pacific Oak, and many more!
Furthermore, each of them has its own unique specialties and looks. Thus, you can independently select the one that adds more beauty to your décor.
DIY-friendly and Easy to Install
Not everyone has the same ability to count bucks in terms of floor installation. So, you're the luckiest one if you're one of them! Unlike the typical flooring brands out there, Pure SPC requires less time and effort for a complete setup.
In fact, you can do it yourself if you have basic-to-intermediate knowledge of floor installation. Plus, it won't need any fancy tools and stuff; only a few specific tools can get your work done.
But if you still find it safe to call experts, go ahead and they won't charge higher. For instance, per square foot of tile will cost anywhere around 1.5 to 4 dollars or so, which is so affordable.
Shows Off Wood-alike Design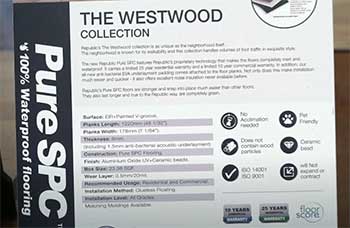 This might catch your attention if you prefer hardwood flooring.
A couple of models of Pure SPC Max can offer the real hardwood outlook, taking the beauty to a whole new level!
Although it provides a hardwood-type look, its padded structure is liable to add more flexibility and softness.
As a result, Pure SPC Max is both stylish and comfortable to use.
Hassle-free Maintenance and Clean Up
Don't you have much time to clean or maintain your floor? Stay cool as the Pure SPC Max is easy-peasy to maintain. You just need to sweep the smoother surface using a damp mop or such things. And that shouldn't be done on a daily basis.
Reasonable Pricing Option
Compared to the hardwood floor, Pure SPC is available in a cheap price range, even after offering tons of advantages. As you already know that the installation cost is also very less.
This is why it is a suitable option for those who are looking for high-quality flooring without spending a fortune!
What Could Have Been Better With Pure SPC Max Flooring?
Alongside the benefits, I've noticed a few drawbacks of this floor. So these are some of its common cons.
Doesn't Resist Fade for A Lifetime
Unfortunately, Pure SPC Max flooring isn't the best choice for top-class fade resistance. In this case, it may fade too early if anybody setup this stuff in a place where excessive natural light is present.
So, try to stay away from installing it on those specific spots.
Sensitive to Sharp Things
Note that your pet's paws, sharp nails, heavy furniture, and such things may leave unexpected scratches or stubborn marks on the surface of Pure SPC Max flooring.
To get rid of those obstacles, make sure you cover up the surface using a mat, rugs, or layers of felt.
Frequently Asked Questions (FAQ)
What is Pure SPC Max flooring?
SPC stands for "stone plastic composite" which is super-strong and fully waterproof. The brand Pure SPC Max tends to provide durable, affordable, and stylish flooring models in modern days.
What are the disadvantages of SPC flooring?
Alongside the drawbacks I've mentioned above, a few more common disadvantages are as follows:
1. Releases toxic chemicals or odor when burned.
2. It offers minimal resale value.
3. A bit tough to take off once installed.
Is SPC Vinyl flooring good?
Of course! SPC Vinyl flooring ensures ultra-durability, and at the same, the outlook it shows off is tremendous and convincing to users.
Is SPC better than LVP?
If I talk about durability, then SPC can easily beat LVP, although it depends on which model you choose. But it's equally true that LVP is enough for light traffic and the price is relatively more reasonable. So it won't hurt your wallet!
Final Words!
Hope you've earned plentiful ideas after going through the Pure SPC Max flooring reviews. If you have the mentality to overlook only a couple of cons, then you'll get benefited by choosing this floor.
Ask me why? This is because it has a lot of jaw-dropping features in this budget segment, from waterproof design to hassle-free installation. And yes, its versatile design can add more beauty to your house!